Industry Insights
Global paint protection film market size was valued at USD 863.8 million in 2014. Rapidly expanding automotive industry particularly in emerging economies of Asia Pacific and Latin America is expected to remain a key driving factor for the global paint protection film market.
Paint protection film is a thermoplastic urethane film widely used on vulnerable painted automotive surfaces such as front bumpers, hoods, side mirrors, door handle cavities and door edges. It protects the car paint from stone chips, bug splatters, and minor abrasions. They are also used on RV's, cell phones, screens, and electronics.
Mature economies of North America and Europe have been conventionally the largest consumers of such films owing to sheer size of the automotive industry. However, rapid expansion economic development, particularly in China, has shifted the balance, and Asia Pacific is anticipated to emerge as the leading market over the forecast period. The shift of automotive manufacturing bases to countries such as China, India, and Thailand from the Western countries has contributed towards the regional industry's growth.
Increasing consumer awareness in emerging economies such as China, India, Brazil, and South Africa regarding cost-benefit ratio offered by paint protection film is also expected to benefit the global industry. Luxury cars were the prime consumers until the last decade. However, these films are now being OEM approved by almost every car manufacturer.
It is anticipated to witness a surge in demand owing to factors such as saving replaced, and repaired parts cost, easy replaceability and light weight. Strong economic growth along with consequently increasing spending in automotive as well as OEM sector across various developing markets such as India and Thailand have resulted in industry growth in the recent past. A major chunk of the population being youngsters in these economies, the automotive industry is expected to witness significant growth thereby positively impacting demand.
U.S. paint protection film market revenue by application, 2012 - 2022 (USD Million)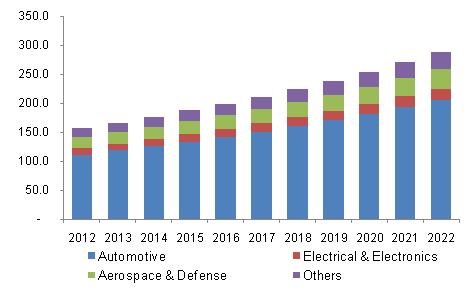 Growth dynamics of the industry are expected to be heavily influenced by paint protection film consumption trends in emerging markets particularly considering the growth in end-use industries such as automobiles, defense, and electronics coupled with expanding manufacturing sector. Changing lifestyle coupled with a shift in preference towards keeping intact the finishing of the vehicle is expected to positively influence the market growth.
Application Insights
Automotive was the leading product segment with its value estimated at over USD 620 million in 2014. Technological advancements such as internet connected cars and autonomous vehicles have complemented the segment's demand. Rising consumer awareness coupled with economic growth specifically in emerging economies such as India and Brazil is expected to drive demand.
The racing industry saw the advantages of these films in the automotive sector and has started using paint protection film for off-road races to protect vehicles from gravel and sand. This makes automotive segment the leading product segment and the fastest growing application segment with an estimated CAGR of 5.4% from 2015 to 2022.
Aerospace is expected to witness brisk growth owing to increasing application scope in specific parts such as helicopter blades. Increasing investment in the sector by the government to create better, stress resistant and hard equipment for safety purposes is expected to drive demand. Electrical & electronics sector is witnessing increasing demand from emerging economies of Asia Pacific in segments such as mobile phones, tablets, keyboards, and screens.
Regional Insights
Asia Pacific paint protection film market led the global industry and accounted for over 30% of the global volume in 2014 with growth to be driven by a positive outlook on automotive and electrical & electronics sector in China, India, Korea, and Taiwan. Economic growth in the region has enabled greater for sale-ability of luxury passenger vehicles.
Also, due to increased employment and development of cities, urbanization and urban migration have generated the motivation for investment in the automotive sector, hence driving paint protection film growth. Asia Pacific is expected to be the fastest-growing region over the forecast period.
Central & South America and the Middle East & Africa collectively accounted for over 15% of the total volume in 2014. These regions are characterized by increasing spending and high economic growth. Growing automotive industry in Brazil, Peru, Colombia, Cuba and Uruguay are expected to drive growth in the region. .
Socio-economic growth coupled with rising consumer awareness in countries such as UAE, Oman, and Qatar are expected to be a major driving factor growth in the Middle East. Booming aftermarket for automobiles in these countries shall also provide for a greater penetration scope to the industry. 
Competitive Insights
Global paint protection film market share is fragmented in nature due to the vast presence of small scale local manufacturers catering to various automotive OEMs and aftermarket sales. Some of the major firms with presence across value chain include 3M Company, Lubrizol, XPEL Technologies Corp., Argotec, DuPont, Premier Protective Films International, Avery Dension, Vanzetti Engineering S.R.L., PremiumShield, SunTek Films, Solar Gard, Topaz Detailing, Himark Paint Protective Film Ltd., Paint Shield, Llumar and Eastman Chemical Company.