Industry Insights
Global paraxylene market demand was estimated at 36.83 million tons in 2014. Paraxylene (PX) demand has witnessed steady growth since past few years on account of stable demand from polyester manufacturers. It is primarily used for producing dimethyl terephthalate (DMT) and purified terephthalic acid (PTA). These are consumed for manufacturing polyesters. A small amount of PX is used as a solvent and in the production of di-paraxylene and herbicides.
Polyester is mainly used for fibers, polyethylene terephthalate (PET) resin, film and other plastic end use. PX industry has witnessed increasing demand for various applications such as textiles, packaging and construction materials over the past few years. A similar trend is estimated to continue over the forecast period. Growing polyester fiber demand in emerging markets of India, Bangladesh, Vietnam and Brazil has provided sufficient impetus for the product to penetrate in the aforementioned segments.
Growing application segments such as polyester and PET, especially in Asia Pacific region are expected to propel paraxylene market growth over the forecast period. Monetary benefits offered by various developing countries on PTA and PX production are expected to have a positive impact on industry growth. Lower feedstock consumption along with usage of non-traditional feedstock is expected to fuel the product demand.
Increasing resin prices along with concerns regarding non-disposable nature of petrochemical based PET has created a need for bio-based PET. This has forced manufacturers to focus on bio routes to PTA and PX, key raw materials for PET. Key PET users such as Coca-Cola and PepsiCo have announced joint ventures with some renewable chemical technology developers such as Gevo, Virent, Avantium, etc.
Virent has developed BioForm PX, which is analogous to petroleum derived paraxylene. The company has used bio-based PX for demonstration-scale production of a PET plastic bottle which would be used by Coca-Cola in the near future.
Rising consumer awareness regarding petrochemical product usage & demand for bio-based products and natural substitutes to conventional products expected to hamper the market growth. Paraxylene being moderately hazardous to the environment and aquatic organisms, various government agencies strictly monitor production units for emission control parameters.
U.S. paraxylene market volume by application, 2012 - 2022 (Kilo Tons)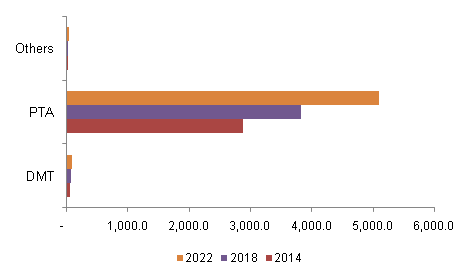 Increasing awareness regarding toxic nature of PX has resulted in increased societal opposition against production facilities. This is expected to hinder market growth over the forecast period.
Application Insights
The market can be segmented on the basis of applicatios that include PTA and DMT. Other applications include di-paraxylene and herbicides. Virtually, PTA is the sole driver for the product demand as around 97% of the total PX demand goes into PTA production.
Steady PTA demand in polyester applications may be attributed to significant market penetration. Growing PET consumption in carbonated soft drinks bottles and packaging is anticipated to fuel PTA demand over the foreseeable future.
PTA has Lower capital cost along, and better production economies than DMT and therefore is the preferred feedstock for nearly all end-use industries. DMT demand has been declining slowly as polyester manufacturers prefer more economical PTA route although DMT demand is growing in the production of engineering polymers such as polybutylene terephthalate.
PTA accounted for 97.6% of the overall PX demand and is expected to grow at an estimated CAGR of 7.0% from 2015 to 2022. DMT accounted for 2.4% of the total revenue generated in 2014 and is expected to grow at an estimated CAGR of 6.7% over the forecast period.
Regional Insights
Asia Pacific dominated the global paraxylene market and accounted for 79.2% of the overall demand in 2014. The region is also the leading producer with several capacity expansions planned in China, and India over the next few years. The market is expected to experience oversupply after most of the upcoming capacities come into operation.
High polyester demand in textile and packaging along with rapid industrialization is expected to drive growth over next seven years. High polyester demand in Southeast Asian countries such as Indonesia, Vietnam and Thailand is expected to drive industry expansion for the foreseeable future. Increasing PET demand in industrial applications, films and sheets are expected to drive the market in aforementioned countries.
Asia Pacific was followed by North America and accounted for 11.7% of the global demand in 2014. Capacity underutilization in these regions due to unstable feedstock supply over past few years has led to tight paraxylene supply. Stringent REACH regulations particularly in EU27 countries for manufacturing and burning of petrochemicals may be attributed to stagnant growth.
Competitive Insights
Global paraxylene market is highly fragmented among various industry players. Various new regional players have entered the industry in recent past thus resulting in oversupply. Lowered PTA demand has forced manufacturers to reduce operating rates, and the situation is expected to continue for next few years. Global paraxylene market is characterized by the presence of major international corporations which have a presence across the value chain.
Key players operating in the global paraxylene market include JX Nippon Oil & Energy Corp., BP, CNPC, Reliance Industries Ltd. and S-Oil. These companies account for over 34.5% of the global production capacity in 2014 with Sinopec accounting for 8.3%.
Other significant players include Dragon, FCFC, NPC Iran,GS Caltex, ONGC, KPPC, Orpic, Jurong Aromatics Corp., China National Offshore Oil Corporation (CNOOC), PTT, Lotte KP Chemical, Yanbu Aramco Sinopec Refining Company Ltd., ExxonMobil, Saudi Aramco, Dalian Fujia Dahua, Idemitsu Kosan Co.,Ltd., Toyo, Teijin Fibers and Pertamina.
These companies have been investing heavily in R&D and capacity expansions to meet increasing demand. The marketplace is also characterized by increasing production capacities and unequal market size, leading to lower internal rivalry and higher profit margins for existing players. Companies have also been exploring options to develop bio-based paraxylene to reduce reliance on petrochemical feedstock and ensure sustainability.