Industry Insights
Global pearlescent pigment market size was USD 1.26 billion in 2014. The industry is characterized by rising preference for exclusivity and aesthetic brilliance in automotive paints and industrial coatings.
Technological innovations have charted a new course for high performance, special-effect pearl pigments that focus on sustainability, owing to low VOC content and enhanced performance characteristics such as durability, thermal stability, and increased barrier resistance.
Also, the advent of these pigments into the personal care & cosmetics industry has revolutionized consumer perceptions regarding appearance & beauty by offering low-cost solutions to achieve the desirable glamorous or 'celebrity' look. Several creams, powders, and lotions for the hair and body contain natural pearl essence as a sustainable, dermatologically safe alternative to toxic synthetic chemicals & ingredients.
These pigments are also widely used in gravure, offset & flexographic printing inks owing to their versatile nature, compatibility &insolubility with several substances and overall aesthetic appeal. Pearl pigments are rapidly replacing glitter and conventional solid colors in food packaging, toys & textiles as well as other niche applications.
Pearlescent or pearl pigments are manufactured using a mica base, which lends an iridescent effect similar to the original 'Mother of Pearl'. The original natural pearl essence is more expensive as compared to synthetic, mica-based effects. Thus, producers and consumers are increasingly adopting titanium, or ferric oxide coated mica pearlescent pigments to combat high production costs and ensure overall long-term benefits.
Another major factor influencing pearlescent pigment trends is growing consumer and industrial awareness regarding depleting natural ore reserves & mineral deposits, which is likely to impact their production and boost demand for synthetic alternatives in large-scale applications.
U.S. pearlescent pigment market revenue by product, 2012 - 2022 (USD Million)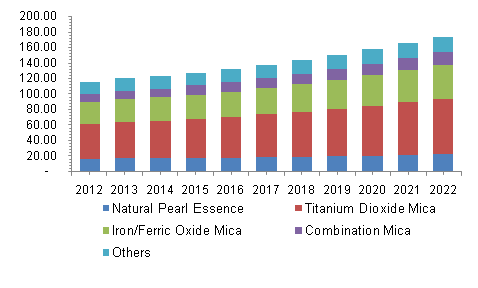 Emerging markets such as China, India and Brazil are major consumers of these pigments, where on account of high adoption rate and rising consumer personal income in these regions. Growing popularity of mass-customized goods and increasing governmental support to encourage the development of the automotive & construction industries, particularly in emerging markets are also significant drivers for these pigments in numerous applications.
Product Insights
On the basis of product, the global industry has been categorized into natural pearl essence, titanium dioxide coated mica, ferric/iron oxide coated mica, combination mica and other products coated with chemicals such as bismuth oxychloride & basic lead carbonate.
Titanium dioxide (TiO2) coated mica was the most widely used white-effect pigments in paints and printing inks, owing to its intense brightness. The market value for TiO2mica pearl pigment segment was estimated at USD 475.2 million in 2014. Growing popularity of high luster pigments with inherent sustainability and solubility in industrial coating applications is also expected to drive the market over the forecast period.
Asia Pacific witnessed higher demand for ferric/iron oxide-coated mica pigments, with regional product revenue of USD137.6million in 2014. Other pigments are also likely to witness demand from multiple applications such as cosmetics, printing inks, and textiles.
Application Insights
Major applications include paints & coating, plastics, printing inks, cosmetics and others such as food, textiles, paper & paperboard. Globally, automotive paints and industrial machinery/maintenance coatings occupy largest market share among all pearlescent pigment applications. The paints and coatings segment thus accounted for over 34% of the overall volume in 2014.
Growing popularity of sports & luxury vehicles with bright chromatic effects is likely to boost product demand in the automotive industry. However, VOC regulations implemented in the U.S. and Europe are likely to drive technological changes and subsequent modifications in paints & coating applications.
Plastic formulators are also increasingly incorporating pearl pigments while compounding master batches to produce distinctive, yet subtle color effects for consumer goods, electronics, plastic components and even medical devices. The segment is likely to grow at highest CAGR of 5.0% from 2015 to 2022.
Regional Insights
Regional markets analyzed in the report include North America, Europe, Asia Pacific, and Central & South America (CSA) and the Middle East & Africa (MEA). North America pearlescent pigment market led the global industry and accounted for over 38% of global demand in 2014.
High personal disposable income has positively impacted automobile and consumer goods sales in China, India and Vietnam, which in turn has driven pearl pigment demand. Increasing consumer awareness regarding beauty & appearance with significant intentions to contribute environmentally, have promoted pearl pigments application in cosmetics as well. Market volume for this segment is anticipated to grow at 4.1% CAGR from 2015 to 2022.
Competitive Insights
The global pearlescent pigment market is characterized by increasing product and technological innovations, strategic alliances among existing market players, coupled with a shift in production activities to emerging economies such as China & India.
Key participants in the market include Huaian Concord Industrial Product Co. Ltd. (Kolortek), BASF SE, Sun Chemical Performance Pigments, Lansco Colors, L'Arca Srl (Arca Colours), Fujian Kuncai Fine Chemicals Co. Ltd., Geotech International B.V., RIKA Technology Co. Ltd., Smarol Technology, Nanyang Lingbao Pearl Pigment Co. Ltd., Pritty Pearlescent Pigments and Brenntag Specialties Inc.