Industry Insights
Peripheral vascular diseases (PVD) are caused by the formation of atherosclerotic plaques in arteries, which carry blood to organs, limbs, and head. It is also known as peripheral artery occlusive disease (PAOD) or peripheral artery disease (PAD) or peripheral obliterative arteriopathy. It comprises diseases pertaining to both peripheral veins and peripheral arteries, affecting the peripheral and cardiac circulation in the body. Peripheral vascular devices market includes IVC filters, angiography catheters, EVAR stent-grafts, hemodynamic flow alteration, and plague modification devices are used for treating peripheral arterial or coronary arterial disease and also used in the peripheral endovascular and coronary procedure. These devices are used to decrease the interference of patients with a minimum disturbance during the surgical procedure. The rising global prevalence of venous diseases or CVI (Chronic Venous Insufficiency) is expected to drive the global peripheral vascular devices market. Some of the other drivers of this market include growing global geriatric population base triggering incidence rates of target diseases, increasing demand for minimally invasive endovascular procedures on account of their shorter recovery time, lesser scaring, and lesser chances of post-surgery infections. In addition, growing prevalence of disease-causing lifestyle and eating habits such as high consumption of alcohol, tobacco products, and smoking cigarettes is expected to boost peripheral vascular devices market demand by triggering the incidence rates of cardiac arrest, blood clotting, and other vascular diseases.
Product Insights
The overall peripheral vascular devices market, on the basis of its action, is segments into nine products namely, peripheral vascular stents, chronic total occlusion devices, peripheral transluminal angioplasty balloon catheters, atherectomy devices, PTA guidewires, aortic stents, embolic protection devices, synthetic surgical grafts, and inferior vena cava filters. Stents are most commonly used for treating problems related to coronary arteries. It is a 'mesh tube' which is inserted into arteries or veins or other natural passage in the body to counteract or prevent a disease-induced, localized flow constriction.
Peripheral Vascular Devices Market, by Product, 2013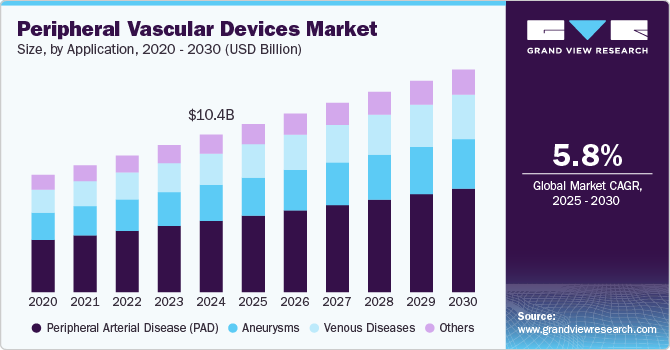 Various types of stents such as a drug-eluting stent, a bare-metal stent, a bio-absorbable stent, covered stent, a dual-therapy stent, or bioengineered stent are available in the market. Peripheral stents are more often used with the combination of balloon angioplasty to open the veins so that blood can flow through the blocked veins in the body and is also used to overhaul an aneurysm. Stents and balloons hold the majority of the share in the peripheral vascular devices market. Peripheral transluminal angioplasty balloon catheters also known as angioplasty, a catheter is inserted into veins of groins, wrist, or arms area which helps in eliminating the blood clotting in those areas. Atherectomy is a minimally invasive surgical method and is used for removing atherosclerosis from large blood vessels from the body.
Regional Insights
The overall peripheral devices market is segmented into North America, Europe, Asia-Pacific, and RoW. North America was the largest regional peripheral vascular devices market in 2013. Higher adoption rates of minimally invasive surgeries coupled with the presence of high patient awareness and healthcare expenditure levels are some of the factors attributing to its large share. Asia-Pacific, on the other hand, is expected to be the most attractive regional peripheral vascular devices market from 2014 to 2020, owing to a large presence of patients with unmet medical needs. Moreover, rapid healthcare infrastructure development and growing patient disposable income levels in emerging markets, such as India and China, are expected to serve the overall market as a future growth opportunity.
Competitive Insights
Key players operating in the peripheral vascular devices market include Abbott Laboratories, Angioscore Inc., Edward Lifesciences Corporation, Medtronic Inc., St. Jude Medical, Teleflex Medical, Volcano Corporation, Boston Scientific Corporation, Teleflex Medical, Cook Group Inc., Cordis Corporation, Covidien, Edward Lifesciences, C.R.Bard, St. Jude Medical, Terumo Interventional Systems Inc., Bayer, Endologix, B Braun Inc., Volcano Corporation, Endologix, W.L.Gore and Associates Ltd., and Angioscore Ltd.