Industry Insights
The global pH meters market size was valued at over USD 1,264.5 million in 2014 and is expected to grow at a CAGR of 5.6% over the forecast period. Rising demand for these devices in industries such as food processing, water treatment, power, agricultural, fertilizers etc. is among the key factors expected to drive market growth. Furthermore, rising health concern, declining immunity levels, and growing user awareness levels regarding water purity are identified as some high impact rendering drivers.
Increasing government regulations regarding the quality of water used and increasing concerns in industrial setups regarding the harmful effects of acidic or basic nature of water are factors expected to boost usage rates over the forecast period.
North America pH Meters Market by Type, 2014, (USD Million)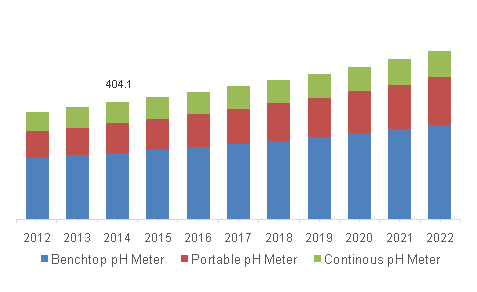 Growing incidences of microbial infections coupled with technological advancements in pH meters are expected to serve as lucrative growth opportunities for this market. Moreover, the increasing number of research and testing laboratories such as soil testing, water testing, and food testing laboratories is also one of the factors, expected to boost the usage of these devices.
Product Insights
By product type the market is segmented into bench top, portable, and continuous pH meters. Technological advancement such as online pH meters, calibration free measurement systems, microprocessors for auto temperature, and pressure compensation are few of the factors that are expected to propel the market growth over the next seven years.
In 2014, bench top meters held over 55% of the overall pH meters market owing to, its wide application in academic institutes, laboratories, industrial researchers, ease of usage, and growing demand for easy accessibility and accuracy.
Portable pH meters are expected to witness a lucrative growth of over 7% during the forecast period of seven years. High mobility and small size of these meters is one of the key factors attributing to its rapid growth. Stringent regulations on water treatment plants by various EPA (Environmental Protection Agency), rising health concern among the population regarding adverse effect of quality of water and easy accessibility & availability of such instruments are among few of the factors that are expected to boost the usage of pH meters across various industries. 
End-Use Insights
The end-use segment of the market is further divided into pharmaceuticals & biotechnology, food science, water & waste treatment, research institutes and environmental control boards. In 2014, food science held the majority of the market with a share of 41.1%. Wide application area of pH meters in industries such as wine, fruit juice, and food processing, agriculture, dairy and others is one the very high impact rendering driver attributing to the growth of the segment.
However, growing incidences of water bodies contamination as a consequence of untreated water discharge from chemical, leather and other industries and increasing incidences of water borne diseases such as cholera, diarrhea, and leptospirosis are few factors which are expected to positively reinforce market growth.
Growing awareness regarding the quality of drinking water and the analysis of water pH level to prevent from corrosions in the pipelines and equipment such as the condenser, boilers, etc. will boost industrial usage of these meters.
Furthermore, technological advancements in pH meters such as the incorporation of smart sensors, multi parameter analysis and growing concern regarding the harmful effects of acidic or basic nature of water are among some factors that are driving the usage of such devices over the forecast period.
Additionally, high demand for these devices in food and beverages industries for monitoring their production process and maintaining the standards and growing need for technologically advanced for continuous monitoring of pH levels in industrial productions are also some of the contributing factors that are anticipated to increase pH meters market growth. However, rising awareness levels and favorable government initiatives are further estimated to fuel market growth.
Regional Insights
In 2014, Europe was the highest revenue generating region with the revenue share of over 32%. Major factors accounting for large share include the high level of R&D activities, presence of sophisticated advanced healthcare and industrial infrastructure, high health concern, high levels of disposable income, and high awareness pertaining to waterborne diseases is a key factor for the regions large share testing.
The Asia Pacific pH meters market is expected to witness lucrative growth of nearly 8% over the forecast period. Rising awareness regarding novel devices with technological advanced sensors, increasing favorable government initiative for water treatment and growing awareness regarding the utility and applications of such measuring devices among industrial researchers, agricultural scientist, irrigational experts are few factors attributing to the rapid growth.
Competitive Market Share Insights
Key market players include Danaher Corporation, Hanna Instruments, Thermo Fisher Scientific Corporation, PerkinElmer Inc., Agilent Technologies, Metrohm USA, Mettler Toledo, and Horiba.