Industry Insights
Global plastic additives market size was estimated at 13.18 million tons in 2014. Plastic additives are increasingly being utilized for varied functions that include property modifiers, extenders, stabilizers and processing aids in industrial applications.
Additives such as antimicrobials, antioxidants, UV stabilizers, plasticizers, impact modifiers and others are largely used in compound formulations to improve chemical and physical properties. Rising industrial output and increased economic activity in emerging markets of Asia & South America are expected to drive the global industry over the forecast period.
Regulatory bodies such as EC (Beaches European Commission) amended acts such as the Restriction of Hazardous Substances (RoHS) to regulate and control plasticizers, flame retardant and other additives owing to adverse effects on human health and the environment.
The U.S. FDA has formulated the Federal Code of Regulations, Title 21, Part 177 to regulate the types of indirect additives used in food contact substances. These requirements are a set of guidelines established to regulate maximum permissible additive quantities used in food processing and packaging applications.
The global industry is characterized by volatile raw material prices coupled with stringent environmental regulations for manufacturing plasticizers, UV stabilizers, and other additives. Political turmoil in the Middle East regarding petrochemicals is further expected to affect supply and pricing dynamics over the forecast period.
North America plastic additives market revenue by function, 2012-2022, (USD Million)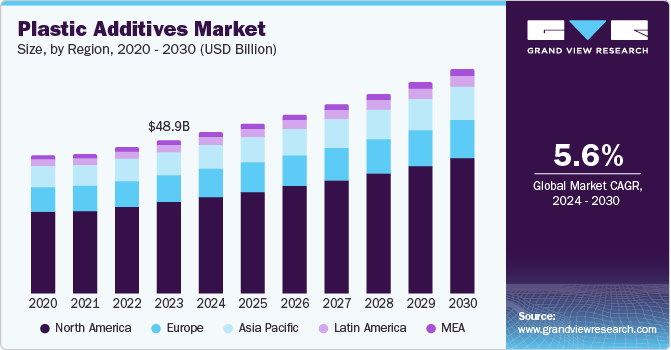 Other products such as PC and PMMA are gaining importance especially as substitutes for glass. Growing emphasis on conductive additives such as carbon nanotubes and nanofibers has also been the major factor for promoting them in electrical and electronic applications.
Function Insights
On the basis of function, the global industry has been segmented into property extenders, property modifiers, property stabilizers and processing aids. Property stabilizers were the leading segment and accounted for over 36% of the overall market volume in 2014.
Property stabilizers are largely used in to increase stability in terms of chemical bonding, thermal and physical properties. The segment is expected to account for USD 4,341.4 million by 2022, growing at 4.0% CAGR from 2015 to 2022.
Processing aids are expected to register highest volume growth over the forecast period owing to its increasing application in the enhancement of plastic extrusion ability. Manufacturers prefer these aids to improve quality and output of PE films, tubes, pipes and other finished products. This factor is expected to influence highly demand for processing aids over the forecast period.
Product Insights
On the basis of product, global plastic additives industry has been segmented into plasticizers, flame retardants, impact modifiers, antimicrobials, UV stabilizers, antioxidants and others.
Plasticizers were the leading product segment and accounted for 51.7% of the global market volume in 2014. Plasticizers are banned in various substances such as toys and child care articles owing to their carcinogenic nature by various agencies such as the European Union and the U.S. EPA. This product segment is expected to witness moderate growth owing to declining market share.
Increasing regulations regarding workplace safety has fostered flame retardants industry growth. These products are increasing being utilized in manufacturing industries to prevent fire accidents and arson incidents, owing to their thermal efficacy and heat resistance.
Regional Insights
Regional markets analyzed in the report include North America, Europe, Asia Pacific, and the Middle East. Asia Pacific was the largest consumer and generated revenue of USD 15,704.5 in 2014 which is expected to rise at 4.5% CAGR from 2015 to 2022. Increasing industrial output and economic growth in India, Indonesia, Malaysia and China is expected to drive regional demand over the forecast period.
Other developed nations such as U.S., UK, Germany, and France are also expected to generate high demand for plasticizers, UV stabilizers, flame retardants and other additives. North American industry is expected to grow at 4.1% CAGR and Europe at 3.9% CAGR in terms of market volume.
Competitive Insights
The global plastic additives market share was dominated by integrated companies providing feedstock, final products and supplying them to end-user such as automotive, OEMs, construction, electronics and footwear among others. The market has a presence of numerous producers who command a majority of the overall share. Key players with a global presence include BASF SE, SABIC, DuPont, ExxonMobil Chemical, Mitsui Chemical, The Dow Chemical Company and Biesterfield Plastic GmbH among several others.
Technology innovation, product development, and production optimization are crucial for industry participants to maintain a competitive edge. There is also a considerable presence of integrated players who are involved in raw material and feedstock procurement along with plastic additives.