Industry Insights
The global plate and frame heat exchanger market size was estimated at USD 3.35 billion in 2014 and is anticipated to witness considerable growth on account of growing use in engineering, commercial and industrial applications. Growing product use, particularly in automotive and commercial & residential building HVAC, is anticipated to fuel industry growth.
U.S. plate and frame heat exchanger market revenue, by product, 2012-2022 (USD Million)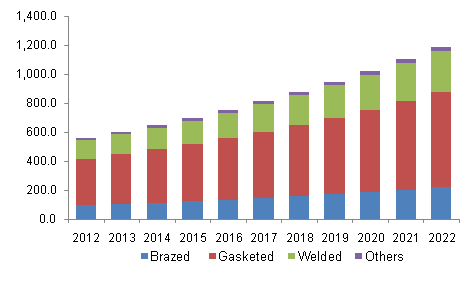 Energy infrastructure expansion along with rising demand from power generation sector is anticipated to drive the market growth over the next seven years. The market is characterized by technological innovation coupled with rising focus to improve efficiency standards. These factors are anticipated to lower total ownership costs and increase durability & efficiency of heat exchangers over the foreseeable future.
Plate and frame heat exchanger market are characterized by a consistent supply of raw materials including nitrile rubber gasket, EPDM rubber, chloroprene rubber, and stainless steel plate and frame. However, volatile raw material prices of stainless steel and chloroprene rubber may have a negative effect on market growth. Innovations in the frame, plate, and gasket designs are expected to raise heat transfer efficiency, lower investment, operating costs and maintenance costs. New product development incorporating technical innovations is anticipated to drive market growth.
Product Insights
Gasketed plate and frame heat exchanger emerged as a leading product segment covering over 50% revenue in 2014 This high market penetration is attributed to its widespread use in power plants about lower maintenance and compact size. This product is widely used for heating, cooling, heat recovery, evaporation, and condensation applications. Rising gasketed heat exchanger demand, particularly in automotive, petrochemical and power generation, is anticipated to impact positively product growth.
Brazed plate heat exchanger is anticipated to witness significant market growth owing to its rising use in economizers, floor heating, oil coolers, refrigerant evaporators, super-coolers, and condensers. Competition from new entrants is anticipated to be a major restraint affecting the growth of plate heat exchanger industry over the forecast period. Replacing the conventional technology with highly efficient counterparts is expected to be a major challenge over the forecast period.
Welded plate heat exchanger is expected to witness high growth on account of its growing use in various industries including pharmaceuticals, petrochemical, automobile, and paper manufacturing pertaining to performance characteristics.
End-Use Insights
HVAC accounted for over 20% of total market in 2014 and is expected to witness high growth over the forecast period. Growing construction projects in Asia Pacific are anticipated to drive demand in the sector over the long term.
Increasing consumer spending coupled with growing demand for effective thermal management in residential and commercial establishments is expected to drive HVAC demand over the forecast period. Heat exchangers form an essential part of HVAC systems. Growing awareness regarding energy conservation and reduction in energy bills is anticipated to drive product demand in HVAC sector.
Chemical industry accounted for over 20% of plate and frame systems revenue in 2014. Major products in chemical industry include fertilizers, inorganic chemicals, and petrochemicals. Petrochemical derivatives such as methanol, ethylene, base chemicals and polymers involve critical conditions that require efficient thermal management systems in the manufacturing facilities. Capacity expansions and acquisitions of chemical facilities in Europe and Asia Pacific are expected to drive chemical industry over the forecast period.
Regional Insights
Europe was the largest regional segment and is expected to grow at a CAGR of 6.3% from 2015 to 2022. It is anticipated to lose share to high growth markets including Asia Pacific and CSA regions over the forecast period. Recent developments in renewable and nuclear energy sectors are expected to drive requirement in the power generation sector in Europe. Increasing requirement for heat recovery applications in chemical, HVAC and food and beverage sectors is anticipated to drive plate and frame heat exchanger demand over the forecast period.
Asia Pacific accounted for over 20% of the total industry in 2014. Growing construction projects in industrial and commercial establishments are expected to drive HVAC market in the region. The regional market is anticipated to witness the fastest growth over the next seven years. Favorable government initiatives in India and Japan to develop thermal and solar energy are expected to drive demand for heat exchangers in power generation.
Competitive Insights
Major players in the plate and heat exchanger market include Danfoss A/S, GEA Group, Alfa Laval AB, Tranter Inc., SPX Corporation, SGL Carbon Technic, LLC, AIC S.A., API Heat Transfer, Kelvion Holdings GmbH and Guntner GmbH & Co. KG.