Industry Insights
The global polyether ether ketone (PEEK) market size was USD 488.8 million in 2015. Growing environmental concerns including huge carbon emissions have prompted the need for minimal fuel consumption. This burning issue has forced automobile manufacturers to focus on increasing fuel efficiency by reducing overall automobile weights.
One way to reduce automobile weight is to replace metals being used by efficient and environment-friendly alternative. Therefore, PEEK has emerged as a potential alternative to metals in automobiles industry.
U.S. polyether ether ketone (PEEK) market volume by application, 2014 - 2024 (Tons)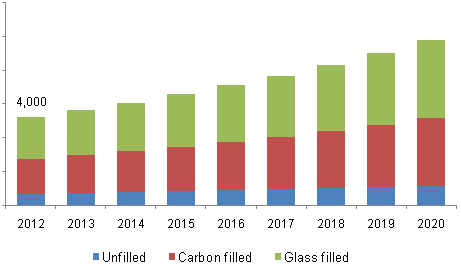 Excellent characteristics are widening its application base and increasing product lines in transportation, semiconductors, industrial, food, and clinical areas. Over the forecast period, PEEK is anticipated to enter into the diverse market and explore opportunities in untapped markets on account of its environment-friendly characteristics including lower harmful emissions.
The overall industry is also anticipated to experience the wide range of application in medical industry over the forecast period. Currently, it is used for spinal surgery purposes and is expected to be used for more clinical applications and commercial medical products.
There is a need for research and development in the medical industry to find and explore untapped clinical applications. On account of lack of long-term clinical data, currently PEEK product has a limited application in the field, but it is expected to boost over the forecast period on owing to its huge potential as a replacement.
Pricing exists as a major restraint for the market. It is one of the most expensive products in the polymer family. The higher cost is anticipated to negatively impact global market over the forecast period.
Product Insights
On the basis of products, the industry is segmented into unfilled, carbon filled and glass filled. Glass filled was the product segment leader followed by carbon filled. Glass filled PEEK application in electronic & electric and industrial application areas was the major reason for its dominance.
Carbon filled is expected to grow at the highest rate on account of its increasing application in automotive, aerospace and medical areas. Unfilled is the purest form which is used for niche application areas in miscellaneous industries.
Application Insights
Industrial and automotive application areas were the leading application segments in 2015. Growing packaging concerns coupled with stringent environment regulations is expected to drive product demand in industrial application segment over the forecast period.
On other hand, automobile manufacturers are focusing on increasing fuel efficiency by reducing automobile weight. For doing this, PEEK has emerged as the most effective and environment-friendly solution in the market by replacing metals. Aerospace application segment emerged as a significant application area and is expected to drive overall demand on account of its increasing demand in new generation passenger aircraft.
These passenger aircraft mainly use carbon filled. Growing demand for clinical application is also expected to emerge as the major market driver. PEEK has been emerging as an efficient product for implantable devices mainly for spinal surgery and is replacing titanium which was primarily used for such purposes. Carbon filled is preferred more for such medical uses.
Regional Insights
Europe PEEK market led the global industry on account of the stringent regulatory framework. These strict guidelines mainly pertaining to environment and fuel consumption reduction increased the demand in transportation sector which in turn resulted in regional dominance.
Europe industry demand was followed by North America and Asia-Pacific. Emerging economies of China, India, and South Korea are also expected to significantly contribute to Asia-Pacific market growth on account of developing industrial and consumer packaging industries.
In addition, growing GDPs coupled with government initiatives to promote FDI in emerging economies is anticipated to further boost regional industry demand in near future. The Middle East and Africa is also expected to grow at significant rates on account of its increasing application in industrial and automotive purposes.
Competitive Insights
The global PEEK market is consolidated on account of the presence of a limited number of regional players. Key industry participants include Victrex Plc, Panjin Zhongrun High-Performance Polymers Co. Ltd, Zyex Ltd, Jrlon Inc and Quadrant EPP Surlon India Ltd.
Increasing overall application in various areas including medical, aerospace and automotive is widening industry service provider business. A major service provider that uses the item for injection molding and other purposes in different application areas includes Prototype & Plastic Mold Co. Inc., Parkway Products Inc, A. Schulman AG, and Stern Industries Inc.
The market is expected to attract new players owing to its widening application base in numerous industries including medical, aerospace, electronics, packaging, and automotive. The end-use industries are patenting their unique PEEK-based technologies in order to witness a competitive advantage over others.