Industry Insights
Global polyethylene glycol (PEG) market is expected to witness growth on account of the rising importance of material properties such as non-toxicity, wear-resistance and solubility in organic solvents. The emergence of PEG as a lubricating solution in the pharmaceutical industry on account of it exhibiting the aforementioned properties is expected to have a positive impact on the market.
Global PEG Market, by Applications, 2012 - 2020 (Kilo Tons)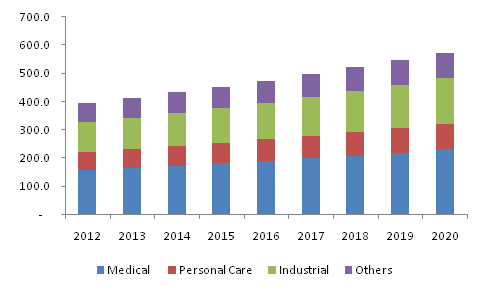 Pharmaceutical industry growth in emerging markets including China, India, and Brazil coupled with increased expenditure on technology advancement is expected to drive PEG market. The rising
the popularity of water-based coatings, paints, and inks on account of increased application scope in construction and automotive industries is expected to augment PEG market demand over the forecast period. PEG is also used as a color stabilizer in the production of paper and ceramic. Paper industry growth in China and India on account of surging domestic demand is expected to promote PEG demand. Automotive, construction and household industries are a key consumer of ceramic tiles, and the growth in these industries are expected to augment PEG demand over the next six years. Market presence of substitutes such as MEG and other glycol ethers is expected to pose a credible threat and negatively impact the market over the forecast period.
Technological advancement in hydraulic fracturing has resulted in increasing the production of unconventional resources such as shale gas and tight oil, which is likely to increase the availability of petrochemicals, meant for PEG production and expected to open new market avenues. Acme-Hardesty developed bio-based PEG produced from sugarcane which is expected to be utilized as a sustainable solution and would open new opportunities for PEG over the forecast period.
Application Insights
Medical applications were the largest application segment in 2013, where PEG is used as dispensing agents, solvents, delivery liquids for medications, ointments, fillers for tablets & suppository bases in ophthalmic solutions and treating constipation. The emergence of PEG as an alternative to MEG (mono-ethylene glycol) in the pharmaceutical industry on account of non-toxic nature is expected to have a positive impact on the market. PEG is also used as a binder for technical ceramics production and as a gas insulator for inducing superconductivity in an electric-double layer transistor. PEGs are also extensively used as thickeners, moisture-carriers, softeners and solvents in cosmetics. However, health and environmental hazards associated with the addition of PEG to personal care products are expected to hamper the market growth.
Regional Insights
Asia Pacific is expected to be one of the largest markets for PEG on account of the industrial growth of the pharmaceutical, automotive, and construction sectors in India and China. North America is expected to witness growth on account of the dominance of the U.S. in the global pharmaceutical industry coupled with growing automotive production in Mexico. European Commission has framed supportive policies meant at promoting the biopolymer industry. As a result, chemical manufacturers are anticipated to focus on developing bio-based PEG, which is likely to open new market opportunities. Positive downstream oil & gas industry outlook in the Middle East and Brazil is expected to ensure raw material availability for PEG production over the forecast period.
Competitive Insights
The Global PEG market is highly fragmented on account of the high penetration of companies across the world. Raw material availability of ethylene oxide on account of its increased demand for the production of MEG, which is further processed to manufacture PET, is expected to be a paramount concern for manufacturers. Key market players include BASF, Dow Chemical, India Glycols, Huangma Chemical, Ineos, Liaoning Oxiranchem, and Croda. The government of India announced Draft National Chemical Policy in 2012, aimed at increasing domestic chemical production output and elevate the country's share in the global chemical industry from 3% in 2013 to 6% by 2020. These developments are expected to promote new investments over the forecast period.