Industry Insights
The global polyethylene wax market size was estimated at 302.1 kilo tons in 2013. Rising shale exploration in North America is expected to ensure continuous supply of ethylene, a key raw material for manufacturing PE wax. With the rapid development of North American shale gas industry, ethylene production levels have drastically increased which has lowered the manufacturing costs. This trend has emerged as major competitive advantage for North America over other regions producing ethylene from crude oil.
U.S. polyethylene wax market revenue by product, 2012 - 2022 (USD Million)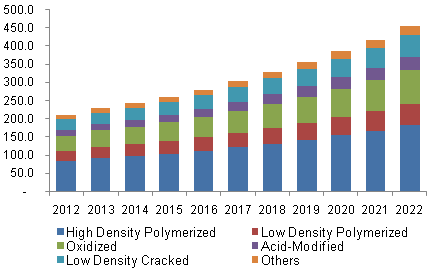 Other ethylene producing regions have had favorable market conditions on account of continuous decline in global crude oil prices recently. Significant development in paint & coating industry in emerging economies including India, Vietnam and China has also helped in developing the global polyethylene wax industry.
Technology Insights
In terms of technology, polymerization dominated the market and accounted for over 50% of the total volume in 2014. High density and low density PE waxes are directly obtained from polymerization, while remaining products are produced from other technologies such as modification and thermal cracking for enhanced end-use applications.
Modification technology is expected to witness the highest gains over the foreseeable future on account of growing demand in end use industries including adhesives, coating, food packaging and textile for finished products such as acid-modified, oxidized and special monomer derived.
Product Insights
On the basis of product, the industry is segmented into high density polymerized, low density polymerized, oxidized, acid-modified, low density cracked and others. After ethylene polymerization, two different grades of PE wax is obtained namely high density polymerized and low density polymerized, which are categorized on the basis of molecular density.
HDPE is mainly used for industrial paints, printing inks, coatings, adhesives, paper, textile, PVC stabilizer and rubber & plastics processing aid. LDPE finds application in plastic films and rigid containers.
They have good heat stability, high softening point and are widely used for textile, food packaging, paint and automotive coatings industries. Acid-modified waxes are obtained after chemical modification process in the presence of catalysts. Other segment includes special monomer modified type.
Application Insights
Masterbatch was the leading application segment followed by plastics on account of huge plastic demand globally. Printing inks is expected to witness significant gains over the foreseeable future as PE waxes are capable of providing resistance, anti blocking, water repellancy and anti settling.
Over the forecast period, the industry is expected to extend its application in PVC pipes, PVC stabilizer, road marking thermoplastic paints and plastic masterbatches manufacturing. Stringent emission standards by environmental bodies such as EPA are also expected to increase PE wax usage for solvent borne coating.
Regional Insights
Asia Pacific PE wax market led the global industry on account of high production levels in emerging economies including India, China and Japan. The region is also expected to witness the highest growth over the forecast period on account of developing end use industries including coating, packaging, adhesives, cosmetics and printing ink.
Strong masterbatch demand in India is also expected to positively impact industry demand over the foreseeable future. North America was the second largest market and is expected to grow significantly on account of stringent food regulation by FDA coupled with shale gas developments in the region.
MEA market is expected to witness high growth over the forecast period owing to lower feedstock prices coupled with oil & gas infrastructure developments. On account of slow developments in end use industries such as printing ink, masterbatch and adhesives, Europe polyethylene wax market is anticipated to experience stable growth.
Competitive Insights
Global polyethylene wax market share is highly fragmented on account of huge domestic as well as global players. Key participants include Marcus Oil & Chemicals Private Ltd, Honeywell, BASF, Westlake Chemical, Zell Chemie International, Michelman, OPI Inc., Innospec Inc., Merco Wax Company, Trecora Chemical, Baker Hughes, Clariant and Mitsui Chemicals.
Technological advancement will remain as key trend for global industry participants as they are expected to develop manufacturing technologies which are capable of enhancing performance of PE waxes as additives in coating and printing inks.
Honeywell was the first company to purchase technology from Evonik for PE wax manufacturing. Industry participants are also expected to integrate their operations to maximize returns on account of favirable raw material trends.