Industry Insights
The global polyvinyl butyral (PVB) market size was USD 2.24 billion in 2015 and is expected to witness significant growth over the next eight years on account of growing vehicle manufacturing in emerging economies including China, India, Mexico, South Korea and Brazil. Increasing PVB demand in light of rising architectural projects will fuel market growth in the upcoming years.
Polyvinyl butyral resin is made into films & sheets which are used extensively as an interlayer for manufacturing laminated glass. Laminated glass is a type of safety glass that holds together when shattered owing to impact. It is held in place by an interlayer in between its layers of glass. The interlayer keeps the layers of glass bonded in the event of a collision and PVBs' high strength prevents the glass from breaking up into large sharp pieces.
Global polyvinyl butyral (PVB) market revenue, by end use, 2013 - 2024 (USD Million)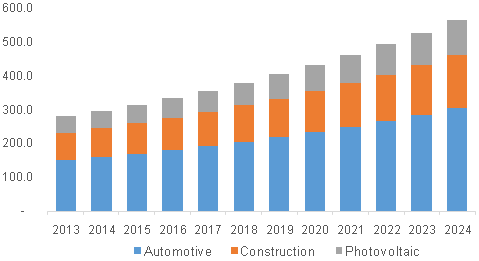 Growing demand for laminated glasses in automobiles and buildings on account of its durability, safety, security, sound reduction, UV radiation control, solar energy control and weather resistance coupled with better aesthetic appearance is expected to augment industry expansion.
Growing construction sector in light of urbanization, population growth and government infrastructural plans will augment industry growth. Moreover, rapid growth in the number of hospitals, schools, government buildings and defense infrastructure will promote market growth. Also, PVB resins have gained acceptance among photovoltaic thin film solar module manufacturers owing to its low costs. Increasing applicability of these resins in the solar energy generation sector is expected to fuel the industry demand over the forecast period.
Polyvinyl alcohol and butyraldehyde are the key raw materials used for manufacturing PVB. These raw materials are derived from petroleum. Volatility in raw material prices affects raw material pricing and acts as a restraint for the market.
Technological advancements coupled with rising product usage in solar panels will drive the market demand over the forecast period. Moreover, increasing investment and favorable government support for the development of solar power projects will create new opportunities over the forecast period.
Application Insights
PVB film market was the prominent segment in 2015 and accounted for 85% of the global volume share and are expected to witness significant growth owing to their growing usage in automotive and construction industries. Moreover, growing utilization of films & sheets for manufacturing thin film solar panels will further boost the PVB market size over the forecasts period.
End-use Insights
Automotive was the largest end-use segment in 2015 and accounted for 53.9% of the global PVB films & sheets volume share and is expected to witness significant growth owing to increasing usage for manufacturing automotive windshields. Growing demand for PVB films in windshields on account of noise reduction, durability and weather resistance will stimulate growth over the upcoming years.
Regional Insights
The polyvinyl butyral market was the largest in Asia Pacific dominating the global industry, in terms of volume as well as revenue. Growing population, rising living standards and the presence of several automobile manufacturers in the region is expected to fuel the demand for the product in the near future. Moreover, the growth of the construction industry in the region in light of rapid modernization and development will further augment demand. The market is anticipated to grow at a CAGR of 8% over the forecast period.
U.S. polyvinyl butyral (PVB) market revenue, by application, 2013 - 2024 (USD Million)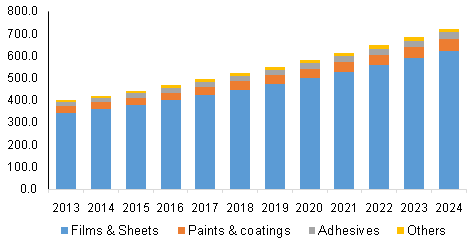 China had the largest pvb market share in terms of consumption and revenue generation. The country was also a major exporter of these resins across the world. This trend is likely to continue owing to the increasing number of manufacturing facilities of polyvinyl butyral resins in the country. Moreover, the presence of the main automobile manufacturers such as Volkswagen, Toyota, Honda, Nissan, Audi and Peugeot in the country will spur market size over the next eight years.
Competitive Insights
The industry is fragmented in nature with a large number of market players present in the U.S., China, Japan, and India. Key industry players include Eastman Chemical Company, DuPont, Chang Chun Petrochemical, Sekisui Chemicals, Kuraray, Huakai Plastic, Kingboard (Fo Gang) Specialty Resins, Everlam, Tiantai Kanglai Industrial, DuLite, Guangzhou Aojisi New Materials, Qingdao Haocheng Industrial, Jiangxi Rongxin New Materials, Huzhou Xinfu New Materials and Zhejiang Pulijin Plastic.