Industry Insights
The global polyvinyl butyral market size was estimated at 355.8 kilotons in 2015. Rising utilization of laminated glasses in residential and non-residential buildings as a result of its several properties such as durability, UV radiation control, weather resistance, and sound reduction is one of the key trends escalating market growth.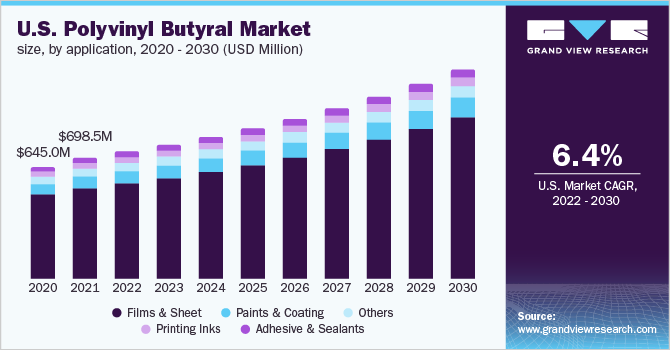 Polyvinyl butyral (PVB) is significantly used as a glass interlayer in several end-use industries such as automotive and architectural applications. These industries utilize limited glass as a protective interlayer, which is fused between two panels of glass. Various properties of PVB films and sheets include high transparency, good impact resistance, outstanding elasticity, and high tensile strength.
The demand for PVB films and sheets is anticipated to witness healthy rise over the coming years as a result of its usage in solar energy, ground transportation, and building & construction. Moreover, surging demand for photovoltaic modules in China and Japan is expected to augment the consumption of product in the solar energy segments.
The market is likely to exhibit significant growth over the coming years as a result of increasing usage in various end-use industries including automotive, construction, and photovoltaic. Properties such as good adhesion, excellent recyclability, and security coupled with solar energy control and aesthetic appearance will induce the demand for polyvinyl butyral among consumers.
Butyraldehyde and polyvinyl alcohol, the major raw materials utilized in the production of PVB, are extracted from carbon compounds and petroleum. The volatile nature of these raw materials not only affects their pricing in the market but also behaves as a limitation for the usage of PVB in automotive and construction applications.
However, growing number of off-grid solar projects as well as residential and commercial buildings in Latin America and Asia Pacific are poised to stimulate the market for laminated and safety glasses. Spiraling product demand for the manufacturing of solar panels is projected to open new avenues over the upcoming years. In addition, extensive usage in the construction industry owing to its high resistance to UV radiations and harsh weather is estimated to supplement industry expansion.
Application Insights
In 2015, adhesives held around 4.47% of the overall volume share. PVB in adhesives is anticipated to exhibit significant gains on account of their several properties including superior strength and excellent adhesion and binding in various environmental conditions. Moreover, PVB structural adhesives find their application in the aircraft industry for replacement of rivets and other methods of joining and fastening.
PVB sheets & films are largely used for the manufacturing of laminated glasses, which are widely used in the architectural and automotive sectors. These laminated glasses are supported by a PVB interlayer which keeps the glass layers bonded at the time of a collision. PVB's high strength withstands the impact of the hit and prevents the glass from cracking into sharp pieces.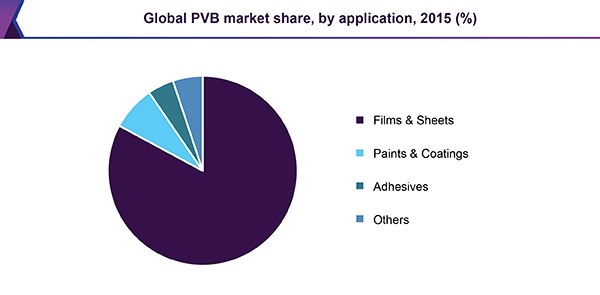 Soaring demand for films & sheets in automobile windshields and architectural projects owing to properties such as durability, noise reduction, weather resistance, and high strength is likely to stimulate the growth of the PVB market. Key manufacturers of PVB sheets & films include Everlam, Huakai Plastic Co. Limited, Kingboard Specialty Resins Limited, Tiantai Kanglai Co., Limited, DuLite Co., Limited, and Zhejiang Pulijin Plastic Co., Limited.
Regional Insights
From a geographical front, Latin America was leading in 2015 and is expected to show the same trend over the forecast period. Increasing automotive manufacturing in Argentina, Brazil, and Columbia is likely to have a positive impact on the market in the region.
Automotive manufacturers are showing tremendous interest in investing in Latin America, which is projected to spur the market for PVB. Emergence of construction companies in Chile and Peru owing to rapid economic development is projected to create growth potential for the regional market over the coming years.
The burgeoning use of PVB in packaging applications is one of the primary growth stimulants of the market in Asia Pacific. In addition, growing use of laminated glasses and adhesives in medical packaging in order to prevent infections and maintain health & safety standards is estimated to work in favor of the regional market.
Polyvinyl Butyral Market Share Insights
Companies in the market are focusing on product, capacity expansion, capital expansion, and substantial investment decisions to consolidate their position in the arena. Booming manufacturing sector along with rising demand for paints and coatings, adhesives, architectural and automotive applications is anticipated to unfold ample growth opportunities for market players.
A majority of companies are developing products that scale to suit the needs of the architectural and automotive industries. Besides this, a raft of PVB manufacturing companies is expected to keep their business units in vicinity to regions where applications growth in photovoltaic, automotive, and construction.
Some of the key companies in the industry are Eastman Chemical Co., Chang Chun Company Limited, Sekisui Chemical Company Limited, Kuraray Co., Limited, Huakai Plastic Co., Ltd., Kingboard Specialty Resins Limited, Tiantai Kanglai Co., Limited, Everlam, Dulite Co., Limited, and Qingdao Haocheng Co., Ltd.
Polyvinyl Butyral Application Outlook (Volume, Tons; Revenue, USD Thousand, 2013 - 2024)

Films & Sheets

Paints & Coatings

Adhesives

Others

Polyvinyl Butyral Regional Outlook (Volume, Tons; Revenue, USD Thousand, 2013 - 2024)

North America

Europe

Germany

U.K.

France

Italy

Russia

Poland

Turkey

Asia Pacific

China

Japan

Taiwan

South Korea

India

Vietnam

Indonesia

Latin America

Middle East & Africa