Industry Insights
Precipitated silica market size was USD 1.62 billion in 2014.The market is expected to witness substantial growth owing to its profound usage in rubber, oral care, and packaging applications. Growing use of these products in the rubber industry on account of properties such as abrasion resistance and high tensile strength is expected to drive precipitated silica market demand over the forecast period.
The product is widely used in tire industry wherein it helps to reduce the tire rolling resistance, and also increases the grip of tires. Furthermore, this product has profound usage in rubber silicon components used in rice rollers, rubber belts, and oil seals which thereby helps to improve abrasion and wear resistance.
Precipitated silica is used in manufacturing transparent and medicated toothpaste wherein it acts as cleaning, polishing, and whitening agent.
U.S Precipitated Silica market revenue, by application, 2012 - 2022 (USD Million)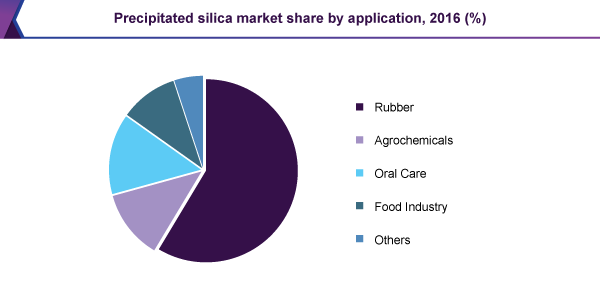 The product is used as mild abrasive cleaners and thickeners owing to maximum fluoride compatibility. Furthermore, the compound is used in toothpaste formulations on account of its whitening and cleaning properties to meet dentifrice applications. These products act as thickeners to maximize the fluoride compatibility and help minimize tooth sensitivity. 
Application Insights
Precipitated silica used in oral care was valued at over USD 180.0 million in 2014. The increasing use of the product in toothpaste industry is expected to propel the market demand over the forecast period. Growing use of dental silica as thickeners in toothpaste improves the shelf life of the product. Additionally, this product also acts as thickeners and cleaning agents in varied dentifrice products owing to its compatibility with organic hydrocolloids.
Rubber application is expected to witness substantial growth among other applications, growing at a CAGR of over 7.2% of the overall volume share from 2015 to 2022. Increasing application scope of the compound in manufacturing conveyor belts, transmission belts, rice rollers, PVC sheets, thermoplastic rubbers, shoe soles, and silicon tubes are expected to have a positive impact precipitated silica market growth. Growing green tire applications on account of its benefits offered such as optimized fuel consumption and reduced rolling resistance is expected to propel the market demand.
The product has profound usage in the agrochemical and industrial applications wherein these products act as carriers for anti-caking and free flowing agents on account of higher absorption ability and improved chemical stability. In addition, it also acts as suspension as well as grinding aids for water-dispersible granules, flowable and wettable powders.
Region Insights
North America food industry demand was valued at over USD 24 million in 2014.Growing use of precipitated silica in food applications is expected to fuel market demand over the forecast period. The product has profound usage in the food industry on account of their anti-caking property, superior absorption and high purity. The compound is extensively used in food applications which include edible salt as well as powdered food products. The compound helps in achieving improved product consistency through automated dosing of vegetable as well as fruit extracts, preservatives, and nutrients.
Asia Pacific accounted for over 45% of the global volume share in 2014. Asia Pacific rubber market is expected to witness significant growth on account of rising expansion of capital markets, the presence of large & small scale industries, and rising industrialization. These products act as reinforcement agent in tires as well as rubber formulations. Furthermore, the product has extensive usage in industrial applications particularly in rubber hoses wherein this product confers superior durability & strength coupled with better tear and heat resistance. Rubber grade products help to improve adhesion in fabric and wire coated compounds to yield smooth finished products.
Competitive Market Share Insights
Leading companies such as W.R. Grace & Co. emphasize on technology and produce colloidal, amorphous gel, zeolites and precipitated silica. PERKASIL products are used as reinforcement fillers in tire and rubber applications. The products offered include a widespread range of porosities and silicas which are used in granular as well as powdered form.
Key market participants include Anten Chemical, Huber Engineered Materials, PPG Industries, Inc., Evonik Industries AG, IQE Group, Solvay S.A., Oriental Silicas Corporation, Madhu Silica Pvt. Ltd., PQ Corporation, Kadvani Chemicals Pvt. Ltd., and Tosoh Silica Corporation.