Industry Insights
The global precipitated silica market size was estimated at USD 1.72 billion in 2016. It has high demand for manufacturing rubber and non-rubber products such as toothpastes, and pesticides. Increasing product penetration as a reinforcing agent and filler to replace carbon black in tire manufacturing industry is expected drive demand.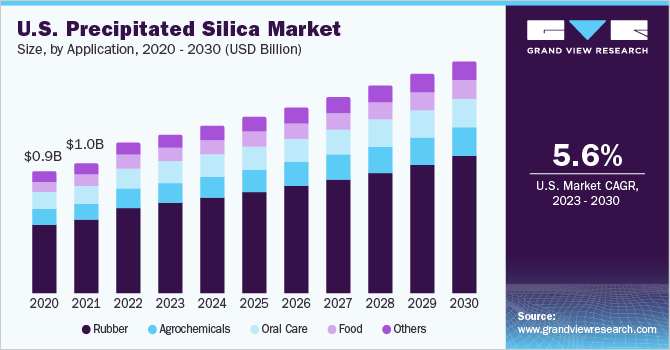 Commercially, there is a wide range of precipitated silica grades available for the end-use applications. The prices for these grades slightly vary based on the purity level offered by the industry players. For instance, highly dispersible grades of the product are the most expensive and cost over 15% to 20% more than easily dispersible grades.
The demand in the U.S. is primarily driven by the rubber application. Growing demand for the product in manufacturing of green tires for motorcycle and automotive applications is expected to have a positive impact on the market. The region is one of the largest producers of heavy commercial vehicles, thus resulting into high demand.
Presence of substitutes such as carbon black is expected to be a threat for the market. However, the rubber manufacturers prefer precipitated silica over carbon black fillers as it offers improved stiffness, reinforcing strength, enhanced resistance to heat, and better color retention. As a result, the demand it's in rubber, especially tire manufacturing is expected to grow.
Commercially, grades of precipitated silica available in the market vary based on the physical properties such as pH, surface area, particle size, and oil and water absorption ratio. These properties of precipitated silica vary from manufacturer to manufacturer as the reaction conditions used by each player differ slightly.
Application Insights
Rubber was the largest application segment, accounting for over 60% of the global precipitated silica market in 2016. This demand was attributed to extensive usage of precipitated silica in rubber industries for manufacturing rice rollers, micro sheets, PVC sheets, thermoplastic rubber, and shoe soles.
The product offers superior abrasion resistance, tensile strength, and flex fatigue properties, which enables its application in rubber manufacturing industry. The product improves adhesion between rubber tire and metallic reinforcements owing to which its demand in manufacturing tires, particularly for heavy vehicles and trucks, is high.
It is used to manufacture rubber, which is used in the manufacturing of medical & surgical instruments, cables, and wires. Growth of medical sector owing to rising consumer awareness towards health is expected to have a positive impact on the industry growth over the forecast period.
Precipitated silica is used in agrochemical formulations as liquid active ingredient and chemical carrier. Furthermore, it has extensive usage as dispersing, grinding, and wetting aid, wherein it improves suspension behavior in liquids. These product properties are expected to have a positive impact on the demand over the projected period.
Fine particle size and large surface area offered by the product enables its application as flow conditioner and absorbent carrier in solid agrochemicals. Increasing awareness and knowledge of farmers regarding the use of agrochemicals in emerging economies is projected to propel the demand for pesticides, thereby increasing the demand over the forecast period.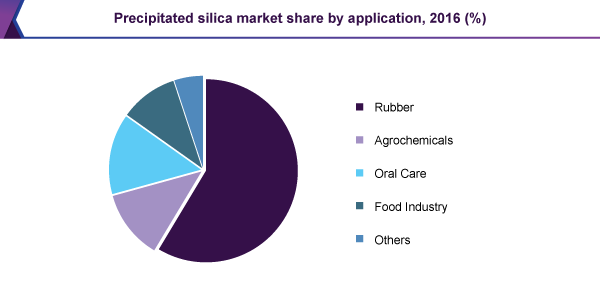 Increasing use of precipitated silica in toothpaste industry as a thickening and cleaning agent is expected to propel market demand over the forecast period. The product is used in oral care applications to provide effective polishing and cleaning performance. This application segmented accounted for 14% of the overall demand in 2016.
Precipitated silica is primarily used to control rheological properties of paints and coatings solutions. It acts as an anti-settling agent and as a thixotropic agent in various paint and coating products and prevents corrosion and rust. The product imparts easy dispersion and anti-settling properties to lacquers and paints. It also influences matting effect to the end products.
Food industry segment is expected to grow witness substantial growth, growing at a CAGR of 7.1% from 2016 to 2024. Growing application of precipitated silica in food industry, on account of its anti-caking property, superior absorption, and high purity, is expected to fuel the market demand over the forecast period.
Precipitated silica is widely used in food applications, which can be attributed to its anti-caking, high purity, and superior absorption property. It caters to the challenges related to granulated, grated, and emulsified food products. Precipitated silica used in food applications helps absorb ambient oil and moisture from the food particles and, thereby, also increases product consistency.
Regional Insights
Asia Pacific was the largest market in 2016, accounting over 45% of the overall consumption. Robust base of rubber, food processing and personal product manufacturing companies in China, Japan, Korea and India is expected to have a positive impact on the industry growth over the projected period.
India is one of the largest manufacturers of agro products in the world. Growing population in the country coupled with increasing focus of the government on increasing agricultural exports is expected to compel farmers to improve farm yields. The aforementioned factors are expected to propel demand in agrochemical applications.
The demand in Brazil is expected to grow at a CAGR of 7.6% from 2016 to 2024. High investments in agricultural sector in the region is expected to propel demand for pesticides, thereby propelling product demand over the projected period. Increasing foreign investments in the industrial sector in the country is expected have a positive impact on the market growth.
Growing awareness for oral hygiene amongst consumers across the globe is expected to favorably impact the demand for the product from the toothpaste industry. Precipitated silica is used in the manufacture of medicated and transported toothpaste, wherein it acts as a cleaning, and whitening agent.
The demand in Europe is expected to grow at a CAGR of 6.2% from 2016 to 2024 owing to high demand for rubber and oral care manufacturing applications. The presence of major tire manufacturing companies in the region including Michelin, Continental Tire and Pirelli is expected to have a positive impact on the industry growth.
Growth of food processing industry in the GCC countries is expected to propel industry growth. Changing consumer food preferences, coupled with high demand ready to eat food products is expected to have a positive impact on the market growth over the projected year. The demand in Middle East & Africa is likely to grow at a CAGR of over 7% from 2016 to 2024.
Precipitated Silica Market Share Insights
Precipitated silica market is fragmented owing to larger number of manufacturers. The major players in the industry have large product portfolio, with several grades. For instance, India based Madhu Silica offers over 40 grades if the product for rubber, oral care, agrochemicals and paints and coatings applications.
The major players in the industry including Evonik Industries, Tosoh Silica Corporation, IQE Group, INEOS Silicas and W.R. Grace & Co. are integrated across the value chain. Majority of the players manufacture silicates, which are captively consumed by these players to manufacture various grades of precipitated silica.
Rubber manufacturing is expected to be the most dynamic application segment for the product as automotive manufacturers are constantly forcing tire manufacturers to innovate better tires in order to improve the performance of vehicles. Various initiatives by tire manufacturers focusing on R&D to study the morphology of precipitated silica in order to procure customized solutions from the product manufacturers are expected to open new avenues for the industry growth.