Industry Insights
The global prepreg market size was USD 5.29 billion in 2015 and is expected to witness growth at a CAGR of around 10% over the forecast period on account of its increasing use in the aerospace and automotive industries. Rising need among manufacturers for the manufacturing of durable and lighter materials for the production of various aerospace parts is expected to have a positive impact on the industry over the next eight years.
Increasing product use in the wind sector for the production of lightweight blades is anticipated to fuel demand over the forecast period. Furthermore, rising number of mandates particularly in the U.S. and European countries such as UK and France targeting low carbon emissions and better fuel efficiency is expected to propel product use in the automotive industry over the next eight years.
U.S. prepreg market volume, by application, 2013 - 2024 (Kilo Tons)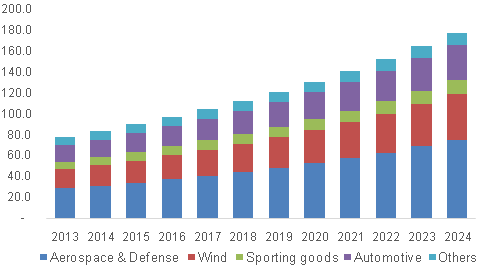 Rising need for lightweight materials in the production of sports equipment for improved performance is expected to be one of the major driving force for prepreg over the forecast period. Nonetheless, high cost associated with the product as compared to its alternatives such as aluminum is anticipated to challenge the product demand. Also, numerous difficulties faced by manufacturers in repair as well damage detection is expected to hamper industry growth.

Increasing R&D expenditure by numerous companies for the development of enhanced curing and manufacturing techniques is expected to have a positive impact on the industry over the next eight years.
Rising product demand from various applications such as automotive, sporting goods, wind, and military & defense on account of superior properties such as improved machinability, high strengths and shorter curing time is expected to fuel industry growth over the forecast period.
Growing popularity among industries such as marine, and electronics owing to its enhanced mechanical properties is anticipated to open new market avenues for the product over the next eight years.
Application insights
Aerospace & defense was the largest application segment accounting for over 35% of global volume in 2015. Rising product use in the manufacturing of numerous aerospace parts including cargo and passenger floor panels, air ducts, ceiling panels, lavatories, overhead compartments, cabin linings, bars, seats, fins & winglets, and brackets on account of their lightweight nature is expected to fuel demand over the forecast period.
Product demand in the wind sector was over 60 kilo tons in 2015. Increasing government focus towards the development of sustainable energy sources is expected to have a positive impact on the industry over the next eight years which in turn will fuel prepreg demand.
Fiber type insights
Carbon is the largest fiber type employed in the manufacturing of prepregs and was estimated at over USD 3 billion in 2015. The fibers are used in almost all industries on account of numerous advantages such as excellent surface finish and low porosity. Also, carbon fiber type prepregs can be stored at room temperature and are easier to handle and store.
Resin insights
Thermosetting resin holds the largest market share as it is widely used in the aerospace, automotive and marine applications. The growth of the automotive industry especially in Asia Pacific countries on account of growing disposable income coupled with rising need for four wheelers among consumers is expected to propel product need over the next eight years.
Thermoplastic resins are expected to gain significant share over the next eight years on account of its superior properties such as moisture and solvent resistance coupled with its fire retardant nature. The segment accounted for over USD 1 billion in 2015 owing to rising need for polymer composite molded parts primarily in the automotive industry.
Manufacturing process insights
Hot-melt accounted for over 70% of the prepreg industry in 2015. This technique is used for both unidirectional as well as fabric prepregs and hence is adopted by numerous manufacturers. Also, the cost-effectiveness of this process is expected to fuel its adoption over the forecast period.
Regional insights
North America was the largest regional market for prepreg in 2015 owing to growth in the wind energy and aerospace sectors. The wind energy market in North America is expected to grow at a CAGR of over 8% over the next five years, which in turn will fuel product demand over the forecast period. Furthermore, use of carbon fiber products in the production of wind turbines enables more efficient and longer blade designs, and also optimizes weight-to-stiffness ratio in longer blades. These benefits of the product are expected to fuel its demand in wind energy applications over the next eight years.
Asia-Pacific is expected to witness rapid growth over the next eight years on account of tremendous growth in wind capacity installations. China accounted for the largest share in the region owing to increased adoption of wind energy at a rapid pace.
Competitive insights
Key players in the industry include Park Electrochemical Corp., Axiom Materials, Inc., Mitsubishi Rayon Co., LTD, Royal Ten Cate NV, Teijin Limited, Hexcel Corporation, Gurit Holding, SGL Group, Toray Industries and Cytec Industries.
In January 2016, Hexcel Corporation announced the introduction of its CFRP technology in the BMW7 series. The company supplies unidirectional carbon prepregs made from HexPly M77 resin system to BMW.