Industry Insights
The global aramid fiber market size was valued at USD 2.84 billion in 2015 and is projected to experience significant growth over the forecast period in light of its increasing demand from several end-use applications including rubber & tire reinforcement, electrical insulation, optical fiber, security & protection and others. The growth of these application industries is expected to boost expansion over the projected period.
The increasing use of armors owing to rising security concerns among citizens is directly propelling growth. These armors include bulletproof vests, body armors, helmets and vehicle armors used in defense sectors. Aramid fibers are also used as an alternative to asbestos which is considered harmful to the environment. Rising automotive market will further fuel the growth of the market.
U.S. aramid fibers market, by application, 2013 - 2024 (Tons)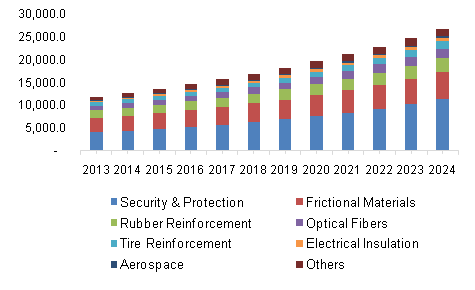 Players in this industry have been emphasizing on R&D activities to launch new products which comply with the regulations imposed by regulatory bodies. Properties of these fibers including fuel efficiency and lightweight make it a suitable material for aerospace applications. Emerging economies including China and India are projected to be the fastest-growing markets owing to the increasing consumption of automotive and electrical devices in the recent years.
Key players within the market are focusing on agreements, collaborations and partnerships with suppliers and consumers, along with new product launches to strengthen their position and increase their business presence. Also, industry players are emphasizing on innovation in protective clothing to accommodate safety concerns.
Application Insights
Security & protection accounted for 33.6% of the total market revenue in 2015. Aramid fiber is widely used for manufacturing fire-resistant and stab-resistant protective clothing including footwear, helmets, and gloves. These products are used for military, industrial, and civilian purposes. Stringent regulations in the European and North American countries such as Germany, UK, France, and the U.S. are driving regional market.
Expansion of the IT industry coupled with growing demand for electrical insulation and optical fibers has resulted in promoting demand for aramid fibers. Increasing demand for lightweight products in the aerospace industry is expected to fuel expansion owing to its fuel efficiency and safety qualities. Rising concerns about employee safety and health are also contributing to the growth of industry.
Product Insights
Para-aramid fibers demand was 51,874.2 tons in 2015. They possess qualities such as strength-to-weight property, high tenacity, and low elongation, resulting in its expanding requirement from various industries such as defense, automotive and aerospace.
Meta-aramid fibers possess excellent mechanical and physical properties. It is an aromatic polyamide which is extensively applied in filtration, honeycombed structure products, and thermal protective apparel owing to its heat resisting and flameproof properties.
Regional Insights
Europe was estimated as the largest market for aramid fiber globally, with a revenue share of 35.1% in 2015. The industry is majorly driven by countries including France, Germany and U.K. Stringent regulations in different industries such as steel & aluminum, oil & gas, automotive, and construction in these countries has been promoting growth and this trend is anticipated to continue over the forecast period.
Asia Pacific is expected to witness the fastest growth in terms of volume at a 9.6% CAGR, for the product over the forecast period. The rising demand for aramid fibers from the automotive sector and optical fiber segment in this region is a primary reason for this expansion. Increasing vehicle production and rising consumption of electrical devices in China and India are projected to propel the demand for the product over the forecast period.
Competitive Insights
The global aramid fiber market is competitive in nature, with key companies involved in continuous innovation in the product through R&D. Key players in this market include E.I. du Pont de Nemours & Co., Hyosung Corporation, Yantai Tayho Advanced Materials Co., Kolon Industries Inc., Kermel Toray Chemical Korea Inc. and SRO Aramid Co. Ltd.
The key players are also engaged in collaborations and partnerships over the forecast period. There are several end use applications including composites, filtration, ropes & cables, recreational goods, which is expected to provide a competitive edge to the key players and an opportunity to enhance their business presence.