Industry Insights
This report analyzes and estimates the global rare earth elements market. These are also referred to as rare earth metals and are a set of seventeen elements which exhibit similar properties and belong to the lanthanide and actinide series. The complete fifteen elements of the lanthanide series and scandium and yttrium together make up these elements. Common elements include Cerium, Lanthanum, Neodymium and Praseodymium among others and together account for over 75% of global rare earth element consumption. Rare earth metals find applications in numerous high technology products such as tablet computers, TVs, advanced military technology, nuclear batteries, laser repeaters, miniature, superconductors, numerous medical devices, rechargeable batteries and permanent magnets for hybrid cars and wind turbines. In addition, they are also used as catalysts in automotive and petroleum refining and as pigments in glass and ceramics. Elements such as Neodymium are extensively used in the manufacturing of permanent magnets. The demand for permanent magnets is expected to increase from over 650 kilo tons in 2012 to an estimated 1,300 kilo tons by 2020.
This is expected to impact directly the demand for neodymium which is one of the highest consumed rare earth elements. Furthermore, the growing automobile industry is expected to augment the demand for magnets, in turn, is expected to drive rare earth elements market demand. Another key factor driving the rare earth elements market is the growing use of these products as a metal catalyst. Cerium and lanthanum are extensively used as catalyst in metallurgical and petroleum refining process. The global rare earth metal catalyst market was estimated to be USD 4.6 billion in 2012 and is expected to reach over USD 6 billion by 2020. This is expected to increase greatly the demand for cerium and lanthanum which together accounted for over 60% of global rare earth metal consumption in 2012. In spite of the large application scope for these elements, the market faces considerable restraint in the form of unavailability of raw material and depleting reserves. As of 2012, over 95% of these elements were mined in China, and this has led to growing supple demand gap in other parts of the world. The anticipated depleting existing reserves of rare earth metal include neodymium and dysprosium because the consumption is expected to increase by 700% and 2600% respectively in the next 25 years due to increasing consumption by end users such as wind turbines and the electrical vehicles industry. Also, the environmental hazards of mining have forced many countries such as China to impose a ban on excessive mining to curtail exploitation of resources. The global rare earth elements market was valued at USD 4.3 billion in 2012 and is expected to reach USD 10.9 billion by 2020, growing at an estimated CAGR of 12.4% from 2014 to 2020.
Product Insights
Key products analyzed and reported in this study include Cerium, Lanthanum, Praseodymium, Yttrium, Neodymium, Dysprosium and Gadolinium among others. Cerium was the highest consumed element, accounting for over 39% of global rare earth elements market consumption in 2012. Cerium is extensively used as a rare earth metal catalyst in metallurgy and refining process. The growing industrialization in emerging economies is expected to boost the demand for cerium over the forecast period. Lanthanum was the second highest consumed element with global consumption more than 40 kilo tons in 2012. Lanthanum is also used in a variety of metallurgical and refining activities. Neodymium is one of the most important rare earth element and is used in permanent magnets. The demand for permanent magnets has been growing at a double-digit growth particularly in the automobile and electronic application.
Application Insights
Magnets, catalyst, metallurgy, polishing and glass are major applications for the rare earth elements market. Other segments such as phosphorous and glasses have also been included in the study. Magnets were the largest application segment for the market with estimated revenue of USD 1.1 billion in 2012.
Rare earth elements market volume, by application, 2012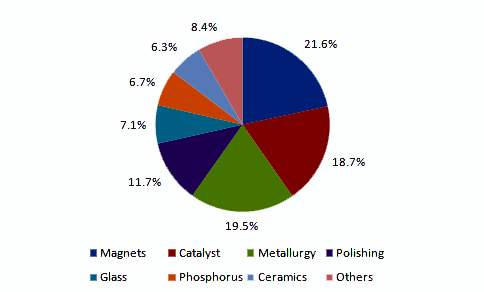 The growing use of magnets in wind turbine and automotive is expected to boost the sales of these elements. Metallurgy and Catalyst were the large application markets for these elements accounting for over 38% of the revenue in 2012. CaThe catalysts used in a variety of industries such as glass, metallurgy, polishing and ceramics among others.
Regional Insights
Asia Pacific was the largest regional rare earth elements market due to the large economically utilized reserves in China. The region consumed over 150 kilo tons of these elements in 2012 and is expected to grow at a CAGR of 11.9% from 2014 to 2020. The demand is expected to be primarily fuelled by increasing applications in countries such as India, South Korea, Malaysia and China. China has the largest reserves for rare earth metals and also consumes large quantities due to the presence of application industries. RoW is expected to witness significant growth over the forecast period on account of growing metallurgy and automotive industry, which drives the demand for magnets in turn increasing the demand for rare earth elements. Although China supplies 97% of total demand it accounts for only 36.5% of the total reserves and the rest is fairly spread all around the world, which requires massive exploration. This indicates that there are many rare earth deposits which are yet to be discovered. Russia has the second highest reserves of about 19% followed by the US with 13.2%, Australia with 5.5% and India with 3.1% of world totals.
Competitive Insights
Inner Mongolia Baotou Steel Rare Earth Hi-Tech Co and Molycorp were the largest companies in the rare earth elements market with a combined share of over 38% in 2012. Other key market participants include China Rare Earth Holdings, Indian Rare Earths Ltd, Great Western Mineral Group and Lynas Corporation Limited among others.