Industry Insights
The global savory ingredients market size was USD 7.49 billion in 2015 and is expected to witness significant growth over the forecast period. Convenience food products provide solutions for balancing work life and stress related issues by minimizing the effort and preparation time for the meals. The rising consumption of convenience products is projected to drive demand over the forecast period.
Savory ingredients are added to food products to enhance their taste and aroma. Consumption of ready-to-eat and ready-to-cook products is increasing owing to the increasing hectic lifestyle coupled with rising disposable income. This trend is fueling the growth of the global savory ingredients market. Furthermore, savory ingredients are cost-effective due to which food manufacturers widely use them as thickening agents, stabilizers, and emulsifiers in various food products.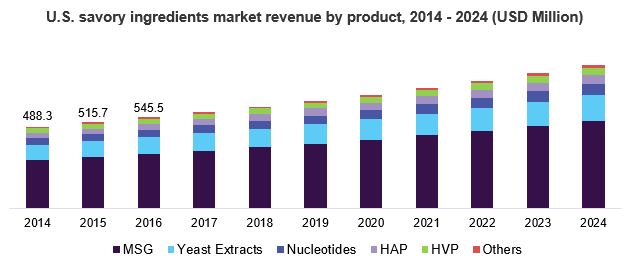 GRAS status given to MSG and other flavor enhancers is expected to boost demand in the food industry. The growing use of savory ingredients in restaurants and other food service chains is projected to propel the market growth.
Growing demand for yeast extract is also expected to drive the global savory ingredients market. Yeast extracts are natural ingredients created from yeast to produce wine, bread, and beer. Yeast extracts are rich in vitamin B, and amino acids owing to this, yeast extracts are widely used as flavor enhancers.
The "clean label" status given to yeast extracts is anticipated to drive North America and Europe market. Increasing consumption for bakery food and natural ingredients is expected to spur its demand in the food & beverage industry.
Significant investments made in the development of savory product solutions are anticipated to boost the industry demand over the coming years. Ajinomoto has localized their product offerings to suit taste preferences at a country level. Angel Yeast introduced new flavors and ingredients in the market and also invested in expanding production capabilities in emerging economies such as Russia and the Middle East.
"Monosodium glutamate (MSG) dominated the product segment in 2015"
Monosodium glutamate accounted for the largest share in 2015 and is expected to grow at the highest CAGR over the coming years. The usage of MSG is widely in seasoning processed food such as snacks, soups, preserved fish, sausages, prepared meals, ketchup, mayonnaise, soy sauce, gravies and other seafood. Rising disposable income is projected to compliment the savory ingredients market growth over the forecast period.
Yeast extracts accounted for over 4% of the market volume in 2015. With the "Clean Label" concept spreading globally, particularly in Europe, North America, and other developed countries, yeast extract has become a popular ingredient, mainly because it is a natural flavoring agent. The growing trend of consuming healthy food ingredients is anticipated to propel demand over the coming years.
"Savory ingredients extensively used in the food industry"
Economical pricing of the food products such as soups, sausages, pasta, and curries is projected to spur the market demand over the coming years. The food segment accounted for over 66% of the revenue in 2015. The increasing busy lifestyle and growing disposable income in developing countries of Asia Pacific are expected to boost market demand.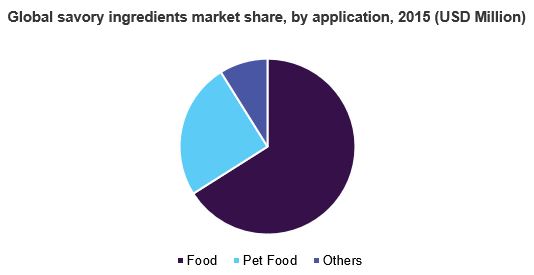 The pet food industry is anticipated to grow at a high CAGR owing to the growing number of economical brands catering to this market. The rising awareness of the benefits and convenience pet food offers is expected to propel the demand for pet food savory ingredients. Hydrolyzed Animal Proteins is anticipated to be widely used in the animal feed and pet food industry over the coming years.
"Asia Pacific is the largest regional savory ingredients market followed by Europe"
Asia Pacific savory ingredients market dominated the global industry in 2015 and is projected to grow at a CAGR of 6.4% from 2016 to 2024, in terms of value. The growth in this region is due to increasing consumption of ready-to-eat food. China, Japan, and India are anticipated to experience strong growth followed by other South East Asian countries such as Indonesia, Thailand, and South Korea.
Europe is projected to account for the second-largest share in 2024. Growing applications and production facilities in Europe is expected to boost market demand over the forecast period. Rising usage of savory ingredients in the animal feed and pet food industry is expected to augment future growth.
"Ajinomoto Co. Inc., Kerry Group Public Ltd Co., and Royal DSM are prominent players in the industry"
Companies have been investing huge amounts in research & development activities, and innovation centers to gain a competitive edge in the market. Companies have also made huge investments in expanding production capabilities of yeast extract on account of its growing preference in the food industry. In July 2016, Angel Yeast launched new strong umami taste and kokumi taste yeast extracts along solutions for fat & sugar reduction by yeast extracts.
A few savory ingredient manufacturers are also engaged in backward integration to ensure a continuous supply of raw materials and smooth functioning of the supply chain. Key players operating in this market include Angel Yeast Co., Ltd, Vedan International Holdings Ltd., Sensient Technologies Corporation, Givaudan S.A., Tate & Lyle PLC, Lesaffre Group, and Diana Group.