Industry Insights
The global screenless display market size was USD 885 million in 2013. The technology aims at transmitting information without the help of a projector or screen. Visual image systems project visual information directly into the open space. Holographic systems, automotive HUDs, and smart glasses are all part of visual image systems. Retinal direct systems project content directly onto the retina; these include virtual reality headsets and goggles such as the Avegant Glyph. Synaptic interface systems transmit visual content directly to the brain through invasive brain-computer interfacing.
U.S. screenless display market by technology, 2013 - 2020 (USD Million)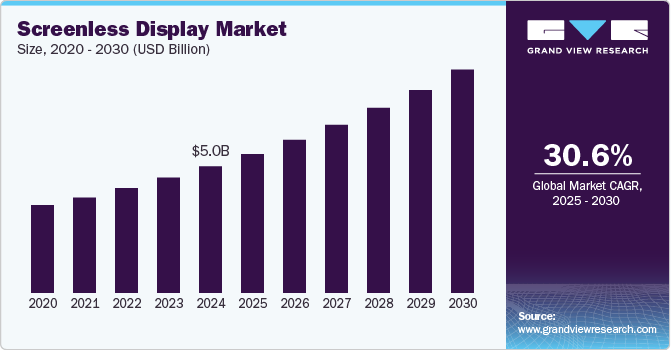 The screenless display industry has gained traction over the past few years owing to increased demand for portability and growing popularity of holographic projections. Presently, large keyboards can be projected on any surface to ease user interaction. For instance, the Celluon EPIC, which projects a full-size keyboard on any flat surface. Numerous companies have made notable breakthroughs in the field, including the development of mobile phones for the partially blind, blind and elderly people, hologram-like videos, bionic contact lenses, and virtual reality headsets. The launch of Google Glass is one such step towards utilizing the technology in daily use across different industry verticals.
One of the major drivers responsible for the steep growth of this technology is the constraint of space on screen-based devices. Low power requirement, low cost, wider angle of view, and greater portability are some other drivers for the development of this technology. However, lack of awareness and privacy concerns may restrain screenless display market growth. Technology innovation based on consumer preferences eases the adoption of such devices. Optimization of space and the need for portability serve as key growth opportunities for R&D.
Technology Insights
Screenless display technology segments include visual image, retinal display, and synaptic interface. Visual image systems project content on any surface perceived by the eye. Retinal direct can be used to achieve high levels of privacy while conducting computing work in public spaces. Synaptic interface systems transmit visual information directly to the brain; they could prove extremely beneficial for the visually impaired.
Visual image systems dominate the global industry owing to the sizable share of holographic systems. Holograms are 3D images that are formed by the deflection of light. Holographic systems are widely popular among events, advertisements, and promotion applications. The technology is mature and inclined towards consumer electronics gadgets. Increased demand for holographic systems in medical and healthcare imaging is expected to boost growth over the forecast period.
Application Insights
Consumer electronics serve as the dominant application sector over the forecast period on account of the development of mobile phones for the elderly and partially impaired. The technology has also been implemented in the development of screenless laptops, which offer a portable solution when connected to a fixed screen monitor. Such technology can also be used to create touchable interfaces and can also be implemented in the development of screenless televisions.
Augmented reality & virtual reality is another field where the technology can be harnessed extensively. The increasing popularity and consumer adoption of VR headsets are expected to boost demand for the technology. Reduction in the size of devices and growth of the smart glass market also serve as major growth avenues for virtual and augmented reality applications. Other applications mainly include medical imaging scanners, which utilize holographic systems for Computed Tomography (CT), ultrasound, and Magnetic Resonance Imaging (MRI). RealView Imaging, an Israeli-company offers 3D holographic interfaces for medical imaging applications.
Regional Insights
Technology development is being carried out at the Massachusetts Institute of Technology's Media Lab. The popularity and demand for Google Glass have been significantly high since its consumer launch in April 2014, especially in developed economies such as the U.S.
Changing consumer preferences and growing technological advancements are expected to surge demand for the technology in Asia Pacific. The North American market dominated the global industry and this trend is expected to continue over the forecast period owing to the presence of a myriad of industry players in the region.
Competitive Insights
Companies with significant screenless display market share include Google, Displair, Avegant, and Vuzix. The Google Glass is a wearable device with an optical head-mounted display that showcases images along with information about the objects in front of the user. Displair has implemented the technology into a floating screen, which uses humidified air or fog to create interactive screens. Avegant is in the process of developing a retinal display product, the Avegant Glyph.
The industry comprises technology-driven companies that develop their own products or acquire companies with relevant technological expertise. Strategic alliances help new industry participants to strengthen their product offering and stay competitive.