Industry Insights
The global squalene market size was USD 111.9 million in 2015 and is expected to witness significant growth over the next few years owing to rising awareness regarding its health benefits resulting in its increasing consumption in pharmaceuticals, food supplement, and cosmetics. Squalene is a chemical compound naturally found in shark liver oil and other vegetables sources including olive oil, rice bran oil, and wheat germ oil.
The market is expected to grow substantially over the forecast period on account of its nutritional and health benefits including white blood cell rejuvenation, immune system stimulation, anti-carcinogen, and antioxidant properties. Increasing usage of squalene as a cleansing and moisturizing compound in personal care and cosmetic products including creams, lotions, lipsticks, bath oils, sunscreens, hair conditioners, and foundations will propel industry growth over the forecast period.
U.S. squalene market volume, by applications, 2013 - 2024 (Tons)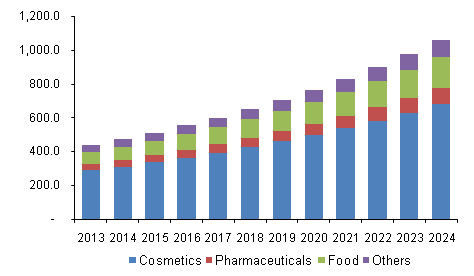 Squalene is quickly absorbed into the skin without leaving an oily residue and also mixes well with other oils, which will augment its demand in personal care and cosmetic products. The growth of the cosmetic industry on account of various factors including rising demand for natural & organic ingredients and attractive marketing & packaging strategies by multinationals will promote industry expansion.
High prevalence of cancer and cardiovascular diseases is anticipated to propel squalene demand for pharmaceutical applications as it reduces carcinogen and cholesterol levels. However, fluctuation in raw material supply owing to strict government regulations on shark poaching and health controversies related to the use of squalene in pharmaceuticals is expected to hamper growth over the next eight years.
Advancements in extraction methods coupled with the development of vegetable and synthetic sources are anticipated to have a positive impact on the market over the forecast period. Recent application of squalene as a vaccine adjuvant in Europe to stimulate the human body's immune response is expected to provide further opportunities for market expansion.
Application Insights
Cosmetics were the dominant sector and contributed to 64.2% of the overall revenue in 2015 and will witness substantial growth in light of increasing demand for anti-aging and rejuvenating creams among middle-aged women. Moreover, increasing awareness regarding detoxifying, hydrating, and emollient attributes of squalene will spur industry expansion over the upcoming years. Furthermore, antibacterial properties of the product will fuel its demand. The use of the product by major players in the industry including L'Oreal, Avon, Elizabeth Arden, Proctor & Gamble, Estee Lauder, Johnson & Johnson, and Mary Kay will fuel growth.
Pharmaceuticals accounted for 7.7% of the global volume in 2015 and is expected to show high gains in light of the development of the healthcare sector in China, India, Indonesia, Malaysia Philippines, Singapore, Thailand and Vietnam.
Raw Material Insights
Vegetable-based squalene, derived from olive oil, amaranth oil, wheat germ, and rice bran oil, was the largest segment and accounted for 46.0% of the overall volume share in 2015. The segment is expected to witness significant growth in light of the high availability of olive oil in various countries including Spain, Italy, Portugal, Greece, the U.S., Australia, Turkey, Morocco, Algeria, France, Australia, and Egypt. Moreover, increasing awareness regarding benefits of olive oil in skin treatments will create immense market potential over the next eight years.
Animal-based squalene, derived from shark liver, was a prominent segment valued at USD 46.2 million in 2015. Regulations on deep-sea shark fishing in Europe and North America are extremely stringent whereas, regulations in Asia Pacific are relatively relaxed. This factor is expected to result in a sluggish growth of the market over the forecast period.
Regional Insights
Europe was the largest market accounting for 36.6% of the global volume in 2015 and will witness significant growth on account of mounting demand for plant-derived ingredients in cosmetic and personal care products, especially in France, Germany, and Italy. Also, urbanization, higher spending power and growing awareness regarding appearance & grooming are expected to propel squalene demand over the forecast period. The increasing aging population coupled with rising dietary supplements demand in Russia, Italy, and Romania will stimulate industry expansion.
Asia Pacific is expected to witness fastest volume growth at a CAGR of 10.0% from 2016 to 2024 owing to rising cosmetics sector in India, China, South Korea, Indonesia, and Malaysia. Increasing demand for dietary supplements in various countries including China, India, and South Korea in light of rising disposable income, changing lifestyle and growing health awareness will augment industry size.
Competitive Insights
The global squalene market is highly dynamic with increasing investment in R&D for product development by various players. Companies are focusing on obtaining high purity product for niche and novel applications including pharmaceuticals and vaccines.
Key participants include Amyris Biotechnologies, Arista Industries Inc, Nucelis LLC, Empresa Figueirense De Pesca Lda, Maruha Nichiro Corporation, Arbee Agencies, Sophim, Gracefruit Limited, VESTAN Squalene Hydrogenation and Purification, SeaDragon Marine Oils, and Kishimoto Special Liver Oil. Amyris offers sugarcane-derived, high-quality Neossance Squalane, which is economical and biocompatible.