Industry Insights
The global starch derivatives market demand was 49,171.8 kilotons in 2014 and is expected to witness significant growth over the next few years. The growth is attributed to growing application of starch derivatives in processed foods, beverages, and pharmaceuticals. Increasing demand for the product as a thickening agent, stabilizer, emulsifier, and binder will augment industry growth in the coming years.
Growing consumer concerns over health and nutrition, along with changing preference for a healthy appetite, are likely to benefit market expansion. Surging need for natural sweeteners in energy drinks and non-carbonated soft drinks will increase penetration over the forecast period. Increasing use of the ingredient in various sectors such as biofuels, paper, and glue manufacturing is likely to supplement market penetration.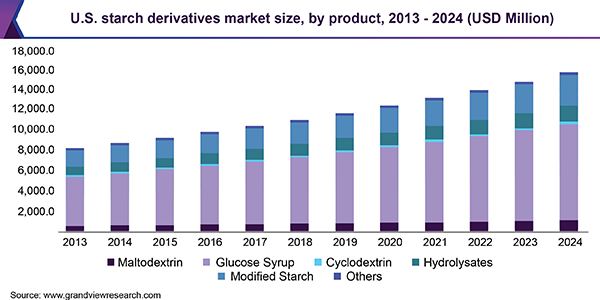 Increasing investments by various players including Cargill Inc.; Roquette; and Grain Processing Corporation are expected to stimulate production. Rising consumption of additives in custards, soups, puddings, salad dressings, gravies, pie fillings, sauces, noodles, and pastas will spur product consumption.
However, increasing R&D expenditure, along with variation in raw material prices, is likely to restrain industry growth. Mounting usage of substitutes including gum will restrict the product demand. Technological advancements in India, China, and Brazil to develop new products are expected to create new opportunities for industry growth. Increasing government support in order to promote natural ingredients will open new avenues over the next few years.
Product Insights
Glucose syrup dominated the global starch derivatives market in 2014, accounting for over 55.0% share of the overall volume. The segment is expected to witness significant gains over the forecast period owing to rising consumption of ice creams, desserts, bakery products, processed meats, and sauces. Increasing glucose consumption in non-food applications including cosmetics, pharmaceuticals, adhesives, textiles, paper, and plywood is expected to propel demand. In addition, it serves as a flavor enhancer, volume adding agent, texture agent, and inhibitor of sugar crystallization in drinks.
Maltodextrin is expected to expand at a revenue based CAGR of 6.6% over the forecast period as a result of its increasing use in various industries including food, cosmetics, pharmaceuticals, paper, textile, construction, and paints and coatings. Increasing demand for maltodextrin as a thickener and filler in processed food owing to its inexpensive nature will propel industry expansion. Increasing need for baby and infant food will boost growth over the next few years.
Cyclodextrins are widely used in the food as well as the cosmetic industries. They are used in the food industry as food additives for the removal of undesired odors or tastes, stabilization of the flavors, and to prevent the browning reactions and microbiological contaminations. Cyclodextrins are also used in the cosmetics industry as they act as protecting agents against heat, light, and oxidation. They are also used in skin care products as they help in reducing skin irritation and inflammation.
Application Insights
Food and beverages were the largest application segment in 2014, accounting for over 60.0% share of the global volume. The segment is likely to witness significant growth on account of growing consumption of packaged and convenience food in various countries including China, India, Brazil, the U.S., Germany, and Saudi Arabia.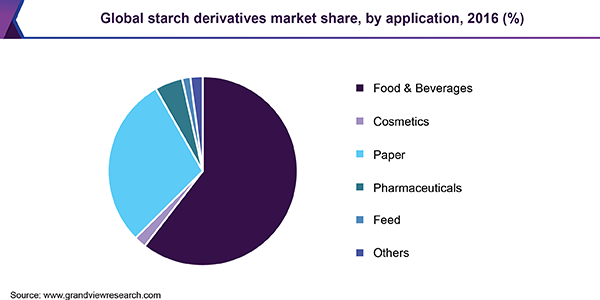 Pharmaceutical is expected to expand at a CAGR of 6.5% over the forecast period due to high disposable income and improvement in healthcare infrastructure. In addition, growing pharmaceutical industry in the U.S., China, and India is predicted to offer substantial opportunity over the forecast period. Moreover, starch is widely used in the cosmetics industry for numerous applications including creams, lotions, shaving gels, bath products, and body powders. Growing inclination towards the usage of natural cosmetics is expected to propel the demand for starch derivatives.
Regional Insights
Asia Pacific accounted for a significant volume share in the starch derivatives market. It will witness significant growth on account of expansion of the food and beverages and pharmaceutical sectors in China, India, South Korea, Thailand, Philippines, and Indonesia. Ongoing developments in paper and textiles, along with growing need for convenience food, will fuel regional industry growth over the next few years. Increasing investment by foreign players such as Ingredion Incorporated, Cargill Inc., and Roquette in India is expected to augment growth.
North America is expected to expand at a volume based CAGR of 3.4% over the forecast period on account of the expansion of the pharmaceutical and food and beverage sectors in countries such as the U.S., Canada, and Mexico. Europe is likely to witness substantial growth as a result of rapid growth of the personal care and textile sectors in the U.K., Germany, and Spain.
Brazil dominated the Latin America market in 2014. Rising disposable income of consumers and rapid urbanization are the macro factors expected to drive demand in the region over the forecast period. Moreover, increasing investment by Cargill Inc. in Brazil in order to produce maltodextrin and modified starch will boost the growth over the forecast period. MEA is likely to witness immense potential as a result of the high demand for sweeteners in South Africa and Egypt.
Starch Derivatives Market Share Insights
ADM; Roquette Frères; Cargill Inc.; Emsland Group; Ingredion Incorporated; Agrana Group; Avebe U.A.; Tate & Lyle PLC; Grain Processing Corporation; and Global Bio-chem Technology Group Company Limited dominated the global market share in 2014. The industry is highly competitive with major companies involved in constant product innovation and R&D activities.
In 2013, Cargill and Arasco entered into a joint venture in the Kingdom of Saudi Arabia (KSA), calling it 'Middle East for Food Solutions Co' (MEFSCO) in order to expand the production of starches and sweeteners. In March 2014, Cargill installed a new 500,000 ton corn starch and sweetener plant in Castro, Brazil, with total investment of USD 214 million in order to expand its corn processing capacity in Latin America by 30.0%.
In July 2018, Archer Daniels Midland Company (ADM) launched its 50-50 joint venture with Aston Foods and Food Ingredients, an agricultural and food ingredients company based in Russia. The main aim behind the joint venture is to provide sweeteners and starches to the customers in Russia.