Industry Insights
Global polypropylene market demand was 55.83 million tons in 2013. Strong end-use industries demand is slated to impact positively the global polypropylene market over the forecast period. Polypropylene has several applications spread across numerous industries, making it an indispensable product. Strong demand from end-use industries such as automotive, construction, packaging and textiles are presumed to impact positively the global polypropylene market. Multiple inherent positive characteristics such as easy raw material availability, superior physical properties, and chemical inertness are projected to drive the global market. The industry is closely integrated with the global hydrocarbon industry. Propene, a refinery by-product and one of the most important petrochemical feedstock is the raw material for polypropylene. Thus, volatile oil and natural gas prices negatively impact the global market. Such volatility affects profitability and operational costs, thus hampering the global polypropylene market growth. Stringent regulations and directives against plastics usage owing to their hazardous impact on the environment during production and disposal are anticipated to retard the global market. Agencies such as FDA, REACH and ASTM have issued several directives concerning polypropylene usage and manufacturing. FDA and REACH have issued regulations governing the polypropylene film applications in food packaging. REACH has issued regulations governing the raw material used and the additives added in the manufacturing process. Shifting consumer trends towards bio-based propylene consumption coupled with favorable government initiatives are key factors capable of shaping the polypropylene industry in the future.
Global polypropylene market volume by application, 2012 - 2022 (Million Tons)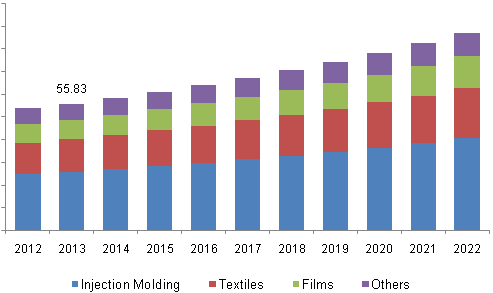 Growing conventional polypropylene substitution by bio-based polypropylene is touted retard the global market development over the forecast period. R&D initiatives regarding cleaner disposal and manufacturing offer ample opportunities for the industry participants.
Application Insights
Injection molding dominated the global application market over the recent past. Injection molding applications are spread across various industries such as automotive, packaging, construction, furniture, consumer goods, medical equipment, and electronics. Emerging regions are touted to witness strong polypropylene applications demand owing to several key factors. These key factors include government initiatives to encourage infrastructure development, rapid industrialization, urbanization and increasing disposable income. Other key applications include textiles and film applications. Film applications are projected to witness the highest CAGR with 5.7% over the forecast period ahead of injection molding and textiles. Injection molding dominated the global polypropylene market valuation over the recent years. Similar to market demand, film applications are estimated to witness the highest market valuation growth over the forecast period followed by injection molding.
Regional Insights
Asia Pacific dominated the global polypropylene market ahead of Europe and North America with nearly half the market share. Robust demand from the end-use industries in the emerging regions is expected to drive the regional markets. Government initiatives to develop infrastructure and encourage urbanization are presumed to offer abundant opportunities to the industry participants. Increasing disposable income and standard of living in these areas is another key factor impacting the regional markets. Developed regions such as North America and Europe are anticipated to witness a slightly moderate growth owing to their end-use market saturation. Asia Pacific and Central & South America are projected to witness the highest CAGR of 8.8% and 8.7% respectively over the next seven years. Developing economies such as China, India, Brazil, and Argentina are expected to lead their respective regional market.
Competitive Insights
The polypropylene market fragmented and is characterized by numerous producers. The industry is very cost sensitive, thus urging industry participants to adopt a low-cost strategy. Polypropylene market has low white space and is highly capital intensive in nature. Major manufacturing technologies are licensed out by a handful of major industry participants. Such market dynamics are not favorable for attracting new entrants. Prominent industry participants are investing heavily in R&D initiatives to improve their product portfolio and increase their production capacity. Mergers & acquisitions are a commonplace in this industry with numerous companies forging partnerships and alliances with each other. Such steps are being taken by the companies to prioritize their business goals and cater to the burgeoning demand in the emerging regional market such as Asia Pacific and Central & South America. Companies are also shifting their focus towards bio-based polypropylene owing to its growing acceptance across industries. Regulations and directives favoring bio-based products as well as changing consumer preferences are factors that have initiated such a shifting trend. Key industry participants include Braskem, Japan Polypropylene Corporation, Sinopec, Reliance Industries Ltd., Borealis AG, BASF, LyondellBasell Industries, ExxonMobil, SABIC, DuPont, Total S.A, Bayer Material Science, INEOS, Fulton Pacific, PetroChina Company Ltd, Washington Penn Plastic Company, Inc., Qatar Petrochemical Company and Chevron Phillips Chemical Company.