Industry Insights
The global technical ceramics market was valued at USD 56.7 billion in 2015. Rising demand for electronic devices among consumers in Asia Pacific particularly China and India is expected to fuel growth over the next eight years. Various properties of the product such as low thermal expansion, robustness, and high-temperature stability have increased the popularity of these products in numerous end-use industries such as electrical & electronics, power and automotive which in turn is expected to have a positive impact on the industry over the forecast period. Various product types including zirconia, titania, alumina nitride, and silicon carbide -based materials, have their own characteristics and are employed as an economic and a high-performance substitute for numerous traditional materials such as metals, glass, and plastics.
Technical ceramics are expected to replace traditional materials to a high extent over the next eight years on account of their superior functional characteristics. In addition, these materials exhibit greater corrosion resistance, as opposed to other products such as aluminum and steel and hence, are being widely employed in the medical and automotive sectors. The growth of the automotive and medical industries in emerging economies of Asia Pacific is expected to fuel product demand over the next eight years.
U.S. technical ceramics market revenue, by application, 2013 - 2024 (USD Million)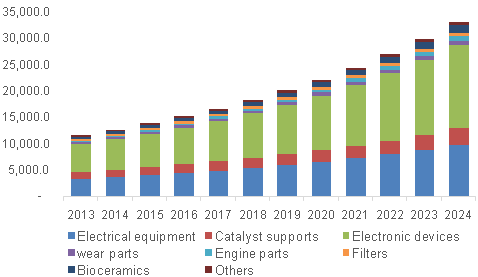 Product properties including wear & corrosion resistance, thermal stability, and high strength can also be optimized according to individual needs of various applications which are expected to propel product demand among manufacturers over the next eight years. In addition, cost benefits of technical ceramics have made it a material of choice among various industries including aerospace, military, power, electronics, and energy. Low conductivity and lightweight nature of these products are expected to increase their application scope in the manufacturing of implants in the medical sector over the forecast period.
Key players in the market are expected to increase their R&D expenditure to comply with rising demand from new applications. Most companies have been trying to improve the quality of the product at a reduced cost which in turn will propel product need over the forecast period.
Application Insights
In 2015, electronic devices were the largest application segment accounting for over USD 25 billion. The product offers superior thermal and chemical properties which have led to its use in numerous application in the electronics industry such as core materials, circuit carriers, and ceramic substrates.
Bioceramics accounted for above 2% of the global revenue in 2015. These products are widely employed in the manufacturing of dental as well as medical implants. In addition, they are employed in the replacement of hard tissue such as teeth and bones. They are also used in the production of kidney dialysis machines, pacemakers, and respirators. Large healthcare base in Europe is expected to fuel product demand over the forecast period.
Material Insights
Alumina accounted for over 35% of the global market in 2015. Increasing use of alumina in end-use sectors such as machinery, automotive and electrical & electronics on account of superior weathering and corrosion resistance properties is expected to fuel industry growth over the next eight years.
Product Insights
Ceramic matrix composites (CMC) will be the fastest growing product segment at a CAGR of over 13% from 2016 to 2024. They are primarily employed in automotive and machinery industries and space related applications like heat resistant tiles. These products are also used in the production of transport equipment for space shuttles on account of their hardness properties and longer life span. Furthermore, technical ceramics are employed in the production of sports equipment such as golf clubs.
End-use Insights
The medical sector is another growing end-use sector for the product. They are effectively used in orthopedics to increase the quality of life with implant components for artificial hip joints and knee replacements. These products are also employed in medical devices and equipment such as lithotripters, ultrasonic cleaners, and dental products.
Technical ceramics can withstand mechanical stresses and high temperatures in applications such as energy generation in turbines and power plant engines. In addition, they are also used in systems for solar thermal energy conversion and in photovoltaic, water and wind power plants. The product ensures efficient use of resources in energy supply and distribution from both renewable and conventional sources and an increase in performance capability of plants.
Regional Insights
Asia Pacific contributed to over 35% of the global industry in 2015 due to rising consumer spending on electronics primarily in India and China. Factors such as competitive manufacturing costs, high economic growth and rapid development of end-use industries will continue to drive the regional growth over the next eight years.
North America is relatively mature and is primarily characterized by new product developments and growing preference towards technical ceramic products. As of 2015, North America held a substantial share of the global market. U.S is the largest market witnessing growth in terms of product use in the environmental and medical sector. However, this region is expected to lose share to the developing economies over the forecast period.
Competitive Insights
Global industry is fragmented and competitive due to the presence of several key players in the market. These players have a geographical presence with numerous production facilities worldwide. However, the presence of numerous small regional vendors with significant market shares are expected to pose a threat to these international players over the next eight years. Few players present in the market include Kyocera Corporation, CeramTec GmbH, Morgan Advanced Materials, McDanel Advanced Ceramic Technologies, and Saint-Gobain Ceramic Materials.