Industry Insights
Growing prevalence of cancer coupled with growing demand for personalized medicine are anticipated to propel the growth of the tissue diagnostic market over the forecast period. Tissue diagnostic involves monitoring, prognosis, and management of different stages of cancer, especially prostate cancer, gastric cancer and breast cancer. Furthermore, rising global geriatric population base, increasing demand for cost-effective and safe treatment and growing expenditure in the healthcare sector are other vital drivers of the tissue diagnostic market.
Global tissue diagnostic market, by technology, 2012 - 2022 (USD Million)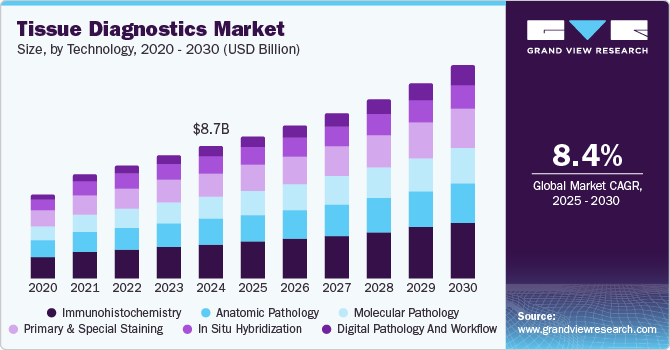 The introduction of innovation technology coupled with increasing demand for accurate diagnostic technologies are likely to trigger market growth over the forecast period. For instance, the tissue microarrays diagnostic process is expected to revolutionize the cancer diagnostic system as it provides a comparatively larger amount of molecular information than standard biopsy method. Microarrays can also be used in combination with other diagnostic methods in order to add information on tumor specimen by examining thousands of genes concurrently. According to the WHO (World Health Organization), cancer is the leading cause of mortality worldwide and around 8.2 million cancer-related deaths were recorded in 2012 out of 14 million cancer patients. This figure is likely to double itself by 2030 owing to rising consumption of tobacco and other dietary and behavioral risks.
Product Insights
Product segments of tissue diagnostic market analyzed in this study includes instruments and other accessories. Accessories dominated the market in 2014 owing to their extensive use throughout the tissue diagnostic process. Accessories segment includes reagents and other disposables which are an integral part of the tissue diagnostic system.
Technology Insights
Immunohistochemistry (IHC), special staining, in-situ hybridization and digital pathology & workflow are the different tissue diagnostic technologies. IHC technology segment is expected to account for the highest share over the forecast period owing to increasing use of immunohistochemistry products as companion diagnostics in personalized medicine for cancer.
Application Insights
Tissue diagnostic application segment includes breast cancer, prostate cancer, lymphoma cancer, gastric cancer and nonsmall cell lung cancer. Breast cancer diagnostic is likely to witness lucrative growth during the forecast period owing to its increasing incidences. More than 60 percent of female cancer patients are diagnosed with breast cancer owing to potential risk factors such as older age, lack of breast feeding, obesity or other hereditary reasons. As per American Cancer Society, over 39,000 breast cancer-related deaths were recorded in the U.S. alone in 2013. Prostate and gastric cancer diagnostics are anticipated to witness significant growth over the forecast period owing to changing diet and other genetic factors.
End-use Insights
End-users of the global tissue diagnostic market are categorized as hospitals, CROs (Contract Research Organizations), pharmaceutical organizations and research laboratories. Hospitals are likely to dominate the tissue diagnostic market over the forecast period owing to high efficiency and a large volume of procedures. Research laboratories are also expected to witness substantial growth over the forecast period owing to increasing R&D activities.
Regional Insights
North America was the leading tissue diagnostic market in 2014, owing to rising prevalence of cancer, supportive reimbursement facilities and growing demand for personalized medicines. Favorable government policies and the introduction of Patient Protection and Affordable Care Act (PPACA) in this region increased insurance access to over 30 million people and therefore, is anticipated to continue its dominance over the forecast period. Europe is expected to be the second most profit generating region owing to rising patient awareness levels, especially in Western European countries. The emerging economies of Asia-Pacific such as India and China are expected to witness lucrative growth over the forecast period owing to increasing geriatric population base, increasing disposable income, rapid innovation in diagnostic testing, rising research funding for cancer and a large pool of patients.
Competitive Insights
The tissue diagnostic market is highly competitive and consolidated in nature marked by the presence of a large number of participants. The firms are involved in adopting new policies such as acquisitions, mergers, geographical expansion and NPD (New Product Development) in order to develop their business and survive in the long run. Key market players of tissue diagnostic market are Agilent Technologies, Roche Diagnostics, Life Technologies, Cell Signaling Technologies, BioGenex Laboratories, Abbott Laboratories, Thermo Fisher Scientific, Danaher Corporation, Siemens Healthcare, GE Healthcare, Bio SB, Johnson & Johnson, Qiagen, Alere, Becton Dickinson & Company, DiaGenic and Prometheus Laboratories.