Industry Insights
Global transparent ceramics market size was estimated at USD 178.5 million in 2015 and is expected to witness noteworthy growth over the next eight years owing to its growing demand from numerous application industries as a substitute for conventional glass technologies in various functions such as lasers, infrared domes optical fibers and armors.
Increasing focus on deployment of laser & cutting tools is fueling growth of the global transparent ceramics industry over the next eight years. Increasing ceramics demand from optoelectronic segment is also driving the expansion over the next eight years.
U.S. transparent ceramics market revenue by application, 2013 - 2024 (USD Million)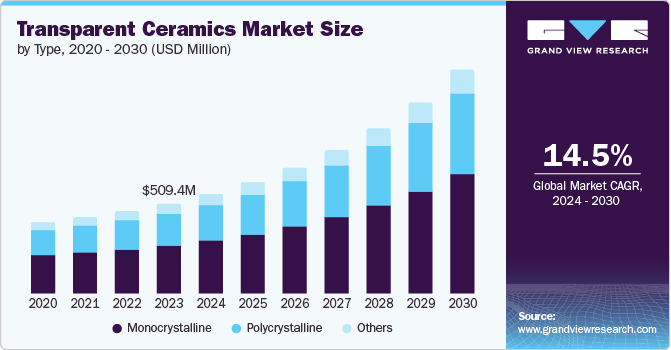 Increasing defense expenditure to implement superior technology and materials are also fueling growth over the next eight years. Increasing penetration of the product owing to their superior properties as compared to traditional ceramics is expected to stimulate expansion.
Some of the transparent ceramic materials offer versatile and exclusive properties that are highly suitable for scintillators and lasers (solid-state). Transparent ceramics include materials that are not only transparent in UV and IR light but also under the electromagnetic wave in the given spectrum.
Application Insights
Aerospace, defense and security contributed to 22.3% of the global transparent ceramics market share in 2015. Aerospace & defense industry is expected to grow rapidly over the forecast period owing to increasing expenditure of this industry for new innovation.
The material is used for manufacturing armors, windows and hemispherical domes for missile systems. Increasing expenditure for the development of the aviation & defense sector, particularly in the Middle East, is expected to drive market growth.
Optics & optoelectronics will capture the maximum revenue share over the next eight years owing to extensive utilization of the product in CMOS, CCDs, image & displays sensors, couplers and transmitter Growing demand for the product in aviation, marine and automobile sectors is expected to fuel growth. The segment is estimated to generate revenues worth USD 302.4 million by 2024.
Product Insights
Monocrystalline transparent ceramics are widely used for insulation purposes accounting for 53.4% of the global revenue share in 2015.Monocrystalline ceramics are expected to dominate the industry over the next eight years.
Polycrystalline ceramics are expected to grow rapidly over the next eight years owing to their increasing application in some of the emerging applications such as optoelectronic devices, laser equipment and armors.
Material Insights
Demand for spinel is expected to grow rapidly over the forecast period owing to their increasing use for making products related to defense industry. Polycrystalline structure of the material makes it a commercially viable option for use in spinel. The material was estimated at USD 21.0 million in 2015.
Sapphire was extensively used contributing to 41.3% of the revenues in 2015. The segment is expected to remain as the largest segment over the forecast period owing to its increasing use in semiconductor & electronics industry.
Yttrium aluminum garnet is expected to grow moderately owing to its increasing utilization in novel optic devices and defense vehicles. The segment is likely to account for 22.1% of the market share by 2024.
Regional Insights
Asia Pacific was the largest market for transparent ceramics market globally, with a share exceeding45% in 2015.Growing use of the product owing to its superior characteristics has been fueling growth of the market in this region.
Another critical factor for growth in this region is availability of raw materials at lower prices coupled with the presence of large number of suppliers and producers. China is anticipated to lead growth of the Asia Pacific market over the next eight years.
The U.S. market was valued at USD 20.9 million in 2015. U.S. accounted for over 60% of the market share in the North American transparent ceramics market.
The Europe transparent ceramics market is mainly driven by the ceramic & glass refractory and iron & steel industry. The market is anticipated to grow at a CAGR of 18.4% from 2016 to 2024.
Competitive Insights
The global transparent ceramics industry is highly competitive with major companies involved in continuous product innovation through R&D. Some of the key players include Surmet Corporation, Ceranova, Koito Manufacturing, IBD Deisenroth Engineering, ETEC, CoorsTek, CeramTec, Murata Manufacturing Co. Ltd. And Schott AG. Increasing applications for the product is expected to provide a competitive edge to the key players.