Unified Communications Industry Insights
The global unified communications market size was estimated at USD 35.65 billion in 2015. Increasing global expansion of multinational organizations from diverse industry verticals has led to a rising need for communication with geographically dispersed customers and employees. Moreover, the introduction of innovative trends such as Bring Your Own Device (BYOD) among organizations worldwide is expected to drive the demand for such unified communications solutions.
UC system unifies multiple communications applications such as real-time communication services such as voice and IP telephony, call control, instant messaging, data sharing, and video conferencing into a single module. These modules enable organizations to make seamless use other conventional communication services such as e-mail, voicemail, fax, and SMS. It thus helps automate and unify the user experience across different devices in business as well as social scenarios.
Vendors are offering customized UC solutions that extensively cater to back-end applications of the managing the CRM module and plays a vital role in enhancing employee productivity and efficiency in seamlessly integrating complex business processes. The introduction of Unified Communications as a Service (UCaaS) concept by various UC service providers has culminated in positive growth prospects in the industry.
However, high capital expenditure and its inability to coordinate with various communication modules are anticipated to challenge industry growth. Moreover, the introduction of regulations and compliances for interconnected VoIP providers by the Federal Communications Commission (FCC) in the U.S. may affect its growth prospects over the coming years.
Product Insights
Technological advancements and surging adoption of cloud computing technologies are expected to drive the demand for hosted UC solutions. Cloud-based systems are easier to maintain and provide fast and seamless communication capabilities at minimal capital expenditure. Characterized by an OPEX model and featuring quick implementation, flexibility, and automated upgrades, it is also particularly well suited to SMEs.
North America unified communications market by application, 2013 - 2024 (USD Billion)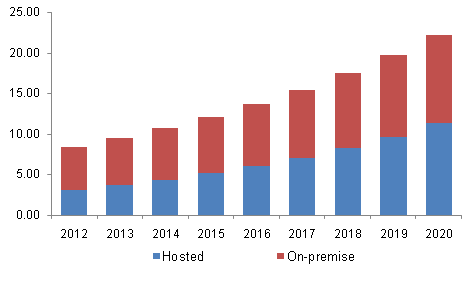 On-premise UC systems offer better customization and control capabilities and are easier to manage. The segment accounted for nearly 60% of the revenue share of the overall UC market against on-premise solutions in 2015.
However, high installation and maintenance costs associated with on-premise solutions and an increased preference towards the cloud-based UC systems has resulted in a major turnaround in the industry, with hosted systems projected to capture a considerable portion of on-premise systems' revenue share.
Application Insights
Enterprises dominated the global UC market, accounting for over 50% of the overall market revenue share, which can be attributed to the increasing adoption of innovative IT solutions in business operations across various end-use verticals. Advanced UC system provides presence, mobility, and collaboration that enables enterprises to have better-connected employees and enhanced operational agility thus providing for better customer engagement.
Education, healthcare, and government are expected to foresee substantial growth in the demand over the next decade. Governments are investing heavily in the adoption of such technologies across schools, colleges, and universities to enable a swift exchange of information amongst the individuals. The adoption of such systems in the government end-use sector is projected to grow the fastest with CAGR over 20% over the forecast period.
Regional Insights
North American region is expected to emerge as a predominant market accounting for over 35% of the global demand for UC solutions in 2015. The U.S. is a key region for UC solutions industry, due to the presence of a cluster of global organizations that account for a major share of the clientele for the unified communication solutions.
Asia Pacific regional unified communications market is expected to witness significant growth over the forecast period. The region is expected to account for over 30% of the global UC industry share by 2024 overtaking North American. Rising industrialization across developing economies such as India and China from the Asia Pacific region is expected to lead to an increased adoption of such solutions across the end-use industries.
Competitive Market Share Insights
Key industry participants include Cisco Systems Inc., Avaya Inc., Microsoft Corporation and Alcatel-Lucent S.A. Cisco Systems Inc., with its extensive portfolio of UC solutions that provide consistent end-user experience, have managed to acquire a key share of the overall market. Cisco provides a. Other companies include NEC Corporation, IBM Corporation, Siemens AG, and ShoreTel, Inc.
The current market environment is characterized by intense competition between the key players for achieving industry domination via product differentiation and enhancement of quality; this has resulted in growing consolidation through strategic initiatives such as alliances, mergers, and acquisitions.