Industry Insights
The U.S. motor vehicle sensors market size is expected to gain momentum owing to government initiatives for passenger safety and security. Motor vehicle sensors have increasingly become an important part of automobiles, which detect physical parameters, such as speed and heat, and take preventive measures in case of any danger.
U.S. motor vehicle sensors market by product (USD Billion), 2012 – 2020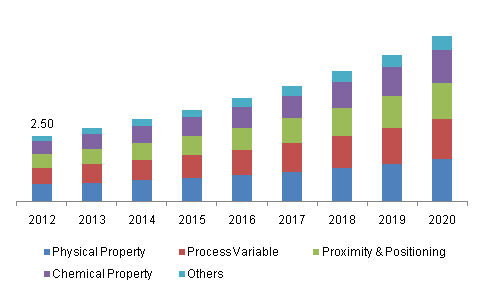 Increasing demand for automobiles may positively impact market growth over the forecast period. Strict legal and regulatory standards have mandated the inclusion of sensors in a vehicle, which is further estimated to drive the U.S. market. For instance, National Highway Traffic Safety Administration (NHTSA) established the Federal Motor Vehicle Safety Standard (FMVSS) in 2005, which mandates the installation of the Tire Pressure Monitoring System (TPMS) capable of identifying when vehicle tires are significantly under-inflated. Additionally, rising consumer awareness for safety and environmental awareness is also expected to favor market growth over the forecast period. High implementation cost may hinder U.S. motor vehicle sensors market growth over the next six years.
Product Insights
Physical property, process variable, proximity & positioning, chemical property sensors are major product categories in the U.S. motor vehicle sensors market. Sensor heavy systems are used for various applications in vehicles including tire pressure monitoring, cylinder deactivation, electronic stability control, direct fuel injection, roll-over protection, and variable-valve timing systems, etc.
Physical property sensors are used to monitor intrinsic physical properties of a single material or medium such as moisture, temperature, and pressure, etc. For example, General Motors Corporation GM Oil-Life System determines when to change the oil and filter based on various operating conditions such as operating temperature and engine revolutions and other factors that affect the oil change intervals. Proximity and positioning sensors are used for electronic stability control in information display and control. The information display alerts the driver of the vehicle that is approaching vehicle within a threshold distance. They are also used in steering systems to prevent skidding.
Application Insights
Key application segments include engine & drivetrain, safety & security, and emission control sensors. Engine and drivetrain sensors are expected to be the key application segment over the forecast period. They have various uses including pedal monitoring to make air/fuel mixture adjustment, airflow monitoring and speed monitoring, etc. Additionally, they are also used to monitor magnetic fluid levels along with air, HVAC, coolant, and transmission temperature monitoring. Strict emission control legislation is expected to drive the emission control sensor demand. They are used to reduce combustion temperatures and reduce emissions. Safety and security sensors are used to monitor wheel speed, occupant position, and tire inflation, etc. For instance, Jaguar F-type uses these sensors for blind-spot monitor and closing vehicle sensing designed to alert the driver to the presence of another vehicle in an adjacent lane by providing a visual warning indicator in the door mirror.
U.S. Motor Vehicle Sensors Market Share Insights
Key vendors in the U.S. market are Denso Corporation, General Electric, Delphi Corporation, Bosch, Agilent Technologies, Johnsons Controls, Northrop Grumman, Honeywell International, Rockwell Collins, and Tyco International, etc. Ford Motors and GE have together developed sensors to monitor the battery life of electric vehicles. GE is expected to develop sensors for the world of Formula One racing vehicles. While racing, F1 car sensors need to survive extremes of heat, acceleration, shock, and vibrations. Additionally, these sensors also need to be lightweight in order to prevent adverse vehicle performance.