Industry Insights
The global Vacuum Insulation Panel Market exceeded USD 6.0 billion in 2015. The growth in this industry is likely due to significant growth in the infrastructure industry. During the recent years, some construction projects have been on the rise with a major focus on energy efficient buildings.
U.S. Vacuum Insulation Panel Market revenue by core material, 2014 - 2024, (USD Million)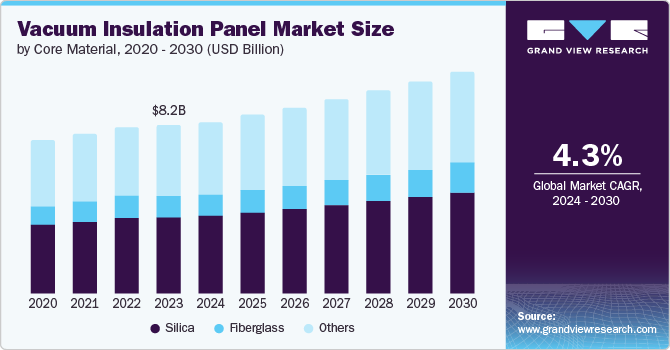 Vacuum Insulation Panels owing to their high thermal resistance are expected to become an essential component to being used in construction industry. Strict regulations related to energy conservation are also anticipated to drive the market during the forecast period. According to International Energy Agency, wider use of vacuum insulation panels is likely to reduce CO2 emission by approximately 8%.
The cost of these panels is expected to pose a major challenge. These panels in cases of nonstandard sizes have to be custom made, these results in high cost. These panels are probably heavier than other conventional insulation material, so weight is another factor expected to restrain the market growth. Shorter shelf life is likely to impact the market negatively. The shelf life is dependent upon aging and durability. Other factors such as fragility and shape are likely to affect the demand for the panels.
The manufacturing process is expected to be dominated by costly manual work. During the forecast period, the introduction of automation in certain processes of manufacturing is anticipated to lower the cost of vacuum insulation panels. Market share of these panels will be greatly influenced by the pricing policies.
Core Material Insights
Core materials for vacuum insulation panels require an open structure to channel the heat wave. Silica and Fiber glass are the major core materials used in vacuum insulation panels.
Silica-based panels dominated the market in 2015 due to their stable thermal insulation properties as compared to other materials. Silica-based panels are expected to dominate the market and will constitute 40% of market share. Silica-based panels are further segmented into fumed and precipitated silica. Silica-based panels are widely used in construction industry.
The fiber glass panels segment is anticipated to grow at 3.7% during the forecast period. Fiber glass panels are used in vending machines, refrigerators, etc. as they provide low thermal conductivity with high thermal efficiency.
Product Insights
Vacuum panels based on products include Flat panels and Special shape panels. Flat panels were the largest product segment in 2015 and are expected to account for over 55% of the market during the forecast period. Flat panels growing demand can be attributed to design freedom which it facilitates. Also, flat panels are easy to manufacture which not the case for specially shaped panels.
Special shaped panel's product segment due to design complexities will witness sluggish growth rate. The market for this segment is anticipated to generate revenue of USD 4.5 billion at the end of the forecast period.
Application Insights
The construction market is expected to emerge as the largest application segment owing to regulation focusing on energy conservation and rising demand for energy efficient infrastructure. Vacuum insulation panel provides excellent thermal insulation thus lowering the thermal conductivity; this factor stimulates the demand in the construction industry.
At the end of the forecast period, the construction industry is expected to be valued at USD 5.5 Billion by 2024. The construction market is further sub-segmented into floor insulation, façade, roof & terrace insulation, and others.
Logistics accounted for 15% market in 2015 and is expected to grow at a CAGR of 4.2% from 2016 to 2024. Vacuum insulated panels in logistic industry find wide application in cold chain solution such as pharmaceutical temperature controlled shipping.
Raw Material Insights
Plastics are expected to dominate major market share during the forecast period. Demand for plastic as a major source of raw material is due to rise demand for polyurethane.
Polyurethane is widely used in the production of domestic refrigerators, freezers, etc. Properties such as excellent insulation properties with lower energy consumption are expected to major reason for their increasing demand. This segment is expected to account for 41.8% market share by 2024.
Aluminum is anticipated to be the fastest growing segment. The market is expected to grow at CAGR of 4.9% from 2016 to 2024. Aluminum is widely used in envelope materials used to manufacture thermos flasks.
Regional Insights
Asia Pacific Vacuum Insulation Panel Market is expected to attract leading industry participants for investment. The growth in this region will be attributed to developing infrastructure industry in China. Asia Pacific is expected to be valued at over USD 4.00 billion by 2024.
The U.S. is expected to be the fastest growing market in the regional North America market. Construction segment will be the fastest growing segment in this region. The North American market will grow at a CAGR of 4.4% during the forecast period.
Competitive Insights
The global Vacuum Insulation Panel Market is highly fragmented due to the presence of some major players. The cost of vacuum insulated panels will be a significant factor expected to influence the market scenario. Innovation coupled with pricing policies of manufacturers will play an important role in the development of the market. Major players in the industry include Evonik Industries, Panasonic Corporation, OCI Company Ltd, LG Hausys Ltd, Porextherm Dämmstoffe GmbH, ThermoCor, Microtherm.