Industry Insights
The webbing market includes products such as synthetic fibers including polyester, nylon and polypropylene and from high strength materials such as para-aramid synthetic fiber and UHMWPE. The global market is largely driven by increasing automobile production owing to the use of webbings for seat belts and harnesses in automobiles for the safety of passengers.
Global webbing market volume by product 2012-2020 (Kilo Tons)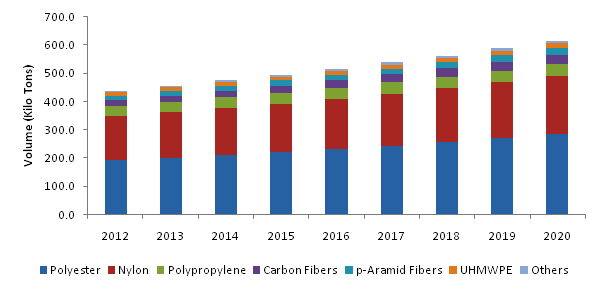 In addition, the market is also expected to experience gains with rapid industrialization in developing markets as webbings find applications such as material handling and storage in heavy industries. Research organizations along with universities and key companies have been carrying out extensive R&D to achieve a breakthrough for biodegradable webbing materials along with multipurpose webbings that possess superior properties. Fluctuating raw material prices are expected to be a key challenge for market participants.
Product Insights
Key product segments in the webbing market include polyester, nylon, polypropylene, carbon fiber, para-aramid synthetic fibers, ultra-high-molecular-weight polyethylene (UHMWPE) and others including vectran which is a high-performance multifilament yarn. Polyester was the largest product segment in 2013 accounting for over 44% of global consumption. Polyester is majorly used in the automobile industry in seatbelts and safety harnesses in racing cars. Additionally, it is being used as a substitute for nylon and polyethylene due to superior properties including UV resistance which makes it useful for outdoor purposes.
Application Insights
Webbing market demand is expected to increase due to increasing application areas including sporting goods, automotive & transport, furniture, military & defense, bags & canvas, equestrian and saddlery, marine, and yachting, mining & industrial webbing, pet collars and leashes, footwear, fitness and apparel, etc. Webbing market is segmented as per applications in automotive & transport, sporting goods, furniture, military/defense and others including apparel and pet collars and leashes. They are also used for material handling and storage in heavy industries. Growing application areas coupled with rapid industrialization is expected to drive the webbing market over the forecast period. In addition, growth in automobile and construction industry is further expected to increase webbing market demand. Automotive & transport industry along with military/defense sector is expected to dominate over the forecast period, growing at an expected CAGR of 5.8%.
Regional Insights
Asia Pacific was the largest region in the webbing market, accounting for over 64% of the revenue in 2013. The region has witnessed growth in automotive, furniture and sporting goods market hence boosting webbing market demand in the mentioned applications. Moreover, the webbing market is expected to witness significant growth owing to demand from military and apparel applications. Rapid industrialization in developing and emerging markets such as China, India, Brazil, and Mexico is expected to drive webbing market demand for industrial applications, especially material handling and storage. In addition, growing automobile industry in countries of Asia-Pacific, Latin America and Africa is expected to boost further demand for safety webbings used in automotive and transport applications. Growing concerns regarding the safety of military and defense personnel to accidental fatalities on the field are expected to increase demand for safety straps, belts, and harnesses used in military outfits during expeditions.
Competitive Insights
Key companies in the webbing market include E. Oppermann GmbH, Webbing Products, BioThane, Universal Webbing Products Co., Ltd, Jiangsu Daxin Webbing Co., Ltd, Narrowtex Australia Pty Ltd, National Webbing Products Co, Ohio Plastics Belting Co, Tennessee Webbing Products Company, Southern Weaving Company. Companies are focused on standard webbings for use in various applications, however; custom made webbings for specific applications are being made by companies such as BioThane and Webbing Products. BioThane also provides fabricated webbing products which include welding, etching, rivets, cutting, printing and prototyping. Webbing products exclusively serve industrial applications which include safety harness, lifting webbing; tie down webbing and military webbing which require specific properties.