Industry Insights
The global wind energy foundation market size was valued at USD 73.4 billion in 2015. Rising demand for clean energy resources is expected to provide a major boost for the wind power sector over the forecast period. The wind power sector has witnessed significant growth over the past few years owing to the rise in the number of installations.
Global wind energy consumption estimates and forecast, 1990 - 2030 (Quadrillion Btu)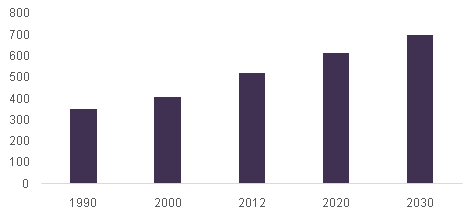 Depleting fossil fuel reserves, rapid industrialization and increasing population have prompted governments and manufacturers to look towards renewable energy resources. Growing environmental concerns such as the release of greenhouse gas emission have resulted in a shift of focus towards non-conventional resources. Global warming and climate change have led to several governments focus on investing in building, sustainable energy resources.
Wind energy foundation is a key component of the wind turbine, which are responsible for withstanding load in all weather conditions. Several manufacturers have increased capacities in order to increase their power generation capabilities which have led to significant rise in the demand for various wind energy foundation structures.
Declining prices across the regions for wind turbines coupled with rapidly growing installation capacities for wind power is expected to be the propelling factor for the industry. This renewable energy has become cost competitive over the past few years with other conventional sources of energy owing to the technological innovation in this industry.
Growing need to expand electricity generation and improve development has resulted in countries to focus on producing affordable, reliable and secure energy. This will help in the overall expansion of the industry over the forecast period.
Site Location Insights
Onshore was the largest segment in 2015, accounting for 70.7% of the global revenue share. In the last decade, there has been a significant growth in the number of commercial onshore wind farms. In North America, there are several commercial small capacity farms, which have prompted towards the expansion of the industry.
The growing awareness towards the benefits of renewable energy and the abundance in availability has made a positive impact on the overall development of the industry in the past few years.
Global wind energy foundation market, by type, 2015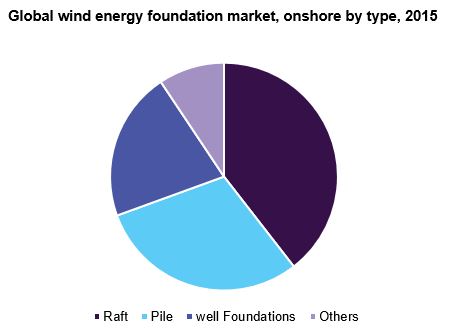 The offshore segment will be the fastest growing segment over the forecast period on account of increasing offshore installations coupled with technological innovations which have helped in building offshore facilities. Several companies in this industry are investing in building offshore installations in order to expand capability and access to electricity.
Onshore category is segmented into the raft, pile, well foundation and others. The raft is the largest segment in the onshore category and accounts for 39.4% of the global revenue share. It is also expected to be the fastest growing segment over the forecast period. It is used in different structures, and its use depends on shapes and factors such as turbine capacity, type of tower and wind class.
The offshore category is segmented into mono-pile, jacket –pile, gravity, suction, and tripod. Jacket-pile is expected to be the fastest growing segment at a CAGR of 15.8% over the forecast period. It is specially used in deep water technology on account of being light weight and easy for installation. Mono-pile is the largest segment in this category and are used in several ongoing projects and seabed structures for sustainable energy production in Europe and has opened up new avenues for mono-pile foundations in Europe.
Regional Insights
Asia Pacific was the largest market accounting for 37.3% of the global revenue in 2015. Growing demand for clean energy in emerging economies of China and India and the expansion of the energy sector in these countries will have a positive impact on the overall industry.
India wind energy foundation market revenue, by location, 2013 - 2024 (USD million)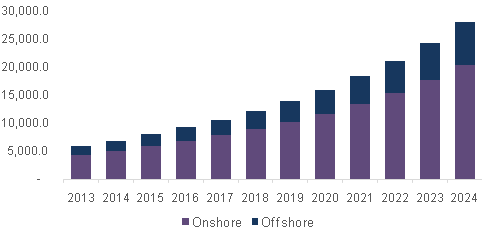 Europe was the second largest market accounting for 34.4% of the global revenue in 2015. Countries such as Finland, Poland and Norway have increased their installed capacity over the past few years, and the governments are aiming to provide electricity to the whole country through wind power. This will have a positive impact on the overall development of wind power in the region over the forecast period.
Competitive Insights
The industry players are spread across the value chain of the energy market. There are a few players who work only in building foundations while few players provide end to end solution from site survey to operating the wind farm.
Key players in this industry include Ramboll Group, Owec Tower AS, MT Højgaard., Bladt Industries A/S, Suzlon Group., SWAY AS,Blue H Engineering BV, and Offshore Wind Power Systems of Texas LLC.
The companies are expected to increase their installation capacity over the forecast period owing to declining prices and increasing technology. Companies are expected to be integrated across the value chain in order gain competitive edge in the industry.
Report Scope
| | | | |
| --- | --- | --- | --- |
| Attribute | Details | Customization Offer (15% free)* | Additional Cost |
| Base year | 2015 | NA | NA |
| Historic | 2013 - 2015 | Extended historic data (2012 to 2015) | Free |
| Forecast | 2016 - 2024 | Extended Forecast data (2024 – 2027) | Free |
| Report details | Size, company share, competitive Landscape, growth factors, trends | Contact us for specific information not available in this report | Quotation to be shared post feasibility |
| Market representation | USD Million | NA | NA |
| Geographic coverage | Global & Regional (by country) | Information on up to three additional countries | Free |
| Company profiles | All major industry players | Profiles of 10 additional companies | Free |
*15% free customization - It is equivalent to work done by a research analyst for 5 working days
Segments covered in the report
Grand View Research has segmented the wind energy foundation market by site location and region.
Global Site Location Outlook (Revenue, USD Million, 2013 - 2024)

Onshore

Mono-Pile

Jacket-Pile

Gravity

Suction

Tripod

Offshore

Raft

Pile

Well Foundation

Others

Regional Outlook (Revenue, USD Million, 2013 - 2024)