Industry Insights
The global wireless charging market size was valued at USD 1.87 billion in 2014. Growth prospects for the market seem very bullish at the moment on account of growing adoption of this technology in consumer electronics devices such as smartphones and tablets. Other sectors, such as automotive, industrial, healthcare, and defense are also expected to spur industry growth as end-users have exhibited a tendency towards minimizing the hassles of wires for powering various devices.
U.S. wireless charging market by application, 2012 - 2022 (USD Million)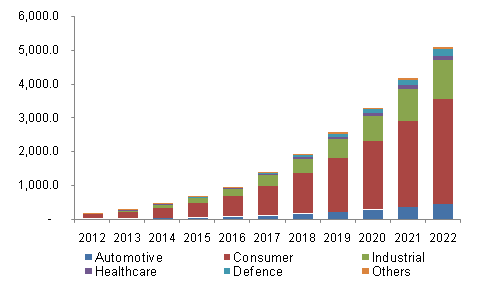 This is relatively a new industry and currently is in its growth phase. Heavy investments are being made by key industry participants on R&D activities to enhance existing features and functionalities. A major focus is on improving the power transmission range that can facilitate charging of devices wirelessly over long distances.
Application Insights
Consumer electronics accounted for over 60% of the global revenue share in 2014 and is expected to continue being the dominant segment in terms of market size by 2022. Elimination of the hassles caused due to wired chargers and unavailability of electric points at most of the public places have resulted in the growing prominence of cordless power.
Healthcare and defense are expected to emerge as promising application sectors over the forecast period. Researchers at Stanford University developed a new way to wirelessly charge sensors and cybernetic implants, paving the road for a new generation of ultra-small devices that can penetrate deeper inside the body. These devices help in maintaining the charge of these implants for longer and even operate without a battery.
Standard Insights
Prior to June 2015, there existed three standard groups, viz., Wireless Power Consortium (WPC), the Alliance for Wireless Power (A4WP), and the Power Matters Alliance (PMA). Each group specializes in a specific technology. WPC and PMA specialize in inductive technology, whereas A4WP's Rezence is resonant.
In June 2015, A4WP and PMA announced their merger after a year of discussion. In November 2015, the new entity formed after this merger was named AirFuel Alliance. This effectively resulted in WPC and its Qi platform being the only other alternative.
Hardware developers faced a daunting task initially in the presence of three standards to decide and then align their devices in compliance with a particular technology. With the aforementioned merger, decision-making among device manufacturers pertaining to adherence to one of the two primary standards is expected to get clearer, albeit the combined entity of PMA and A4WP poses certain technical challenges.
Presently, the industry is characterized by a lack of interoperability between WPC and AirFuel Alliance. AirFuel is not compatible with itself (PMA and A4WP), and it is positioned against WPC's Qi standard.
Close parallels can be drawn between the technologies incorporated by Qi and PMA. Like PMA, Qi also makes use of a tightly coupled inductive solution, albeit at an altogether different frequency. In 2014, Qi added resonance technology to its specification making the provision of backward compatibility for Qi receiver devices such as tablets, laptops, and smartphones sold from 2011.
Technology Insights
Being a very old technology, inductive has penetrated significantly into the market and contributed to nearly 50% of the revenue share in 2014. Leading standards such as WPC (Qi technology) and PMA are based on inductive technology. In addition, Electric Vehicles (EVs) also use inductive technology for powering. Resonant and Radio Frequency (RF) are expected to emerge as the most lucrative technologies in the industry.
Resonant technology aids in the powering of devices across small distances and does not require direct contact, thereby increasing convenience. The technology also allows multiple devices to be charged simultaneously.
RF-based technology is expected to gain prominence as it eliminates the need for proper alignment in case of small devices such as wearables and medical implants. Companies such as Humavox have been investing in this technology owing to its perceived advantages.
Regional Insights
Being a lucrative industry for consumer electronics devices such as smartphones and laptops, as well as a promising regional sector for hybrid electric vehicles, Asia Pacific wireless charging market contributed to over 35% of the overall revenue in 2014.
Consumers' inclination towards spending more for such powering, especially for their smartphones and tablets has resulted in North America, particularly the U.S. being a key regional segment. Latin America and Africa are relatively untapped markets and are expected to witness the high adoption of cordless charging over the forecast period.
Competitive Market Share Insights
WiTricity Corporation, Qualcomm, PowerbyProxi, and Integrated Device Technology (IDT) are some of the key companies in this domain. WiTricity has developed charging technologies for multiple applications including consumer electronics, automotive, industrial, and medical. Qualcomm launched a wireless docking station 802.11ad WiGig dock in November 2015, for use with Snapdragon 820 processor, which when docked on the station can initiate powering. In December 2015, Qualcomm signed a Wireless Electric Vehicle Charging (WEVC) license agreement with Efacec. Efacec also plans to offer powering options for plug-in and all-electric hybrid vehicles.
Market Research Scope
| Attribute | Details |
| --- | --- |
| Forecast Period‎: | 2016 - 2022 |
| Base Year‎: | 2015 |
| Historical Data: | 2013 - 2015 |
| Revenue: | USD Million |