Industry Insights
Global yeast ingredients market demand is expected to grow on account of increasing popularity of nutritional foods owing to numerous health benefits. Rising awareness regarding healthy and nutritional foodstuff is expected to support further market growth. Growing application scope in terms of high demand from the food & beverage, pharmaceutical, animal feed and dairy industry is expected to be a key driver responsible for yeast ingredients market growth over the next six years. Application growth as a result of increasing consumption of food, feed, dairy and pharmaceuticals is expected to fuel market growth over the forecast period.
Global yeast ingredients market, by product, 2012 - 2020 (USD Million)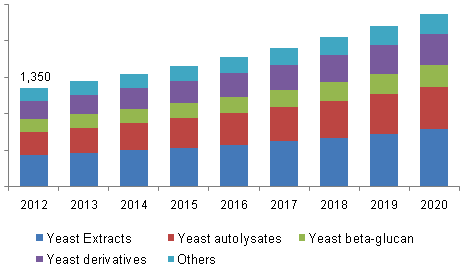 Superior properties including non-toxicity and eco-friendly characteristics are key reasons accounting for increasing preference towards yeast ingredients by food and feed manufacturers.
Leading market participants including ABF Ingredients, Kerry Group, DSM and Lesaffre Group are engaged in continuous R&D to develop products that can be used in the medical industry. Increasing R&D investment by key players is expected to propel market growth. High demand for yeast from various application segments such as fermentation, baking, medical, nutritional supplement and molecular genetics is expected to result in restricted availability as a raw material for yeast ingredients production. Raw material availability is a major challenge faced by the yeast ingredients market and is expected to act as a restraining factor over the forecast period. The Codex Alimentarius is a set of international food standards, code of practice and guidelines contributing towards fairness of trade along with quality and safety of the food trade including yeast ingredients. As of 2004, EPA-approved active ingredients, "Yeast Extract Hydrolysate from Saccharomyces cerevisiae" for plant disease management. Increasing preference towards vegetarian foods is expected to drive yeast ingredients market owing to rising trend of replacement of meat-based bouillons by yeast extracts in various sauces and soups.
Product Insights
Global yeast ingredients market is classified by product type as follows: autolysates, beta-glucan, derivatives, extracts and others such as nucleotides, minerals, and vitamins. Yeast extract is being extensively used on account of health benefits as it provides amino acids, nucleotides, and vitamin B complex. Its extensive use as a substitute to monosodium glutamate (MSG) is expected to offer immense potential for yeast ingredients market growth over the forecast period. Yeast extracts offer a unique aromatic taste which is essential in case of low salt content foodstuffs. Autolysates are primarily used in animal feed to increase palatability and in processed foods as a flavor enhancer. Medical industry growth is expected to impact positively yeast beta-glucan demand owing to beneficial characteristics.
Application Insights
Yeast ingredients are primarily used in food, feed, pharmaceutical and dairy applications. Yeast ingredients possess numerous beneficial vitamins and minerals including amino acids, vitamin D, vitamin B and other useful cell constituents, which enhance the nutritional value of food and feed when used as an additive. Global food & beverage industry is poised to witness significant growth on account of increasing food demand with high nutritional value as a result of increasing population. Rising cattle rearing activities are expected to augment demand for yeast ingredients in animal feed application over the next six years. Yeast beta-glucan is an immunostimulant which activates white blood cells including monocytes, granulocytes, and macrophages that are responsible for defense against infections and support damaged body tissue repair. This is expected to result in increased use in pharmaceutical applications thus augmenting yeast ingredients market demand over the forecast period.
Regional Insights
Europe was the largest regional market for yeast ingredients in 2013 accounting for over 35% of the total share. Increasing functional food consumption coupled with growing dairy industry in the region are key factors responsible for high yeast ingredients demand in the past few years. Asia Pacific is expected to witness the fastest growth on account of rising awareness regarding healthy and nutritional food consumption along with increased disposable income of the middle-class population. North America is expected to witness significant growth due to growing demand for animal feed, dairy, and pharmaceuticals.
Competitive Insights
The yeast ingredients market is characterized by high industrial rivalry as a result of handful global participants. However, the number of small to medium scale regional participants is increasing owing to high profitability. Key players including ABF Ingredients, Angel Yeast, Chr. Hansen, DSM, Kerry Group, Lallemand, and Lesaffre Group are engaged in extensive R&D to develop high-quality ingredients with increased application scope. Global yeast ingredients market has witnessed numerous M&A over the past few years resulting in high degree of consolidation.