Industry : Semiconductors & Electronics
Fitness wearables successfully paved way for the popularity of wearable technology. The wearable technology/devices market is growing at a rapid pace from emerging to developed countries and is expected to drive the adoption of smart headphones/earbuds over the coming years.
Despite the hesitation pertaining to wearables that exists even today, the apprehensions associated have significantly declined as consumers are becoming even more comfortable with the technology. A positive shift in consumer sentiments towards the adoption of wearables has primarily been social interaction and the need to monitor health at all times, which is also expected to catapult market growth.
Global earphones and headphones market by product, 2015 (USD Million)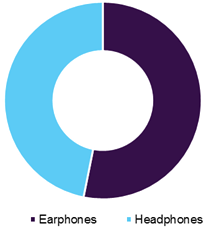 Over a period of time, consumers have become comfortable with the technology and are soon expected to realize the benefits of having to wear the technology in the form of smart headphones/earbuds.
Although smart headphones/earbuds have not gained traction as expected, in comparison to the wearable devices, the future holds massive opportunities for this industry and the technology providers operating within this space.
Laser technology is creating a buzz with its entry in the smart headphones market. Headphones with laser technology are available in various types such as pulsating vibrant laser light to the sound of music and heartbeat. For instance, Glow headphone has wires that diffuse light from a laser, whereas BioSport powered by Intel has visible light and infrared sensors. Further, advancements such as headphones with fitness trackers, water resistant features are also expected to fuel industry growth
Analyst Perspective
Buying motives also play a significant role in driving sales - When a customer decides to purchase an earphone/headphone, rational and emotional buying motives often overlap and the dominant motive is hard to articulate. For instance, a customer may purchase a headphone for comfort and sound quality or in some cases the purchase could be made based on the product style or brand (Beats by Dre). In some cases, the purchase decision is made purely on aesthetic factors such as design and color. However, there is an underlying empowerment that governs the buying motive.
Increasing adoption of headphones and earphones especially while working out and during office hours is propelling product demand. Manufacturers in the industry focus on high R&D investments to offer more customer centric innovations. Furthermore, high acceptance of wireless smart headphones with incorporated MP3 player across sports sector provides avenues for industry growth. The rising consumer disposable income along with shifting consumer preference towards purchasing expensive headphones/earphones for enhanced listening experience is expected to drive the market growth over the next few years.

In-depth report on global earphones and headphones market by Grand View Research:
https://www.grandviewresearch.com/industry-analysis/earphone-and-headphone-market