Industry : Bulk Chemicals
Increasing electricity demand has resulted in upcoming projects focused on capacity expansions with increasing investment in power generation projects. These factors are likely to positively influence the demand for electrical influence coatings market. Positive growth rate of the global transmission and distribution equipment market is one of the major factors which are anticipated to play a key role in the growth of electrical insulation coatings market.
Electrical insulation coatings are largely available in the market in liquid form, but during the forecast period, liquid electrical insulation coatings are anticipated to lose their market share to powdered electrical insulation coatings owing to factors such as faster curing times, no requirement for solvents and their ability to emit zero volatile organic compounds.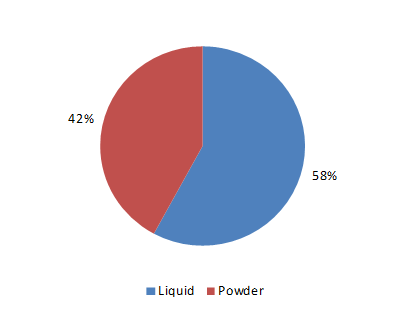 Epoxy resins, Polytetrafluoroethylene (PTFE), ceramics are some of the key raw materials used for manufacturing electrical insulation coatings. Favorable properties such as better electrical insulation, thermal stability and heat resistance, etc. make them suitable for various applications.
PTFE is another major raw material which is used in electrical insulation coatings. It has excellent dielectric strength. China once again is a key player in the PTFE market. The government support for PTFE resin manufacturers has been declining. Owing to R22 refrigerant phase out the program, a subsidy of USD 0.5 per kg of R22 was revoked by the Chinese government.
As a result, Chinese PTFE resin manufacturers had to pass on the cost increase of around USD 2/Kg to PTFE processers. Also, questions were raised regarding the quality of PTFE resins supplied by China as there was a notion in the global market that good quality resins were used by China for domestic use and the poor quality resin was dumped into foreign markets. During the upcoming years, environmental regulations and currency fluctuation are likely to influence the raw material demand as well as prices.
The technology to be used for coating surfaces depends on the type of geometry and properties desired. Various processes such as powder coating, thermal spraying and different types of impregnation methods are used in electrical insulation coating process.
Value chain for electrical insulation coatings consists of raw material suppliers, formulators, suppliers, and end-users. Divestiture of the coatings business by major companies is a major trend observed in the overall coatings market. DuPont divested its coatings business which after the acquisition by Carlyle group was rebranded as Axalta Coatings Systems. In February 2016, BASF reached a general agreement to sell its industrial coatings business to AkzoNobel.
These initiatives have resulted in the emergence of new players in the electrical insulation coatings market. In the upcoming years, new market entrants will have to focus on innovation and will have to be actively responsive to customer needs to remain competitive in the market.
Companies such as Elantas GmbH, 3M Company, PPG Industries, AkzoNobel N.V., Evonik Industries have established themselves as key market players in electrical insulation coatings markets. Factors such as high integration throughout the value chain and global presence have helped these companies to expand their product portfolio thus giving them a competitive advantage over other players.
Small market players have established themselves as strong market players in their respective regional markets. Innovation to formulate new products and ability to respond to customer requirements is expected to play a key role in enabling these companies to remain competitive in the market. Apart from stringent VOC regulations, the market participants are expected to face a major challenge from volatile raw material prices owing to currency fluctuations.
Asia Pacific is expected to emerge as the largest as well as the fastest growing region. Growth in this region can be attributed to rapid urbanization, increasing investment in infrastructure development and robust economic growth of India and China. North America market is forecast to exceed Europe, largely owing to dramatic fall of the European market in the last couple of years.

In-depth report on global electrical insulation coatings market by Grand View Research:
https://www.grandviewresearch.com/industry-analysis/electrical-insulation-coatings-market