Industry : Healthcare IT
Laboratory informatics is the specialized branch of information technology for the optimization of laboratory operations. It is fastest growing application in lab related technology. There are various types of laboratory informatics are available in the market place including laboratory information management systems, electronic lab notebooks, scientific data management systems, laboratory execution systems, electronic data capture & clinical data management systems, chromatography data systems, and enterprise content management.
The components of LIMS are software and services. Based on the delivery mode the market is categorized into on-premise, web-based and cloud-based services. Laboratory informatics caters various end-use industries including life sciences, CROs, chemical, food & beverage, agriculture, environmental testing laboratories, petrochemical refineries, oil & gas industry and forensic sciences.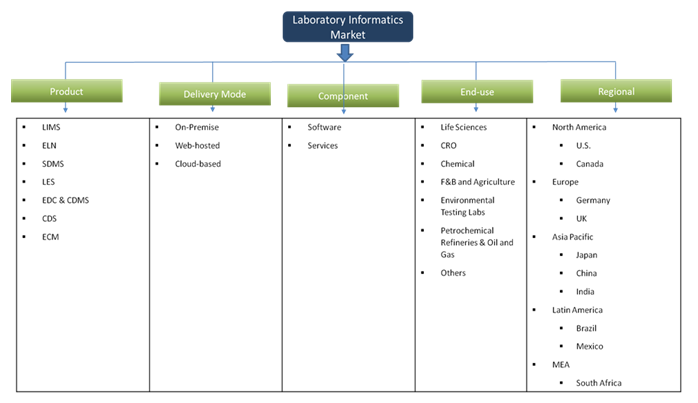 "Adoption of laboratory informatics technology"
The associated benefits with the use of LIMS solutions such as medical information management, workflow management and elimination of paper based work with eliminating errors are attributing toward the laboratory informatics market growth in coming years. In addition, LIMS system helps in increasing productivity, data integrity & quality and eliminating transcription errors in laboratories. The aforementioned factors are anticipated to drive the market growth over the forecast period.
Software solutions for laboratory informatics is expected to show the fastest growth owing to technological evolution in laboratory informatics coupled with its surging incorporation amongst industry players. The LIMS software is able to run with oracle and SaaS platforms, which exhibit higher market penetration in the developed economies. The high-margin software solutions, which are customized as per client requirements by manufacturers, generate greater profit in this sector.
The growing demand from CROs is likely to exhibit profitable growth due to adoption of outsourcing trend of LIMS by large pharmaceutical companies. LIMS service providers are focusing on providing customized end-to-end solutions through the incorporation of integrated technologies, such as electronic data capture and chromatography data systems.
"Addressable laboratory informatics market"
Laboratory information technology has transformed the conventional way of medical information management. The introduction of technologically advanced data integration LIMS software with cost effective nature is expected to boost the usage rates in near future. Furthermore, growing scrutiny on data integrity in FDA regulated labs is key contributing factor for the laboratory informatics market growth. In addition, increasing focus toward the scientific computing and medical information management by healthcare professionals are further contributing the market growth.
"Key players"
The market is highly competitive in nature due to presence of many healthcare information technology companies, such as PerkinElmer, Inc., LabWare, Waters Corporation, LabVantage Solutions, Inc., LabLynx, Inc., Thermo Fisher Scientific, Inc., Cerner Corporation, Core Informatics, LLC, Abbott Informatics, McKesson Corporation, Agilent Technologies, Inc., and ID Business Solutions Ltd. Increasing trend of healthcare informatics is anticipated to fuel the laboratory informatics growth over the forecast period. Major players are focusing on strategies such as partnership agreement, acquisitions and collaboration to gain competitive advantage in the future.

In-depth report on global laboratory informatics market by Grand View Research:
https://www.grandviewresearch.com/industry-analysis/laboratory-informatics-market