Industry : Bulk Chemicals
Robust utilization of water for both municipal and industrial applications since the past few years, has led to depletion of natural water resources and increase in water scarcity issues. Additionally, exponential growth of the global populace and rapid urbanization & industrialization in developing countries has propelled the exploit of water resources.
Decline in the water quality as a result of insufficient treatment methods and industrial effluent disposal are other significantly growing environmental concerns. To curtail these growing issues, there exists a necessity of performance effective, environmentally and economically sustainable, and technologically advanced water treatment systems.
Membrane separation equipment has been extensively used for tertiary treatment of water & wastewater. This equipment incorporates membrane technologies such as reverse osmosis, microfiltration, and ultrafiltration. These products have been widely consumed for water treatment as they do not require use of chemicals and thermal inputs.
U.S. water & wastewater treatment equipment market revenue, by product, 2015 (%)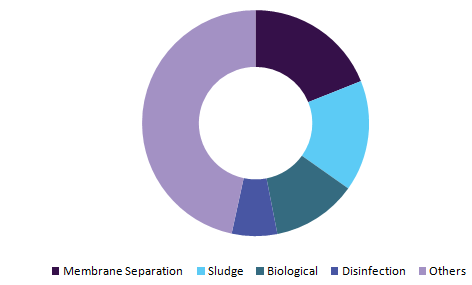 Emergence of nanotechnologies in membrane design is expected to speed up the overall consumption of membrane separation equipment at a fastest rate over the years ahead. For instance, conventional membrane materials such as ceramics and polymers are now being modified by using nano-structured zeolite coatings that enhance the capacity to resist disinfectants and withstand high pressures. Currently various research activities are conducted on designing protein channelized biomembranes to improve their selective permeability features.
The industrial application segment is projected to account for 33.9% revenue share by the end of 2025. Water is extensively consumed in a wide array of industries, which include pulp & paper, oil & gas, mining, and food & beverage.
Regulatory issues associated with the handling of massive amount of effluent streams generated during mine drilling activities serve as a major opportunity for wastewater treatment equipment over the years ahead.
In October 2016, AngloGold Ashanti Limited, a prominent mining player renewed its contract with Veolia Environnement S.A. for operation & maintenance of the water treatment facility at the former company's gold mine located in Ghana, West Africa.
The food & beverage industry is another significant water consumer. Water is primarily consumed as a feed during fermentation of various alcoholic and non-alcoholic beverages. The sludge generated as a side product has rich organic and nutrient content. Treatment of these sludge streams offers significant scope for both secondary and tertiary treatment technologies and equipment.
Anaerobic activated sludge equipment systems and membrane bioreactors are increasingly used for separation of nutrients, and purification of wastewater. The treated water can be reused as feed in the industry. Furthermore, this treated water is suitable for agricultural applications, which in turn reduces the dependency on fresh water resources.
Veolia Environnement S.A., Aquatech International Corporation, Culligan International Company, Ashland Inc., Buckman Laboratories International Inc., Best Water Technology AG, Suez Environnement S.A., and GE Water and Process Technologies, are a few of the key market players operating in the global market.

In-depth report on global water & wastewater treatment equipment market by Grand View Research:
https://www.grandviewresearch.com/industry-analysis/water-and-wastewater-treatment-equipment-market