Industry : Renewable Energy
Wind energy foundation is a base for the wind turbine which is responsible for supporting the structure against all static and dynamic load conditions. They help in erecting the wind turbines and provide a strong base for various operations. Foundations must be able to support hydrodynamic loads combined with aerodynamic loads which is transferred by the turbine.
Wind energy foundation market can be segmented on the basis of site location which includes onshore location and offshore location. Onshore location is further segmented into raft, pile, well foundations and others. Offshore location is further segmented into mono-pile, jacket-pile, gravity, suction and tripod.
The world economy is in the expansion mode and therefore demand for energy is expected to increase exponentially in the coming years. This is a result of the higher living standards and economic activity. Fossil fuel currently dominate the present energy supply accounting for almost 60% of the energy increase out till 2035. However, the shift towards low carbon fuels coupled with stringent environment regulations in most of the developed countries has provided a major boost for renewable energy.
The wind energy market has witnessed a surge in installation capacity over the past few years on account of the growing environmental concerns coupled with the aim to reduce the harmful effects of the greenhouse gases. This has been a major factor for the expansion of wind energy. Government support to save energy and improve the energy efficiency will result in propelling growth for foundations over the forecast period.
Average Installed costs for offshore wind, 2012- 2015 (USD/kw)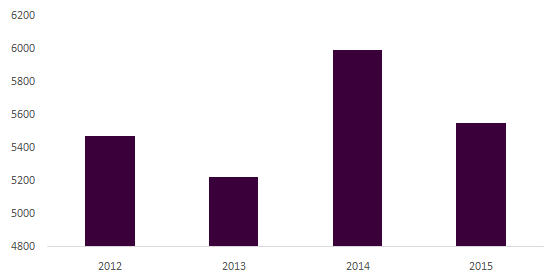 The cost of wind energy is primarily dependent on the wind source i.e. the speed at which blows, frequency, and timing. Winds at high speeds are more inexpensively and easily captured. If the frequency is high, then more power will be generated by the wind turbines.
The cost of wind energy has witnessed a steady decline over the past few years. This can be attributed to the growing demand for clean and sustainable energy. This has led to increasing installation capacity over the past few years. Wind power has become a major source of electricity generation in several countries in Europe include Denmark Finland, Norway and Poland.
Wind energy foundation market is an extremely niche market which has very few companies but with wide range of services to cater in the industry. Foundations form the base of any wind turbine. Companies such as Offshore Wind Power Systems of Texas LLC and Fugro Renewable Services are engaged in providing geotechnical services for offshore wind farms including environmental impact management and assessment, sea bed geotechnical service, subsea cabling, design and foundation assessment.
Key wind energy foundation manufacturers include Ramboll Group, Owec Tower AS, SWAY AS, Bladt Industries A/S, and Principle Power, Inc. Integration across the value chain has been a key feature of various companies including Fugro Renewable Services and MT Højgaard

In-depth report on global wind energy foundation market by Grand View Research:
https://www.grandviewresearch.com/industry-analysis/wind-energy-foundation-market