An Arabian Proverb says, "He who has health has hope, He who has hope has everything". When it comes to prioritizing health with other things, health should inevitably take the topmost priority. A solid reason was highlighted by someone smart and wise generations ago, that states, Health is the real Wealth. And talking about health, everything boils down to what one consumes and supplements the body with. One should supplement the body with right amount of nutrients along with the vital minerals to keep themselves totally fit, fine and fiery. One such essential nutrient is Carotenoids, with multiple health benefits such as anti-ageing properties, increase in cancer fighting capability among others.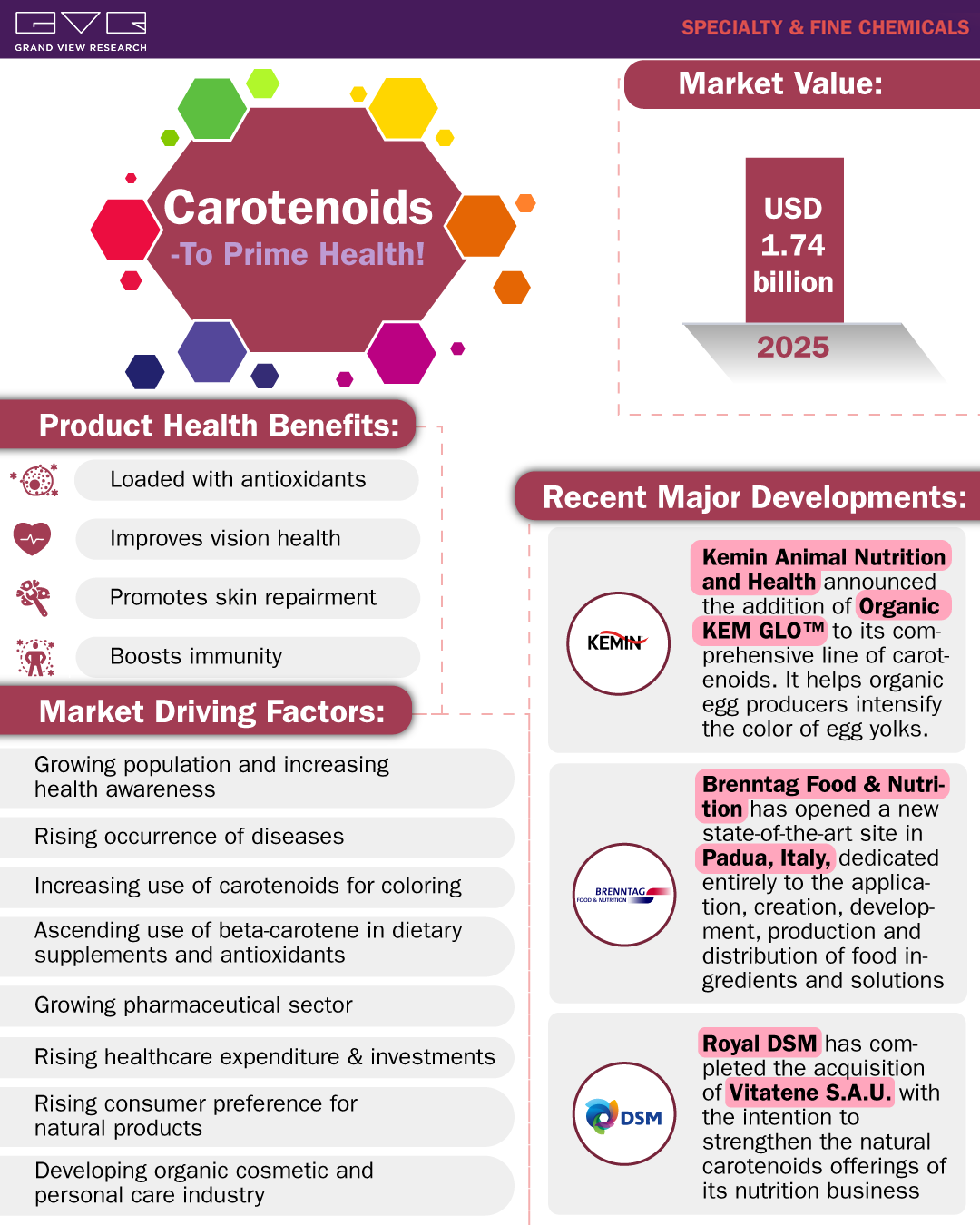 According to the Huffington post, there is a rise observed in the health consciousness among people, especially among the younger generation. These survey results exclaim the increase in demand for healthier food supplements and nutrients. Many reasons including the one above, has been effective in boosting the demand for carotenoid products as well. In fact, Carotenoids Market is expected to reach USD 1.74 billion by 2025, according to a new report by Grand View Research, Inc. this leads on to the next question I.e. What exactly are Carotenoids?
2 Cents On Carotenoids
Red, orange, yellow and all the bright colored fruits, are thankful to the carotenoids for their pigmentation. Carotenoids are a group of fat-soluble phytonutrients, loaded with antioxidants, are essential in protecting us from oxidative stress. Apart from this, they also supplement our health in more ways than one. To sum it up, carrots, tomatoes, dark green leafy vegetables et cetera wouldn't be as colorful or nutritious as they are now, without carotenoids. However, as these are not readily produced inside human body, we source it from fruits, vegetables and carotenoid supplements. Carotenoids are commercially available in various product types including beta-carotene, lutein, lycopene, astaxanthin, zeaxanthin, annatto, capsanthin, and canthaxanthin. Let's delve deeper into the benefits arising from the carotenoids.
Why Carotenoids?
Benefits regarding the carotenoids make it a thing greatly sought by major supplements industries to commercialize it. Also, it has proven its worth when it comes to the results.
Antioxidants Galore - Consumption of Carotenoids-rich fruits like carrots, tomatoes etc. leads to increase in the quantity of antioxidants in the body. They are credited with reducing the oxidative stress in the body and alleviating the aging concerns as well. Apart from this, they are also considered to be the best way to improve cardiovascular health.

Improves Vision Health - Lutein and Zeaxanthin have proved their mettle in the area of vision health. Several studies conducted, speak of the positive effects of these 2 carotenoids on eyes. They protect eyes from the harmful effects of blue light, as well as has been proved to be helpful in alleviating problems arising from age related vision deterioration.

Skin Repairment - Although, carotenoids can't protect from the damages caused due to too much exposure to sun. They are known to repair the oxidative damage caused to the skin. Moreover, they can also protect from the environmental toxins that people encounter normally.

Boosting Immunity - Carotenoids also give a shot in the arm to immunity, boosting it naturally. Along with antioxidants, carotenoids are also known to contain acetylenics, a group of metabolites that have been studied for their potential role in promoting wellbeing and boosting immune function.
These qualities and benefits have led to increase in the demand of carotenoids market.
Quick Glance Over Market
Carotenoids market is expected to show high growth, owing to increasing usage in dietary supplements, pharmaceuticals, and cosmetics, apart from rising product demand as they serve as antioxidants and protect the body against chronic diseases, effects of aging, vision disorder, and cellular damage will fuel growth.
Regional & Applications Insights
Asia Pacific is anticipated to foresee significant growth on account of strong expansion of pharmaceutical and food supplement industries. Moreover, the renewal of healthcare reforms in China such as "Healthy China 2030 Planning Outline" will encourage the development of pharmaceutical industry in the country, which in turn, will open new growth opportunities over the upcoming years.
Europe was the dominant market and is projected to witness substantial gains on account of increasing product usage in dietary supplements. The presence of essential nutrients coupled with stamina enhancing properties is expected to fuel industry expansion over the upcoming years. Furthermore, new product development along with increasing demand for the product from pharmaceutical and cosmetics industry will aid in the industry expansion.
Global market related information regarding the applications of carotenoids market is aptly described in the picture below.
Global carotenoids market volume, by application, 2015 (%)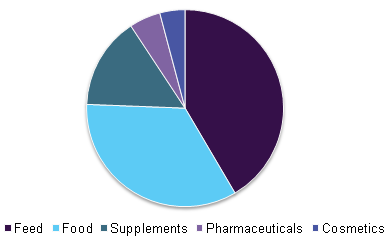 Multiple factors are at play in growth of the market. These following factors determine the potential in the market.
Factors At Work
The growing population and increasing health awareness coupled with rising occurrence of diseases such as cancer and diabetes are expected to drive the demand.

The usage of product for coloring salmons, lobsters, shrimps, prawns, and trout will aid in the market development over the upcoming years.

The increasing usage of beta-carotene in dietary supplements and antioxidants is expected to drive demand over the forecast period.

Rising pharmaceutical sector in India on account of rising healthcare expenditure and investment by foreign players including Novartis and Bayer

Rising consumer preference for natural products has led to increase in the natural extraction of carotenoids from sources such as plants leaves, vegetables, flowers, fruits, crustacean shells, bird feathers, and fish meat. It has also given boost to natural antioxidants consumption.

Developing organic cosmetic and personal care industry is anticipated to fuel the demand over the forecast period.
As we know, nothing interesting is ever completely one-sided. Therefore, the inhibitions that carotenoids market face are stringent regulations for the approval of the product in several countries. This is going to have a negative effect on the growth of the market. However, the advantages weigh in lot more that the disadvantages and the upcoming years will be witnessing tremendous boom in the carotenoids market.
Insights On Competitors
Industry players are heavily investing in research and development to remain competent in the market. Key industry players include BASF SE, Allied Biotech, Kemin Industries, Brenntag, ExcelVite Sdn. Bhd., Cyanotech Corp., Chr. Hansen, D.D. Williamson, DSM Nutritional Products, Divis Laboratories, Naturex SA, and Lycored. These players are focusing on product innovation and partnerships as prime strategies for increasing their presence in the global market.
Recent Major Developments
Kemin Animal Nutrition and Health announced the addition of Organic KEM GLO™ to its comprehensive line of carotenoids, commonly known as pigments. Organic KEM GLO – a USDA-certified organic additive – helps organic egg producers intensify the color of egg yolks.

Brenntag Food & Nutrition has opened a new state-of-the-art site in Padua, Italy; This modern center is dedicated entirely to the application, creation, development, production and distribution of food ingredients and solutions, in combination with an innovative and efficient logistics system.

Royal DSM, the global Life Sciences and Materials Sciences company, has completed the acquisition of Vitatene S.A.U., based in León (Spain), a producer of natural carotenoids. The acquisition of Vitatene allows DSM to strengthen the natural carotenoids offerings of its nutrition business as consumer demand for natural products continues to grow.

In-depth report on global carotenoids market by Grand View Research:
https://www.grandviewresearch.com/industry-analysis/carotenoids-market