Carotenoids are organic compounds that are found in plants, fungi, algae, and bacteria. Carotenoids market is expected to show high growth owing to increasing usage in dietary supplements, pharmaceuticals, and cosmetics. Rising product demand as they serve as antioxidants and protect the body against chronic diseases, effects of aging, vision disorder, and cellular damage will fuel growth.
The growing population and increasing health awareness coupled with rising occurrence of diseases such as cancer and diabetes are expected to drive the demand. Moreover, the usage of product for coloring salmons, lobsters, shrimps, prawns, and trout will aid in the market development over the upcoming years.
Carotenoids are commercially available in various product types including beta-carotene, lutein, lycopene, astaxanthin, zeaxanthin, annatto, capsanthin, and canthaxanthin. Beta-carotene is extensively used as a coloring agent in cosmetics, food, and pharmaceutical industries. The increasing usage of beta-carotene in dietary supplements and antioxidants is expected to drive demand over the forecast period.
Germany carotenoids market revenue, by application, 2015 (%)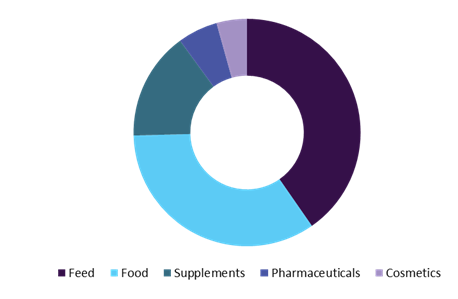 Rising pharmaceutical sector in India on account of rising healthcare expenditure and investment by foreign players including Novartis and Bayer is expected to propel industry development over the forecast period.
Naturally extracted carotenoids from sources such as plant leaves, vegetables, flowers, fruits, crustacean shells, bird feathers, and fish meat are expected to witness significant growth over the forecast period on account of rising consumer preference for natural products.
Developing organic cosmetic and personal care industry is anticipated to fuel the demand over the forecast period. However, stringent regulations for the approval of the product will restrain the market growth over the forecast period.
Europe was the dominant market and is projected to witness substantial gains on account of increasing product usage in dietary supplements. The presence of essential nutrients coupled with stamina enhancing properties is expected to fuel industry expansion over the upcoming years. Furthermore, new product development along with increasing demand for the product from pharmaceutical and cosmetics industry will aid in the industry expansion.
Asia Pacific is anticipated to foresee significant growth on account of strong expansion of pharmaceutical and food supplement industries. Moreover, the inception of healthcare reforms in China such as "Healthcare Service System (2015–2020)" will encourage the development of pharmaceutical industry in the country, which in turn, will open new growth opportunities over the upcoming years.
Industry players are heavily investing in research and development to remain competent in the market. Key industry players include BASF SE, Allied Biotech, Kemin Industries, Brenntag, ExcelVite Sdn. Bhd., Cyanotech Corp., Chr. Hansen, D.D. Williamson, DSM Nutritional Products, Divis Laboratories, Naturex SA, and Lycored.
In March 2015, DSM Nutritional Products inaugurated its nutrition innovation Centre for Asia Pacific in Singapore. The center includes laboratories for the development of nutritional products and dietary supplements.

In-depth report on global carotenoids market by Grand View Research:
http://www.grandviewresearch.com/industry-analysis/carotenoids-market