Industry Insights
The global beta-carotene market size was USD 432.2 million in 2015. The industry is anticipated to witness remarkable growth over the next eight years. A significant increase in the beta-carotene consumption in food & beverages, dietary supplements, personal care & cosmetics, and animal feed industries such is expected to have a positive impact on the overall growth. The rising demand for natural-source carotene products is expected to augment the global industry growth.
Beta-carotene is a part of the carotenoids family and is an antioxidant, derived from natural and synthetic sources. A synthetic source has several disadvantages over natural sources. Some of the disadvantages include its nil nutritional value content, it can cause various side-effects, and has a higher incidence of lung cancer and mortality. To overcome all these disadvantages key companies are now developing carotene products from natural sources.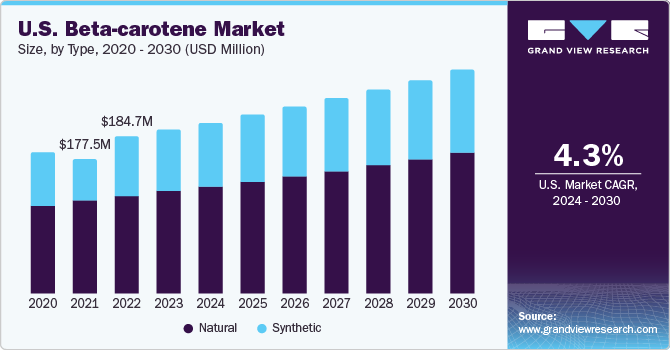 Beta-carotene has several benefits including its usage as an antioxidant and nutrition supplements across various end-use industries such as cosmetics, animal feed, and dietary supplements. If consumed in a small dose, it provides various health benefits enhancing immunity and prevents certain cancer and cardiovascular disease.
However, excessive usage of these products for the long term has various side effects it can cause loss of stools, bruising, & joint pain, and turn skin orange or yellow. Through various researches, it has been found that taking high doses of these supplements for long term might cause a higher risk for certain cancer. Consumption of these supplements by smokers increases the risk of colon, prostate and lung cancer among them.
Beta-carotene is used in food & beverages, pharmaceuticals & dietary supplements, personal care & cosmetics, and animal feed industries. In the food & beverage industry, they are widely used as nutrition supplements and coloring agents. They are widely used as antioxidants in dietary supplements and cosmetics industries. Beta-carotene is extensively used as a nutritional supplement in animal feed.
Global and mature players such as DSM N.V. and BASF SE. are involved in complete integration. These companies are involved in raw material manufacturing as well as manufacturing and distribution of products.
Application Insights
Food & beverages were the most dominant application and accounted for over 30% of the total worth in 2015. Beta-carotene is widely used as a nutrition supplement & as a food coloring agent in food production and beverage industry. The overall food & beverage sector is anticipated to show remarkable growth globally over the next few years. This rise in the food and beverage industry is expected to result in the growth of the industry.
Personal care & cosmetics is also anticipated to witness significant growth over the next eight years. In the personal care industry, it is widely used as an antioxidant. In cosmetics products, it is used in the formulation of bath products, aftershave lotions, makeup, cleansing products, shampoos, hair conditioners, suntan products, and skincare products. The cosmetics application sector is expected to be worth over 21% of the total industry in the next eight years.
Product Insights
Naturally, beta-carotene is derived from algae (Dunaliella salina), fruits & vegetables (carrot, sweet potato, pumpkin, and others), fungus, palm oil, and fermentation of microorganisms. Algae derived beta-carotene accounted for over 35% of total revenue in 2015. The algae-based product is expected to witness steady growth trend over the forecast period owing to its various advantages over other sources.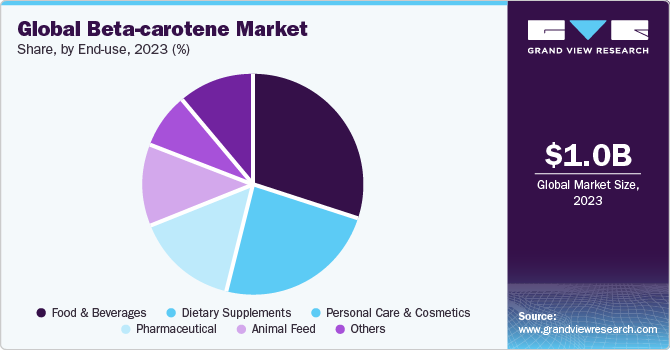 Synthetic sources account for a very small share in the global industry. Synthetically it is derived from benzene extracted from acetylene gas. Growing health awareness and various disadvantages regarding the use of synthetic products is believed to be the primary reason for the decline of synthetic based carotene share over the next eight years.
Regional Insights
Europe emerged as the leading consumer and accounted for over 35% of global demand in 2015. The region experiences the presence of a large number of producers and consumers of the product with the latest technology. Europe is anticipated to witness the same growth trend in the coming years.
Asia Pacific region is anticipated to witness fastest growth over the forecast period. The growth might be a result of a remarkable rise in the food & beverages, cosmetics, and other end-user industry in the region. The presence of small-scale regional players and investment in the R&D activities for new product development are expected to have a positive impact on industry growth.
Beta-Carotene Market Share Insights
The global beta-carotene industry is highly competitive due to the presence of less number of experienced players and a large number of local industry participants. The industry is dominated by two major companies viz DSM N.V. & BASF SE. These companies have been adopting strategies such as M&A, new product development, and collaborations with other industry participants to gain market share.
Other prominent industry participants include Chr. Hansen Holding A/S, Foodchem International Corporation, Flavorchem Corporation, Lycored, D.D. Williamson & Co., Inc., BioExtract, Nutralliance, Zhejiang Medicine Co., Ltd, Sensient Cosmetic Technologies, and Parry Nutraceuticals.