Corrosion – The worst enemy of a metal or alloy
We all must have seen a corroded utensil in our kitchen, where we are compelled to discard it because we don't have the proper solution to combat this situation. However, what we can do is avoid this situation in the first place. But how? The answer lies in a chemical compound known as glucaric acid, which is an organic product manufactured from glucose and nitric acid. Most of its known commercial value is from the use of its sodium salt in dishwasher detergents, but it also finds heavy usage as an anti-corrosion agent.
The United States Department of Energy has recognized glucaric acid as one of the crucial building blocks chemicals, which can be converted to several high-value, bio-based chemicals. The product comes in various forms – pure glucaric acid, calcium-D-glucarate, potassium sodium-D-glucarate, and D-glucaric acid-1,4-lactone.
One Product, Many Uses
Due to growing concerns regarding the environment, phosphates have been banned in detergents in developed countries in North America and Europe, which is expected to provide an opportunity to the glucaric acid market to grow over the next eight years. Anti-corrosion is one of the important properties of glucaric acid. The construction industry utilized phosphate to address corrosion related problems. However, due to the subsequent ban, the ability of the chemical to substitute phosphate and other anti-corrosive chemicals in this application is expected to elevate its demand across all regions.
Glucaric acid is an ideal cleansing agent, and serves as a builder that captures calcium and magnesium found in hard water, thus preventing them from forming soap scum. Soap scum is a white or gray filmy layer that covers surfaces in bathtubs, showers and sinks, and if left too long to build up, can combine with mold or mildew, as well as other discolorations and odors. Various formulators have found usage of glucaric acid, in a number of areas such as household cleaning, concrete admixtures, and cooling tower treatment programs.
The glucaric acid market is characterized by the presence of a large number of raw material suppliers. The market is highly dependent on the dynamics of its largest application area, the soap & detergent sector, and is expected to be driven by growing R&D of glucaric acid & its derivatives and its application as a substitute of phosphate in various applications. New techniques such as the catalytic process do not emit toxic gases such as NOx, due to which, the manufacturing of this product has received incentives and subsidies from governing bodies.
Calcium-D-glucarate is widely used in the food industry as it optimizes the level of minerals and vitamins in the body, safeguarding the vital functions of the liver and lungs. D-glucaric acid-1,4-lactone is a widely used derivative, which is expected to show rapid growth in coming years, as it finds application in cancer treatment. The Asia Pacific medical industry is expected to be a leading consumer of this product, led by the rapidly developing economies of India and China.
Global glucaric acid market revenue by application, 2016 (%)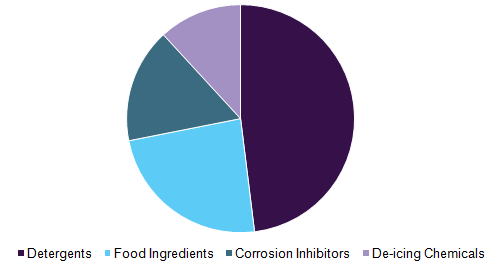 Asia Pacific and Europe Driving Growth
Asia Pacific dominated the global glucaric acid market in 2016, in terms of revenue. The market in this region is driven by growing detergent and food ingredients industries in countries such as China and India. Besides, growing awareness about the importance of organic products in order to prevent environmental degradation, is also expected to play a key role in market growth over the forecast period. This region was followed by North America and Europe, with the latter accounting for 16.3% of the global revenue share in 2016.
The European market is characterized by adherence to the stringent environmental regulations, promoting glucaric acid demand. Although it does not have too many manufacturers, apart from Chemos, major players cater to this region. This region is known to receive severe snowfalls during winters, due to which, the demand for this product in de-icing applications on roads and railway tracks is expected to grow.
Competitive Scenario
Agreements and partnerships were major growth strategies adopted by manufacturers from 2011 to 2016. These manufacturers entered into partnerships with suppliers in order to ensure an uninterrupted flow of raw materials such as glucose and nitric acid. Similarly, agreements with distributors have made sure the product reaches different parts of the world. Some of the leading companies in this industry include Rennovia Inc., Rivertop Renewables, Kalion Inc., Chemos, and Shanghai Meicheng Chemical Co. Ltd.
The product has seen interesting developments in the past 2-3 years, with the growth of the kombucha industry a potential future driver for the glucaric acid market. Some of the recent developments include:
MIT chemical engineers, in December 2019, devised a way to control microbial metabolism, by inducing bacteria to switch between different metabolic pathways at different times, thus helping in the cells' ability to produce the desired compounds while also maintaining their own growth. This process allowed the research team to boost microbial yields of two different products by 10 times.

Joker Brewing has come up with its own kombucha beer offering in Williamsburg, Virginia. The drinks will be available in a number of different flavors, with customers being able to buy them in bottles or on tap in restaurants. Hard kombucha has a high glucaric acid content, which helps in detoxification, while also keeping the liver healthy.

In June 2017, Rivertop Renewables announced that its sodium glucarate had achieved the European Chemical Agency's (ECHA) REACH (Registration, Evaluation, Authorization and Restriction of Chemicals) registration. The development allowed commercial deployment of sodium glucarate-derived products in various European markets.

In-depth report on global glucaric acid market by Grand View Research:
https://www.grandviewresearch.com/industry-analysis/glucaric-acid-market