Glucaric acid is an organic product manufactured from glucose and nitric acid. Due to growing concerns regarding the environment, phosphates have been banned in detergents in developed countries in North America and Europe, which is expected to provide an opportunity to this product to grow over the next eight years.
The glucaric acid market is characterized by the presence of a large number of raw material suppliers. The market is highly dependent on the dynamics of its largest application area, the soap & detergent sector.
The market is expected to be driven by growing R&D of glucaric acid & its derivatives and its application as a substitute of phosphate in various applications. New techniques such as the catalytic process do not emit toxic gases such as NOx, due to which, the manufacturing of this product has received incentives and subsidies from governing bodies.
Global glucaric acid market, by region, 2016 (%)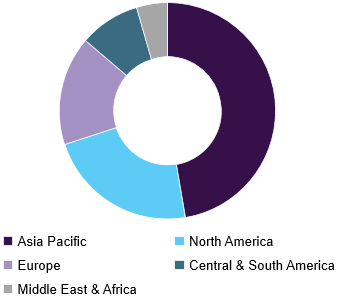 As seen above, Asia Pacific dominated the global glucaric acid market in 2016, in terms of revenue. The market in this region is driven by growing detergent and food ingredients industries in countries such as China and India. Besides, growing awareness about the importance of organic products in order to prevent environmental degradation, is also expected to play a key role in market growth over the forecast period.
Europe accounted for 16.3% of the global revenue share in 2016. The industry in this country is characterized by adherence to the stringent environmental regulations, promoting glucaric acid demand. Although it does not have too many manufacturers, apart from Chemos, major players cater to this region. This region is known to receive severe snowfalls during winters, due to which, the demand for this product in de-icing applications on roads and railway tracks is expected to grow.
Anti-corrosion was one of the important properties of glucaric acid. The construction industry utilized phosphate to address corrosion related problems. However, due to its subsequent ban, glucaric acid's ability to substitute phosphate and other anti-corrosive chemicals in this application is expected to elevate its demand across all regions.
Agreements and partnerships were major growth strategies adopted by manufacturers from 2011 to 2016. These manufacturers entered into partnerships with suppliers in order to ensure an uninterrupted flow of raw materials such as glucose and nitric acid. Similarly, agreements with distributors have made sure the product reaches different parts of the world. For instance, in May 2016, Rennovia signed a partnership with Stora Enso which supported the company to develop expertise in manufacturing and distribution of the product in Europe.

In-depth report on global glucaric acid market by Grand View Research:
https://www.grandviewresearch.com/industry-analysis/glucaric-acid-market