"Growing demand for functional beverages is anticipated to augment growth"
The global kombucha market size exceeded USD 700 million in 2015 and is expected to witness high growth over the forecast period. The growing awareness of the health benefits associated with consuming probiotic beverages on a regular basis is anticipated to boost industry growth.
Fermented tea controls liver cell toxicity and aids in detoxification, digestion, and weight loss. It also helps to improve immune health and acts like an energy drink. High distribution cost and recall incidences are expected to hinder growth.
The good bacteria present in probiotic foods improves digestion and boosts the immunity. The American Cancer Society stated that the beverage has been promoted as a cure-all for a huge range of conditions including multiple sclerosis, arthritis, baldness, intestinal disorders, insomnia, chronic fatigue syndrome, cancer, and AIDS.
Most of the companies started as home brewers and later commercialized their offerings by partnering with distributors such as Whole Food Market, Walmart, etc. Women entrepreneurs established many of the companies such as Townshend's Tea Company, NessAlla Kombucha, and Humm Kombucha LLC.
U.S. kombucha Market Revenue By Region, 2014 - 2024 (USD Million)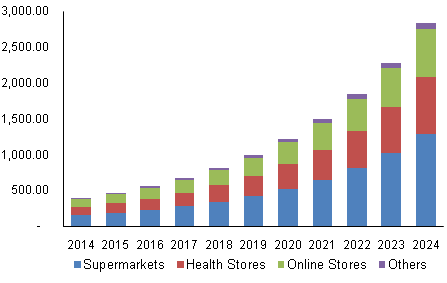 "Flavored beverage recorded significant demand"
The beverage segments into flavored and original kombucha. The flavored segment recorded the largest demand in 2015 and is projected to grow at the highest CAGR from 2016 to 2024. Companies have developed various exotic flavors combining fruits, flowers, herbs & spices for the production of flavored fermented tea. In 2011, Hain Celestial Group, Inc. launched Kombucha Energy Shots for the first time.
"Tie-ups with supermarkets strengthen distribution channel"
These beverages reach end consumer through supermarkets, health stores, and online stores. Supermarkets played a prominent role in distributing this product in 2015. Wal-Mart and Whole Food Markets among several other retailers have tied up with brewers for the distribution of this beverage.
The presence of these beverages on online stores is anticipated to grow over the coming years. Companies such as Buchi Kombucha, Celestial Seasonings, and KeVita, Inc. has adopted expansion strategies.
"North America is the largest kombucha market, U.S contributing to the largest share"
North America occupied the largest share in 2015 and is anticipated to grow at a high CAGR from 2016 to 2024. Increasing awareness of the health benefits associated with the product is projected to boost demand.
Asia Pacific is projected to account for the second-largest share by 2024. Cost effectiveness associated with the manufacture and processing of the product is expected to drive the demand. Growing disposable income coupled with rising demand for fortified beverage boosts the kombucha market in emerging economies such as China and India.
Central & South America is anticipated to have a moderate growth over the coming years. Increasing commercialization of energy and health drinks along with considerable economic growth in countries such as Venezuela, Argentina, Brazil, and Colombia is expected to spur demand in the region over the forecast period.
"Hain Celestial Group, Reed's Inc., and Red Bull GmbH are prominent players in the industry"
Companies have invested in enhancing their production efficiency and product offerings. They are introducing new exotic flavors which are gaining preference in the fortified beverage sector. In July 2016, Hain Celestial Group launched a new line of certified USDA organic kombucha drinks.
Key players include Buchi Kombucha, Cell-Nique Corporation, GT's Kombucha, Hain Celestial Group, KeVita, Inc., Kombucha Wonder Drink, Kosmic Kombucha, Makana Beverages Inc, NessAlla Kombucha, Red Bull GmbH, Reed's, Inc., Revive Kombucha, Humm Kombucha LLC, Townshend's Tea Company, and LIVE Kombucha.