Industry Insights
The global kombucha market size was valued at USD 760.0 million in 2016 and is likely to expand at a CAGR of 23.0% over the forecast period. This market is projected to be driven by rising product innovations, flavor experimentation, and consumer awareness about health benefits associated with the product.
Flavored kombucha beverages are expected to witness huge rise in demand over the forecast period as consumers often prefer beverages with a refreshing taste. Launch of new flavors and products by major players is expected to further propel market growth. Original kombucha flavor is expected to grow at a high CAGR on account of its increasing demand among regular consumers.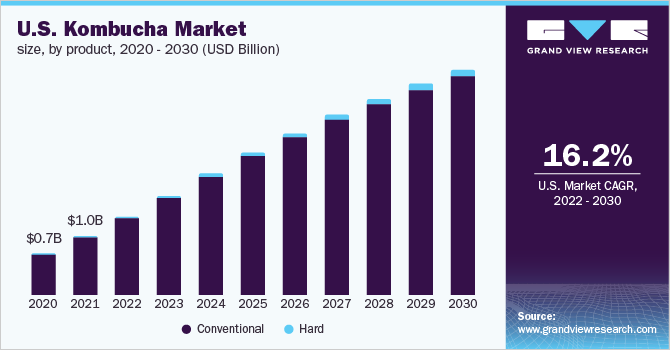 Value chain of the product comprises raw material suppliers, manufacturers, distributors, and end-use verticals. Kombucha is derived from raw materials such as tealeaves, Symbiotic Colony of Bacteria and Yeast (SCOBY), sugar, and flavors.
Suppliers form the primary level of kombucha value chain. Tealeaves and sugar are the basic raw materials used for product manufacturing. Kombucha is produced by fermenting tea using a Symbiotic Colony of Bacteria and Yeast (SCOBY). The yeast component includes Saccharomyces - a probiotic fungus, bacterial component gluconacetobacter xylinus, and other species.
Tealeaves, mainly green tea and black tea, are used in kombucha brewing process. Another major raw material used is sugar. Both these products are easily available at grocery stores. According to the Food and Agriculture Organization (FAO) of United Nations (UN), global tea production including black, green, and instant tea increased by 6% and reached 5.07 million tons in 2013. Black tea output increased by 5.4% in response to continued firm prices, while green tea output increased by 5.1%.
Flavor Insights
Kombucha is available in its original flavor and in added flavors. Most brewers offer a range of flavors along with their original offerings, which is the product in its raw form. Increasing investments are made to invent new exotic flavors catering to regional taste and preference.
For instance, Buchi Kombucha uses a combination of ingredients such as organic apple juice, freshly pressed organic ginger, beet juice, cayenne, Gaia Herbs Echinacea Supreme (purpura and Angustifolia), pineapple juice, limejuice, peppermint leaves, natural color from edible flowers, and spices for manufacturing flavored products.
Growing trend of consuming natural and organic food has generated new growth opportunities for players operating in this industry. Increasing use of natural extracts and flavors in kombucha beverages is expected to propel market demand. Applications of kombucha are widening in food and beverage products such as breakfast meals, candies, ice cream toppings, and other such products. This is also projected to generate growth opportunities over the forecast period.
Flavored kombucha is also expected to have a remarkable penetration on account of increasing demand for natural and exotic flavors such as blueberry ginger, cinnamon kombucha, goji berry, elderberry hibiscus, peach, and mango. Increasing demand for flavored energy drinks is also expected to have a positive influence on the market.
Distribution Channel Insights
On the basis of distribution channel, the kombucha market has been segmented into supermarkets, health stores, online stores, and others. Supermarkets accounted for 36.0% market share in terms of revenue in 2016. It is likely to have the fastest CAGR during the forecasted period.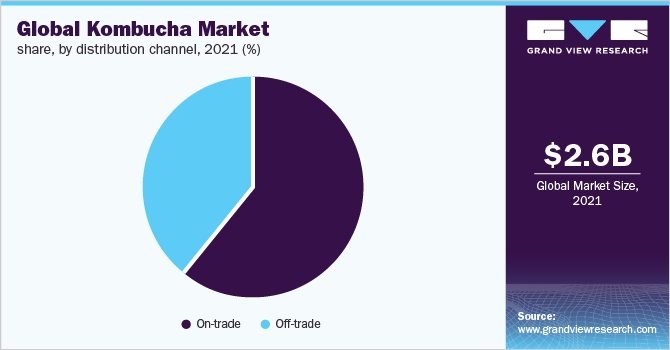 Online stores segment is expected to have a remarkable penetration on account of rising online purchases of kombucha beverages. A shift in consumer buying trends is expected to propel the online stores market in this distribution channel segment.
Kombucha has also registered its presence in health stores, mainly in North America and Europe. Growing number of healthy product distributors in Asia is projected to contribute to market growth in near future. There is a positive investment sentiment owing to its excellent commercial potential and wide developing consumer base. In 2016, PepsiCo ventured into the market by acquiring a kombucha manufacturing giant Ke-Vita.
Regional Insights
North America accounted for 58.4% market volume in 2016. Strong distribution network and rising consumer awareness in U.S. are projected to propel regional market. Asia Pacific is projected to grow at the highest CAGR over the forecast period on account of increasing demand for probiotic and fortified beverages. The trend of consuming healthy and natural products is projected to bode well for market growth. Europe is mainly influenced by rising demand for functional beverages and high demand from Russia and Germany.
Kombucha tea products are facing regulatory concerns related to alcohol content present in the drink. The U.S. Food and Drug Administration (FDA) and other regulatory authorities have suggested to take precautionary measures before consuming the product and more so for the people trying the product for the first. Some consumers have reported stomach upset, allergic reactions, toxic reactions, and metabolic acidosis after consumption of this product. Increasing awareness regarding ill effects has adversely affected the market growth.
Kombucha Market Share Insights
Companies have invested a huge amount of money in acquiring additional production capabilities in emerging countries and in expanding their distribution channels. Increasing investments by functional food and beverage companies in research and development to produce healthy products are projected to fuel market growth.
Kombucha manufacturers have partnered with various distribution centers such as supermarkets, online stores, and health stores to boost the product presence in the market. Most manufacturers prefer supermarkets as a distribution partner for the sale of their products. Online stores are also expected to gain a strong presence in near future.
Segments Covered in the Report
This report forecasts revenue growth at global, regional, and country levels and provides an analysis of latest industry trends in each of the sub-segments from 2014 to 2025. For the purpose of this study, Grand View Research has segmented the global kombucha market report on the basis of flavor, distribution channel, and region:
Flavor Outlook (Volume, Kilo Liters; Revenue, USD Million, 2014 - 2025)

Distribution Channel Outlook (Volume, Kilo Liters; Revenue, USD Million, 2014 - 2025)

Supermarkets

Online Stores

Health Stores

Regional Outlook (Volume, Kilo Tons; Revenue, USD Million, 2014 - 2025)

North America

Europe

Germany

U.K.

France

Russia

Asia Pacific

China

India

Japan

Australia

Central & South America

Middle East & Africa