Everything in this world is getting smarter day-by-day. Technology is able to gauge and sense human needs and learn to lend a helping hand to overcome obstacles in the matter of seconds, which would consume a lot of time if done in a conventional way. Cooking has been one thing which still requires time, although not as much as it used to; however, it is getting simpler gradually and smart household cooking appliances are here to help us accomplish just that!
The Household Cooking Appliances Market is poised for a steady growth in the coming years. Technological advancements in devices, such as IoT-enabled appliances, sensors for pre-defined cook time, and digital menu enabled devices, have played a pivotal role in shaping the market growth.
Smart appliances used for preparing food are anticipated to enhance the household cooking experience. The modern day Internet and Bluetooth-connected accessories and devices aim at providing more comfort to users than before. Products such as the Crock-Pot, ActiFry Smart, and LG ThinQ cooker can be operated directly from mobile phones. The devices can automatically adjust to preset time frames and temperature and also provide video instructions to users to cook specific recipes. Smart kitchen appliances have made precision cooking possible even without being present at home. This technology is projected to make steady inroads into the market. Riding on the back of these factors among others, market is expected to reach USD 124.8 billion by 2025, according to a new report by Grand View Research, Inc., registering a 6.5% CAGR in the upcoming years.
Time For A Comfort-friendly Kitchen
Sit back, relax, it's time to let the smart appliances takeover your kitchen. It's no more weird to talk to your microwave or coffee maker or toaster or any other appliance in the kitchen which is connected to internet or has smart before its name. It's time to live a life like Jetsons.
Now why we should let the appliances do the talking when we're ourselves capable of doing those ourselves?
Maybe you're a novice who requires a helping hand in the kitchen or a seasoned chef who wants to multi-task; let me tell you, this technology is for everyone and is here to stay. It can help you with your cooking chores or new innovations at the command of your voice.

Help from these smarties, can help free up our times which we can dedicate to several other things.

Smart applications which can be used through these appliances can get us to keep our kitchen's stock in order. Now nobody will be short of butter while making Butter Chicken or in loss of croutons while serving Soupe à l'oignon.

We need all the help required when preparing a meal for someone we called over for a dinner. And precisely here these internet-connected smarties come to our rescue by lending a brilliant hand of multiple recipes to choose from the internet and moreover they don't even care if we get all the credit from the guest for the best dinner they had since a long time.

These smart appliances can turn up the convenience factor along with your performance in the kitchen as you can accomplish a lot in the given amount of time.

Also, these appliances are energy efficient and consume less juice than the conventional ones, giving you quite a rebate on energy bills.
Now take a moment to think about, Why not?
Not much to answer, isn't it?
So, let's now dive into the market trends and insights.
Market Trends And Insights
Cooktops and Ranges are the most widely used appliances across households. It is a necessity for each household to have a cooktop as a result of which their penetration in the market is expected to witness a steady upswing. The cooktop segment had the largest market size in 2019 and is expected to continue maintaining its stranglehold over the market. Developments such as an increase in the number of burners, improvement in the cooktops' material, enhanced aesthetic value, and the presence of a higher number of racks in the ranges have kept the demand for cooktops and ranges steady over time.
The ovens market is anticipated to witness the fastest growth in the upcoming years as well, with the revenue share for combination ovens and microwave ovens expected to increase relative to conventional ovens.
These insights can be understood by the pie-chart below.
U.S. household cooking appliances market, by product, 2015 (USD Billion)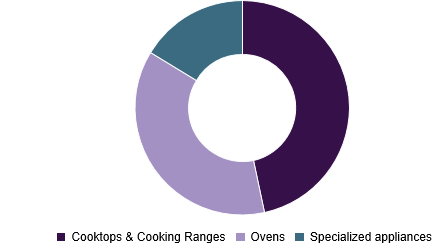 Region Specific Insights
Increased sales in Asia Pacific is expected to drive the household cooking devices market as the demand for such appliances is on the rise with the growing disposable income. China and India are presumed to emerge as the most lucrative regional markets within Asia Pacific.
North America is the region which has captured the highest market share in the world, which is over 30%. It is due to the fact that the large US household appliances sector is growing exponentially and it is going to push the demand in the market. Along with that, Mexico and Canada are emerging has the hotspot for demand in the cooking appliances market.
Competition As It Is
Key players invest heavily in Research & Development (R&D) in an attempt to develop advanced control features, which would serve as a parameter to distinguish their product from their competitors' products. There is a low threat of new entrants as the market is identified by big international brands along with some smaller regional players.
Seasoned manufacturers, such as Koninklijke Philips NV, Whirlpool Corporation, Haier Group, LG Electronics, Electrolux AB, Robert Bosch GmbH, and Samsung, have emphasized on the development of smart kitchen appliances in a bid to maintain their competitiveness. Enhanced IoT features enable monitoring devices with the help of smartphone applications. Smart kitchenware is the latest innovation in the household cooking appliances industry and is expected to boost demand over several upcoming ears significantly.
Recent Developments
Samsung Launches Family Hub, the Next Generation Refrigerator. A winner of the 2018 CES Best of Innovation Award, Family Hub ensures a superlative entertainment experience with its 21.5-inch touchscreen and Bixby voice control and allows consumers to do what seemed unimaginable in past, allowing consumers to do a lot more than what a regular refrigerator does.

Royal Philips, a global leader in health technology, announced the world's first personalized smart blender, the Philips High Speed Connected Blender. The Philips High Speed Connected Blender motivates you to hit your healthy living goals, and becomes more than simply a way to create delicious and nutritious smoothies.

Electrolux expanded its collaboration with Google by integrating connected kitchen products in Europe with the Google Assistant, enabling consumers to control products using voice commands.

In-depth report on global household cooking appliances market by Grand View Research:
https://www.grandviewresearch.com/industry-analysis/household-cooking-appliances-market