The household cooking appliances market is poised for a steady growth in the coming years. Technological advancements in devices, such as IoT-enabled appliances, sensors for pre-defined cook time, and digital menu enabled devices, have played a pivotal role in shaping the market growth.
Smart appliances used for preparing food are anticipated to enhance the household cooking experience. The modern day Internet and Bluetooth-connected accessories and devices aim at providing more comfort to users than before. Products such as the Crock-Pot, ActiFry Smart, and LG ThinQ cooker can be operated directly from mobile phones. The devices can automatically adjust to preset time frames and temperature and also provide video instructions to users to cook specific recipes. Smart kitchen devices have made precision cooking possible even without being present at home. This technology is projected to make steady inroads into the market.
U.S. household cooking appliances market, by product, 2015 (USD Billion)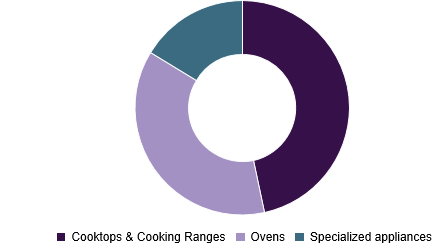 Cooktops and Ranges are the most widely used appliances across households. It is a necessity for each household to have a cooktop as a result of which their penetration in the market is expected to witness a steady upswing. The cooktop segment had the largest market size in 2015 and is expected to continue maintaining its stranglehold over the market. Developments such as an increase in the number of burners, improvement in the cooktops' material, enhanced aesthetic value, and the presence of a higher number of racks in the ranges have kept the demand for cooktops and ranges steady over time.
The ovens market is anticipated to witness the fastest growth over the forecast period, with the revenue share for combination ovens and microwave ovens expected to increase relative to conventional ovens.
Increased sales in Asia Pacific is expected to drive the household cooking devices market as the demand for such appliances is on the rise with the growing disposable income. China and India are presumed to emerge as the most lucrative regional markets within Asia Pacific.
Key players invest heavily in Research & Development (R&D) in an attempt to develop advanced control features, which would serve as a parameter to distinguish their product from their competitors' products. There is a low threat of new entrants as the market is identified by big international brands along with some smaller regional players.
Seasoned manufacturers, such as LG Electronics, Electrolux AB, Robert Bosch GmbH, and Samsung, have emphasized on the development of smart kitchen appliances is a bid to maintain their competitiveness. Enhanced IoT features enable monitoring devices with the help of smartphone applications. Smart kitchenware is the latest innovation in the household cooking appliances industry and is expected to boost demand over the next eight years significantly.

In-depth report on global household cooking appliances market by Grand View Research:
http://www.grandviewresearch.com/industry-analysis/household-cooking-appliances-market