Cardiac pacemaker is a medical device, which controls the functioning of the heart using electrical impulses that artificially contract the heart muscles. A block in the heart's electrical conduction system may result in failure of the natural pacemaker in the heart.
These artificial pacemakers are of two types, external and implantable. External pacemakers are used in case of emergencies with continuous monitoring in intensive care units at hospitals. External pacemakers also include wearable pacemakers, but due to portability and performance issues, these devices are rarely used.
Global pacemaker market, by product, 2015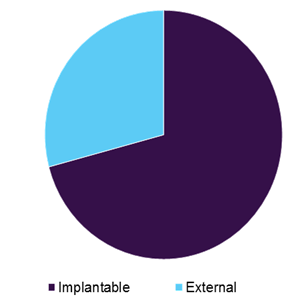 Implantable pacemakers are of the three types, single chamber, dual chamber, and biventricular, and are inserted through a simple surgery, using general anesthesia. In single chamber pacemakers, a single lead is implanted into one of the heart chambers, the atrium or the ventricle; while in dual chamber pacemakers, two leads are placed in the ventricle and the atrium. Dual chamber pacemaker functioning closely resembles that of the natural pacemaker present in the human body.
The biventricular pacemaker also known as Cardiac Resynchronization Therapy (CRT) is used in patients with a lack of synchronization between the contractions of the left and right ventricles, a condition known as ventricular dyssynchrony. These devices consist of a couple of leads, one stimulates the septum and the other stimulates the epicardial wall of the left ventricle.
Pacemakers: Technological Advancements
Following are a couple of advancements, which are likely to impact the dynamics of the global pacemaker market:
- Dynamic pacemaking technology: This technology is under development for its use in artificial hearts. Transitional tissue welding is required in artificial tissue implant technology, which utilizes stem cells or other cells.
- Microprocessor-controlled pacemakers: Kelvin II pacemaker is a dual chamber microprocessor-enabled pacemaker. This device has a microchip and pacer chip in an integrated circuit. Other specifications of this device include 4kB read only memory, 2kB random access memory, and 8-b microprocessor.
Pacemaker: Market Snapshot
The global pacemaker market was valued at USD 4.9 billion in 2015 and is expected to grow at a CAGR of 9.2% over the forecast period. The key drivers impacting the growth of the pacemaker market include:
- Increasing incidence of Cardiovascular Diseases (CVDs)
- Technological advancement in pacemakers
- Availability of reimbursement for pacemaker implantation procedures
We have segmented pacemakers based on product type into external and implantable. Implantable pacemakers segment, inclusive of single chamber, dual chamber, and biventricular pacemakers, held a sizable share in 2015 and is likely to grow at a healthy CAGR over the next eight years. This can be attributed to the presence of multiple leads that send electrical impulses to enable a heart rhythm that mimics the normal physiological functioning of the heart preventing post-operative complications.
Our report "pacemaker market analysis and segment forecast to 2025" analyzes the global pacemaker market at the regional as well as country level. The report also analyzes trends, drivers, and restraints influencing market dynamics. Opportunity analysis using an in-house developed model helps in understanding key growth segments. This will help in gaining a thorough understanding of the market to facilitate sound business decisions.

In-depth report on global pacemaker market by Grand View Research:
http://www.grandviewresearch.com/industry-analysis/pacemaker-market