Life is the not only a most important thing, but also 'the' most important thing.
To save and prolong this precious thing, man has gone over to achieve several feats with the help of science and technology, and has developed healthcare and life saving technology to such a level, that astonishes us to the core.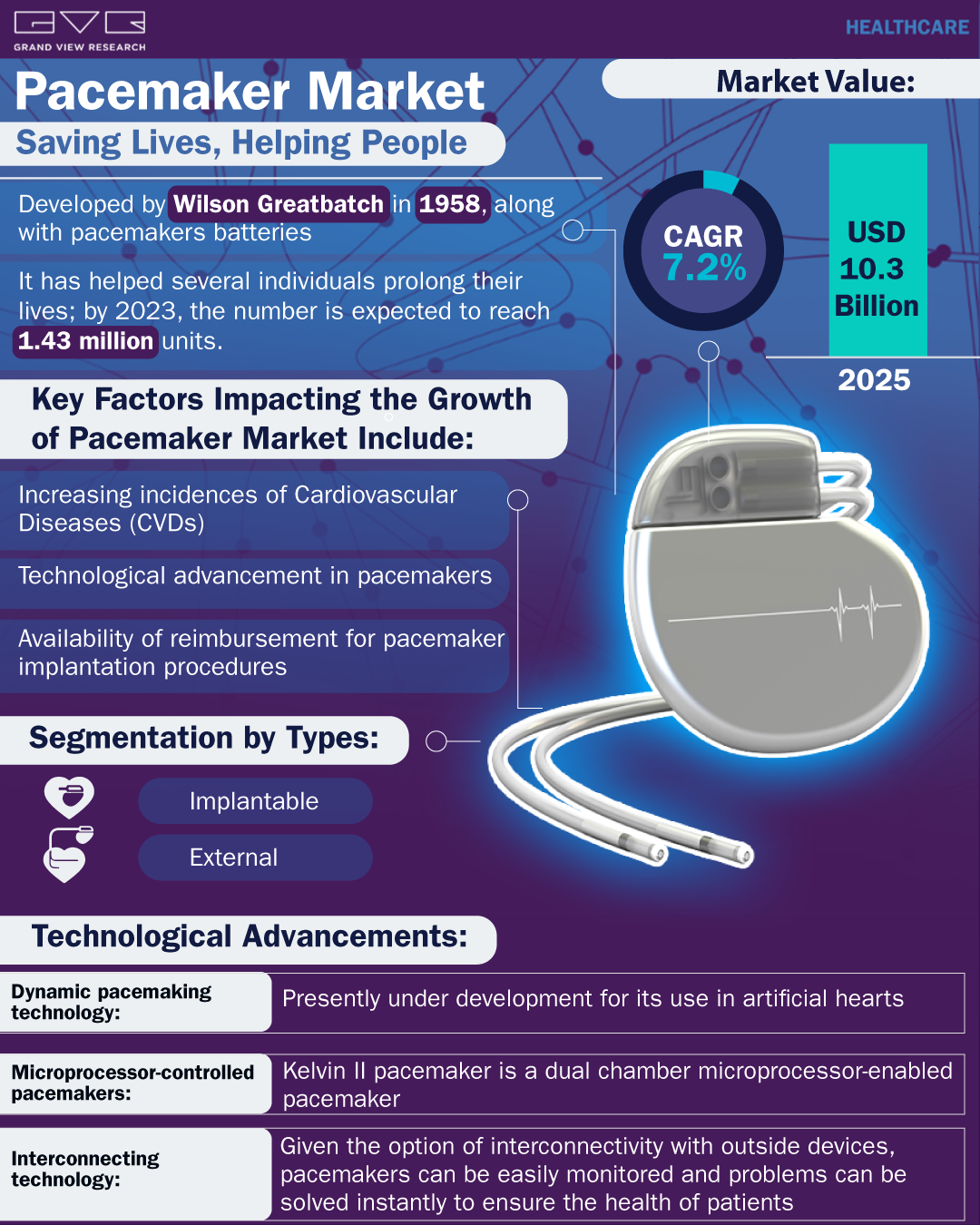 When we talk about heart pacemaker, we talk about the same level of developed healthcare technology, which is proving out to be a lifesaver in literal meaning. Pacemaker or 'Artificial Cardiac Pacemaker' was developed Wilson Greatbatch in 1958, along with the pacemakers batteries. And since it has been developed, it has helped multiple people prolong their lives. As of 2016, 1.14 million pacemakers are in use globally; and the numbers are going to rise to 1.43 million units by the year 2023. Therefore, the Global Pacemaker Market is certainly receiving great demand, which is expected to reach USD 10.3 billion by 2025, according to a new report by Grand View Research, Inc., exhibiting a 7.2% CAGR.
Brief on Cardiac Pacemaker
Cardiac pacemaker is one of the cardiovascular medical devices, which controls the functioning of the heart using electrical impulses that artificially contract the heart muscles. A block in the heart's electrical conduction system may result in failure of the natural pacemaker in the heart. It generates electrical impulses delivered by electrodes to cause the heart muscle chambers (the upper, or atria and/or the lower, or ventricles) to contract and therefore pump blood; by doing so this device replaces and/or regulates the function of the electrical conduction system of the heart.
Types
These artificial pacemakers are of two types, external and implantable. External pacemakers are used in case of emergencies with continuous monitoring in intensive care units at hospitals. External pacemakers also include wearable pacemakers, but due to portability and performance issues, these devices are rarely used. The benefit of the internal pacemakers over the external ones makes them the comfortable choice for the patient and can be aptly understood by the pie-chart below.
Global pacemaker market, by product, 2015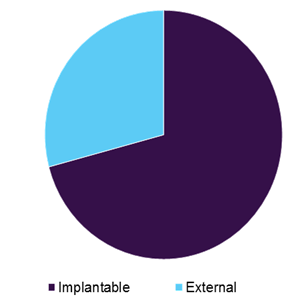 Implantable pacemakers are of the three types, single chamber, dual chamber, and biventricular, and are inserted through a simple surgery, using general anesthesia. In single chamber pacemakers, a single lead is implanted into one of the heart chambers, the atrium or the ventricle; while in dual chamber pacemakers, two leads are placed in the ventricle and the atrium. Dual chamber pacemaker functioning closely resembles that of the natural pacemaker present in the human body.
The biventricular pacemaker also known as Cardiac Resynchronization Therapy (CRT) is used in patients with a lack of synchronization between the contractions of the left and right ventricles, a condition known as ventricular dysynchrony. These devices consist of a couple of leads, one stimulates the septum and the other stimulates the epicardial wall of the left ventricle.
Pacemakers: Technological Advancements
Following are a couple of advancements, which are likely to impact the dynamics of the global pacemaker market:
Dynamic pacemaking technology: This technology is under development for its use in artificial hearts. Transitional tissue welding is required in artificial tissue implant technology, which utilizes stem cells or other cells.

Microprocessor-controlled pacemakers: Kelvin II pacemaker is a dual chamber microprocessor-enabled pacemaker. This device has a microchip and pacer chip in an integrated circuit. Other specifications of this device include 4kB read only memory, 2kB random access memory, and 8-b microprocessor.

Interconnecting Technology - With increasing trend of interconnectivity in the devices as the modern age is coming up, pacemakers are not to be left aside. With interconnectivity with outside devices possible, pacemakers can be easily monitored and its problems can be solved in no time to give a good leverage to the health of the patients.
Pacemaker: Market Snapshot
The key drivers impacting the growth of the pacemaker market include:
Increasing incidence of Cardiovascular Diseases (CVDs)

Technological advancement in pacemakers

Availability of reimbursement for pacemaker implantation procedures
Above factors push the demands in the market and boost the competition, which leads to greater technological advancements along with research and development in the sector. New product development, geographical expansion, collaboration, mergers and acquisitions, and pricing strategies are key undertakings of players in this space. For Instance, in July 2016, St. Jude Medical received U.S. FDA approval for SyncAV, a CRT software compatible with the company's multiPoint pacing technology. The software was approved in the European market in June 2016.
Some of the key players in the market are Medtronic; BIOTRONIK, Inc.; Boston Scientific Corporation; St. Jude Medical; ZOLL Medical Corporation; MEDICO S.p.A.; Vitatron; Pacetronix; and Cordis, Inc. among others.
Recent Developments
A new battery-less, wireless pacemaker was introduced over the summer by researchers from Rice University. It is designed to harvest energy wirelessly from radio-frequency radiation transmitted by an external battery pack. The device was designed to be implanted directly into a patient's heart, removing the need for wires, known as "leads," which can create complications with bleeding and infection.

A team of engineers out of the University of Texas at San Antonio (UTSA) announced in May a new grant from the National Science Foundation to commercialize a new chip that can make lower power electronics like cell phone batteries and pacemaker devices run more efficiently.

Alain Nogaret & his team from BATH University has developed physical models and small devices capable enough to predicting neuron behavior and reversing the effect of heart failure. This gives way for development of new line of pacemakers

Researchers from Harvard's school of engineering and applied sciences have created the world's smallest radio receiver, a technology assembled from atomic-scale defects in pink diamonds. It could have the potential to help power the next generation of wireless pacemaker devices by transmitting electrical pulses without the need for leads.

In-depth report on global pacemaker market by Grand View Research:
https://www.grandviewresearch.com/industry-analysis/pacemaker-market