Robotics and other combinations will make the world pretty fantastic, compared with today. - Bill Gates
Robots are not an object of fiction anymore; they have made their presence felt almost everywhere in human's world. From assembly lines in automobile factories to living areas of a normal household, they are becoming more and more common nowadays.
When it comes to Robotics, it is nothing but a branch of technology that deals with the design, construction, operation, and application of robots. It caters to several usages by developing many types of robots. Service robots are one type of robots that are immensely famous & are in usage worldwide for multiple applications. These diverse set of usages has made the service robotics industry booming worldwide. The global service robotics market was expected to reach USD 15.69 billion by 2020, at an expected CAGR of 23.7% from 2014 to 2020, according to a research by Grand View Research, Inc.
What Are Service Robots?
As the name suggests, service robots are the robots mainly developed to assist humans with the work that are dirty, dull, distant, dangerous or repetitive, including household chores. These robots are operated by internal controlling system and provide an option to manually override the ongoing operation. This option is helpful when complications arise. International Organization of Standardization defines a "Service robot" as a robot "that performs useful tasks for humans."
Service robots are categorized into two types, namely, Personal robots and Professional robots. Personal robots are very different from the professional robots. They are used to automate normal mundane, dangerous and repetitive works, so that humans can be freed from these physical works and can focus on more intellectual functions. However, professional robots are either semi-autonomous or fully autonomous robots which can interact with humans. Some are employed in retail, healthcare, warehouses; while others are employed in demanding sectors like the military, space, agricultural settings and police work.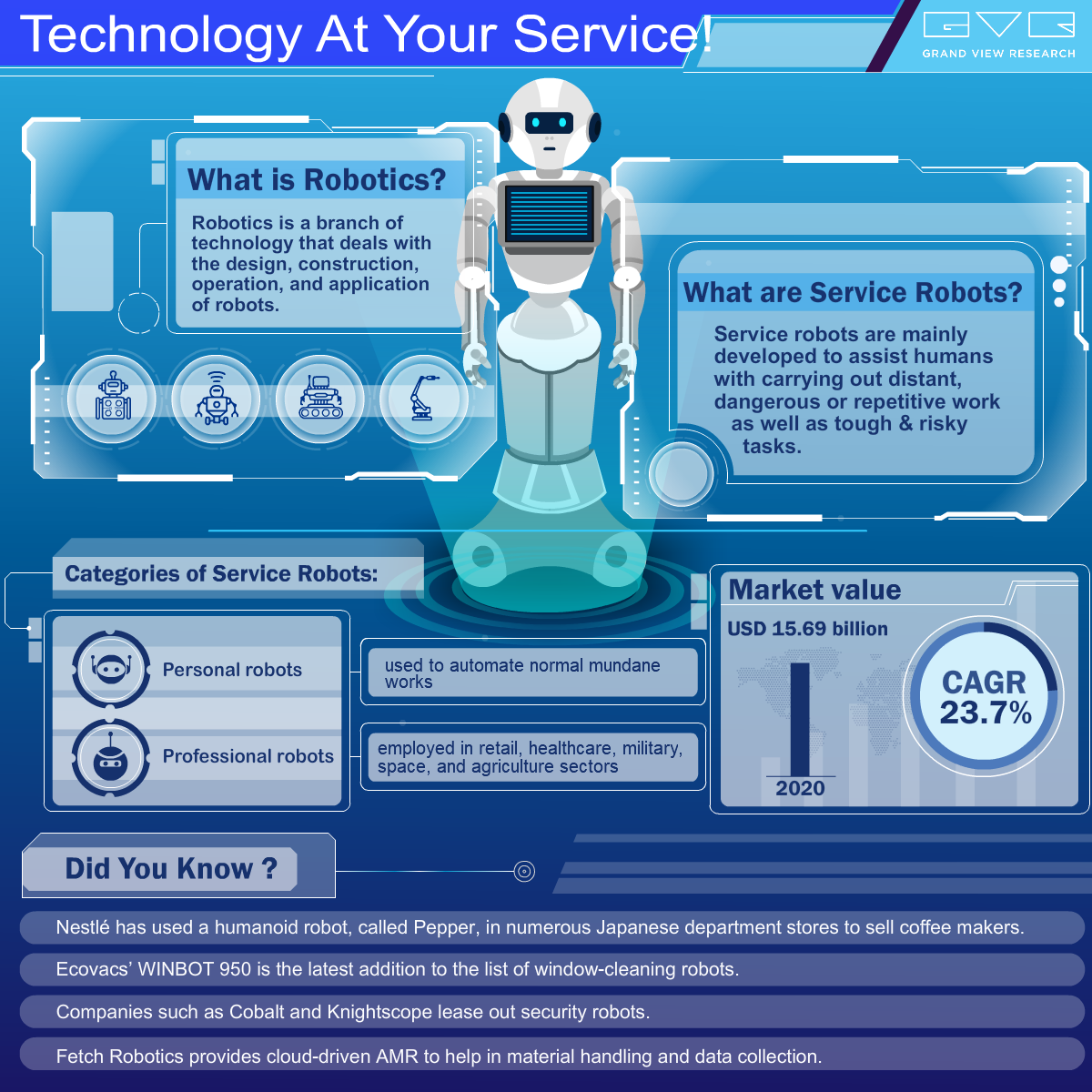 Factors At Work
Service robots are gaining importance due to several factors that the modern age brings. These are:
Regular mundane works are handled with higher efficiency by the service robots and provides more time for the user to concentrate on the important functions.

Manufacturing & assembly time is reduced, due to higher efficiency and no issue of tiredness with the robots. This brings in good amount of profits for the company.

Proliferation of technology and newer innovations in the sector are going to be a major driver of growth for the robotics market.

Dangerous and distant works are completed without putting human lives in danger. In defense sector, major usage of service robotics is mainly to substitute humans with machines on the battlefield and reduce the loss of lives there.

Safety concerns with the adoption of robots is a major inhibitor of growth, as they are employed in close proximity of humans.

Major components used are sensors, microcontrollers, power supply, actuators, and manipulators, of which sensors are the most critical. These components are high in price, which leads to robots being extremely pricey. This is also one of the major factors affecting the growth of the service robotics market.
Along with these major factors at work, an ageing population, mobile technology and other smart devices incorporating robotics, funds and favorable government grants, enhancement of complementary technologies and venture capital investments among others are also expected to impact the market demand.
Recent Upheavals
The service robotics market is brimming with potential and whole world is waiting intently for the major new innovations that can bring a paradigm shift in the way things are done. With this in the back of the mind of researcher and robotics experts, there are many new developments that has taken place in recent times.
Nestlé has used a humanoid robot, called Pepper, in numerous Japanese department stores to sell coffee makers. Pepper understands about 80% of the conversations and uses the information it learns to help customers.

Companies like Cobalt and Knightscope are leasing out security robots. These devices are the size of a person and they travel around corporate offices, equipped with heat sensors, facial detection and employee badge scanners. The robots rove autonomously, watching for signs of trouble, like an unauthorized person entering the building.

Ecovacs' WINBOT 950 is the latest addition to the window cleaning list of robots. It has smart drive cleaning system which gives it ability to maneuver into the corner.

Fetch Robotics provides cloud-driven Autonomous Mobile Robot (AMR), which is the perfect robot to help in material handling and data collection for warehousing and intralogistics environment. It helps in improving productivity and efficiency.

In-depth report on global service robotics market by Grand View Research:
https://www.grandviewresearch.com/industry-analysis/service-robotics-industry