Industry Insights
The global alpha-amylase baking enzyme market size was USD 255.1 million in 2015. The increasing importance of enzymes in bread making to provide numerous features including excellent color texture, dough improvement, and continued softness is expected to remain a favorable factor over the next eight years.
Alpha-amylase is a protein hydrolysis enzyme, which is used for hydrolyzing alpha bonds of polysaccharides and increasing the yield of glucose and maltose. The product finds application in bakery goods, animal feed, biofuels, sugar products, detergents, breweries, and laboratory research. Bakery manufacturers use these enzymes to increase the yeast yield and impart good texture during the formulation of the finished product.
Growing bakery products market in the developed markets of the U.S. and Canada in light of new product launches by Kellogg Company and Grupo Bimbo is expected to remain a key driving factor over the next eight years.
Growing demand for convenience foods in emerging markets of China and India on account of rising expenditure by fast-food manufacturers including McDonald's in brand advertising is expected to promote the manufacturing practices in baked goods. As a result, the protein hydrolysis enzymes, particularly alpha-amylase, are projected to find application in the bakery industry of the countries mentioned above.
U.S. Alpha-amylase baking enzyme revenue, by application, 2013 - 2024 (USD Thousand)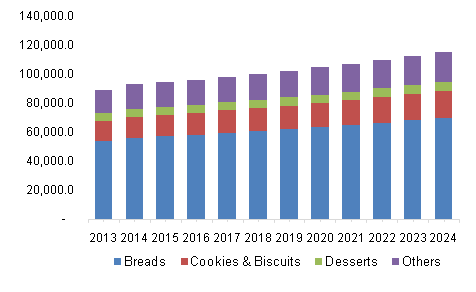 Growing demand for other protein hydrolysis enzymes including xylanase, lipase, and proteases in light of exhibiting characteristics similar to alpha-amylase are expected to pose a credible threat to the industry. Also, increasing the importance of alpha-amylase as a catalyst in biofuels and detergent industries in light of increasing the product yield and reducing lead time is expected to remain a concerning factor in the near future.
Source Insights
Bacteria was the majorly used source, accounting for 83.2% of the global volume in 2015 and the trend is expected to continue over the projected period owing to its high thermal stability as compared to other sources. Maltogenic sources are capable of enhancing shelf life for bread and cakes. These types of alpha-amylase sources are used in combination with other enzymes including xylanase, fungal, and lipase to obtain optimum crumb softness during bread baking processes.
G4 is expected to remain as a favorable source among alpha-amylase manufacturers on account of inducing high anti-staling effect as compared to other sources including bacteria, fungi, and yeast. Also, these enzymes, are capable of providing long-lasting softness and freshness.
In January 2012, Denmark-based DuPont subsidiary Danisco A/S launched a new G4-based enzyme under the brand name, POWERFresh, which is capable of not only inducing anti-staling effect but also provide resilience to crushing when stacked.
Over the past few years, Aspergillus oryzae has received attention as a favorable host for the production of heterologous protein owing to its ability to secrete a vast amount of high enzymes such as alpha-amylase. Fungal alpha-amylases are preferred over other microbial sources as they have received GRAS (Generally Recognized As Safe) status from the U.S. FDA.
Application Insights
The alpha-amylase baking enzyme was majorly used in the bread making process, accounting for 62.5% of the global volume in 2014. The high adoption rate of these ingredients for dough improvement in whole grain and brown bread in developed economies of the U.S. and Germany is expected to have a favorable impact on the industry.
Increasing awareness towards freshness and shelf-life among bread processors has forced them to raise expenditure for the incorporation of high-quality enzymes particularly alpha-amylase.
The product finds applications in cookies & biscuits for hydrolyzing the gluten structure to such an extent that the dough loses its elasticity and induces smooth lamination which reduces shrinkage. On account of providing good texture features, alpha-amylase also finds use in the formulation of cakes, pies, pastries, and donuts.
Regional Insights
North America was the largest market, accounting for 27,799.7 tons in 2015. High prevalence of bread processors including Sara Lee Corporation, Private Label, and Nature's Own is expected to have a substantial impact on the industry. In addition, new product launches in the frozen bread segment in the U.S. and Canada are likely to increase the usage of the enzymes over the next eight years.
Europe's alpha-amylase market revenue was USD 82.7 million in 2015. Sluggish growth of the food & beverage sector in light of increasing manufacturing expenditure in mature markets of Germany and U.K. is expected to have an adverse impact.
Asia Pacific is projected to witness the fastest volume gains at a CAGR of 5.9% in light of increasing manufacturing practices in bakery products amidst the regulatory support for foreign investments along with increasing consumption of bread products at the domestic level. Also, the increasing number of new product launches including frozen Malabar Parathas in India is expected to open new applications further over the next eight years.
Competitive Insights
Key industry participants include Novozymes A/S, DuPont, Royal DSM N.V., Puratos N.V., and AB Enzymes. High penetration of enzymes in the bakery industry along with easy access to equipment & consumables of Europe is expected to keep the manufacturers to establish their strategic business units in the vicinity.