Industry Insights
The global ammonium sulfate market size was valued at USD 4.6 billion in 2014. Efforts taken by governments across the globe to boost agricultural output coupled with inherent benefits of ammonium sulfate fertilizers is expected to benefit the overall market growth over the forecast period.
Decreasing arable land coupled with the rising population has put a strain on the agricultural community to improve the overall output. Agrochemicals such as nitrogen fertilizers help increase this overall production by providing the plants with sufficient and proper nutrients. Ammonium sulfate is widely used in fertilizer applications as it results in slow release of nitrogen thus enabling it to last for all the growing season.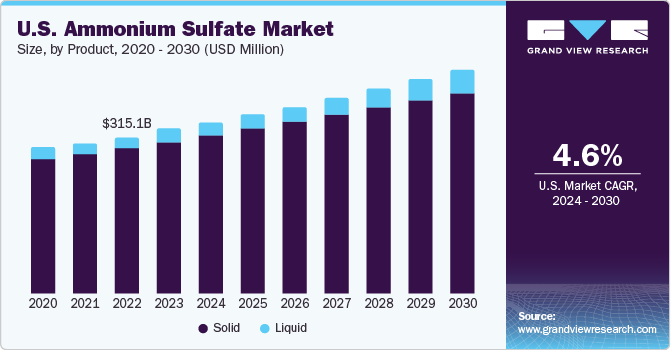 The chemical finds applications in the food industry as well. It is used as an acid regulator, for food items such as flours and bread. Also, it is used as a dough conditioner in the production of bread. Favorable regulations in countries such as the U.S., Switzerland, and other European Union countries for the use of ammonium sulfate as an acidity regulator in food applications is expected to benefit market growth.
The U.S. market was valued at USD 879.6 million in 2014. High demand for fertilizers in the country was a significant contributor to this scenario. The country is heavily dependent on imports from Asian as well as African countries. According to the Centers for Disease Control and Prevention (CDC), ammonium sulfate is listed as an ingredient in vaccines used in the U.S.
The usage of ammonium sulfate increases root strength, thus increasing drought tolerance of crops. It also aids in the formation of nodules on legumes. It facilitates the natural conversion of nitrates into proteins while assisting in the breakdown of organic matter. Besides, it also aids in the soil structure improvement. Such inherent advantages are expected to benefit the market growth over the forecast period.
The chemical prices are dependent mainly on two factors, primarily the raw material price trend and the supply-demand scenario. The recovering oil prices, rising demand for quality fertilizers and the recovering supply-demand gap are expected to contribute to a stable increase in the price of the product over the forecast period. The rise in demand for fertilizers across the globe is expected to result in steady price rise over the forecast period.
According to the International Fertilizer Association, the cumulative total capital expenditure for fertilizer production facilities as well as the mines for the same is expected to exceed USD 83 billion for a period from 2015 to 2019. Out of this total investment, more than half of it will be utilized for setting up nitrogen facilities.
The value mostly comprises of setting up new facilities or revamping old ones. New fixed assets and debottlenecking activities are also included in the estimate. Ammonium sulfate is a significant contributor to the overall nitrogen fertilizer demand. Thus, this rise in production facilities is expected to contribute to the price stabilization of ammonium sulfate in some regions and slight price decline in other regions of the world.
Prolonged exposure to high concentrations of ammonium sulfate may lead to severe lung damage which may further prove fatal. Increasing consumer awareness about probable side effects is anticipated to affect the market adversely over the future years.
Product Insights
Solid form accounted for over 75% market demand, in 2014. Manufacturers produce solid form ammonium sulfate particles by sizing them between predetermined limits of screen sizes. They may be granular, crushed, powdered, processed or crystalline. Solid form fertilizers are mostly water soluble.
Liquid form product segment is expected to grow at an anticipated CAGR of 2.59% from 2015 to 2022. Common liquid fertilizers include anhydrous ammonia, nitrogen solutions, and ammonium polyphosphate. Solid fertilizers are dry particles which are commercially available in the form of finely crushed, crystalline, granular and powder or processed. They are water-soluble by nature.
Application Insights
In 2015, Fertilizer application held over 90% of the overall market consumption. This trend is expected to continue from 2015 to 2022 as well. Ammonium sulfate contains nitrogenous elements as well as sulfur which aids in protein synthesis in plants. The product is widely used for usage in alkaline soils having low pH, owing to its high sulfur content. It finds extensive applications in flooded soils used to produce rice.
The industrial applications of ammonium sulfate include flame retardants, leather, and textile applications. Volatile organic compounds present in the chemical has potential carcinogens which when exposed to air, land and water, act as an air pollutant and can be responsible for causing leukemia. Presence of stringent regulations particularly in developed countries such as Germany, France, Italy, U.K and the U.S. is expected to retard the market growth over the next seven years.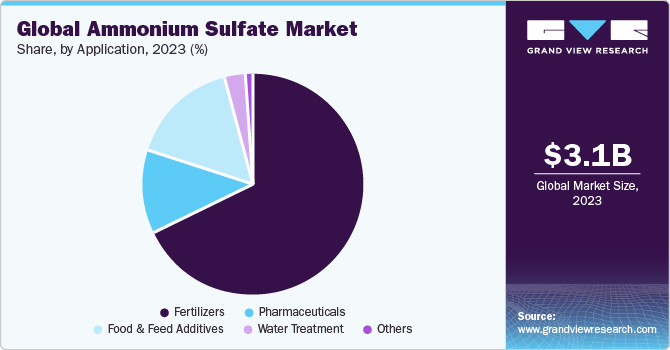 Ammonium sulfate aids in controlling the pH factor in baked products. It is used in the manufacturing of baked products such as pita, English muffins, bagels, steamed buns, noodles and fresh pasta. The global growth in the bakery and confectionary industry across the globe owing to changing food preferences, rising disposable income and growing demand for convenience is in turn expected to aid the chemical demand over the forecast period.
Regional Insights
Asia Pacific market led the global industry with demand share exceeding 35% in 2014. Countries such as China, India, Malaysia, Indonesia, Vietnam, and Singapore are expected to witness maximum growth in Asia Pacific region. Government initiatives to increase crop output such as enacting policies for encouraging sustainable agricultural practices is expected to drive the overall ammonium sulfate demand over the next seven years.
In the recent past, North America witnessed significant growth in its market demand, among which consumption of ammonium sulfate in the U.S was the highest. The strong presence of suppliers and rising demand for nitrogen fertilizers are expected to benefit the market growth over the forecast period.
Prices in Central & South America dropped significantly due to factors such as local rate devaluation & volatility, uncertain political landscape, and the intra-regional taxes and duties. However, the prices are bound to increase over the forecast period. The attributed factors for this price increase are the planted area expansion increase in plantation area fueled by local competition despite the lower commodity prices, steady growth of infrastructure and strategies adopted by the countries in the region to increase their acreage with grains.
Brazil contributes significantly to the overall Central & South America regional demand. The country has witnessed a rapid rise in consumption as compared to the production, thus making it dependent on imports. This factor is also anticipated to contribute to a price rise of ammonium sulfate over the forecast period.
Ammonium Sulfate Market Share Insights
Major industry participants are investing in R&D activities for developing innovative products. The introduction of large crystals, food grade, low grade and genuine granular ammonium sulfate in the market have created ample opportunities for industry participants to increase their revenue. Also, companies have developed novel applications for ammonium sulfate such as those for usage in antibodies purification, usage in long PCR buffer, in second strand DNA synthesis, and usage in PCR lysis solution. Such trends are expected to benefit the overall market growth from 2015 to 2022.
The producers across the globe, resorted to the ammonium sulfate price drop by adopting measures such as cost reduction, temporary curtailments of production, mothballing of capacity, in addition to few other trade defense measures. The market was also flooded with an abundant market supply of ammonium sulfate. Such factors led to a global price drop of ammonium sulfate. Industry participants include Domo Chemicals, Novus, Royal, Helm AG, Evonik, Agrium, Sumitomo Chemicals, Arkema, and Rentech. ArcelorMittal, AkzoNobel N.V, SABIC, Lanxess, and Tereos.
Segments Covered in the Report
This report forecasts revenue growth at global, regional, and country levels and provides an analysis on latest industry trends in each of the sub-segments from 2012 to 2022. For the purpose of this study, Grand View Research has segmented the global ammonium sulfate market report on the basis of product, application, and region:
Product Outlook (Volume, Kilo Tons; Revenue, USD Million, 2012 - 2022)

Application Outlook (Volume, Kilo Tons; Revenue, USD Million, 2012 - 2022)

Fertilizers

Food Additives

Industrial Use

Others

Regional Outlook (Volume, Kilo Tons; Revenue, USD Million, 2012 - 2022

North America

Europe

Germany

France

UK

Spain

Italy

Asia Pacific

India

China

Japan

South Korea

Central & South America

Middle East and Africa