Industry Insights
Global ammonium sulfate market size was estimated at USD 2.86 billion in 2014 and is anticipated to witness significant growth over the next seven years. Growing agricultural industry and increasing fertilizers demand is expected to fuel the market growth. Decreasing arable land and the need to keep up with the increasing population across the globe had a direct impact on the fertilizers demand.
To increase the crop yield, there was a significant increase in demand for fertilizers since the last decade. Growing fertilizers demand coupled with the increasing nutrients requirement such as nitrogen and sulfur in particular for crops is expected to drive the overall market over the next seven years. Primarily, ammonium sulfate and ammonium nitride are used for meeting the nutritional requirements for cultivation in the agriculture industry.
Apart from agricultural applications, it is commonly added to bread as a dough conditioner. It is also used as an acid regulator for various food items such as flours and bread. Favorable regulatory norms in countries such as the U.S., Switzerland, and the other European Union countries for using ammonium sulfate as an acidity regulator in flours and bread is expected to benefit market growth.
It also helps in increasing shelf life for bakery and confectionery items. It is used in numerous industrial uses such as flame retardants, textiles and leather industry. Volatile organic compounds present in ammonium sulfate has potential carcinogens, which can be responsible for causing leukemia.
The presence of stringent regulations particularly in developed countries such as Germany, France, Italy, UK and the U.S. is expected to retard the market growth over the next seven years. Prolonged exposure to high concentrations of ammonium sulfate may lead to severe lung damage which may further prove to fatal.
Increasing consumer awareness about probable side effects is anticipated to affect the market adversely over the future years. However, key industry participants investing in R&D technologies along with innovation of new products such as genuine granular, large crystals, food grade and low-grade ammonium sulfate have created ample opportunities for manufacturers to accelerate their sales across the globe.
The emergence of novel applications such as in purification of antibodies along with usage in long PCR buffer, PCR lysis solution, and in second strand DNA synthesis in pharmaceuticals industry is expected to have a positive impact on the overall market.
U.S. ammonium sulfate market volume by application, 2012-2022, (Kilo Tons)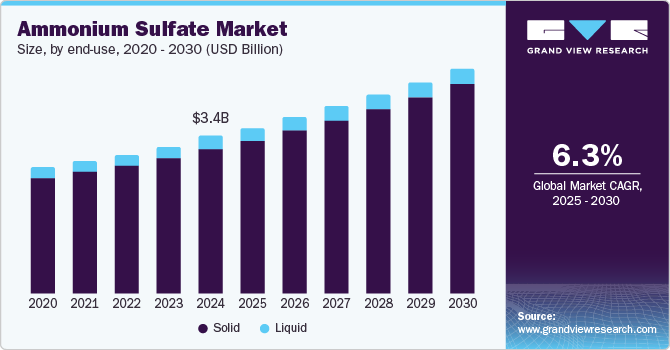 Application Insights
Fertilizer application held over 90% of the overall market consumption since the last few years. Fertilizer application is expected to continue its dominance over the next five years. It is easily absorbed by plants and is well suited for alkaline soils with low pH due to its high sulfur content. It is commonly used in flooded soils for rice production where any nitrate-based fertilizer is a poor choice due to denitrification losses.
Food additive applications include acidity regulator for flours & bread. It usually helps in controlling the pH factor for baked products and bread. Other ordinary baking products in which ammonium sulfate is used include bagels, pita, English muffins, steamed bread & buns, fresh pasta, and noodles.
Growing bakery goods & confectionaries demand owing to the changing consumers food preferences across Europe and North America is expected to benefit the market. Food additives application is expected to witness the fastest growth over the forecast period. Industrial applications promise significant demand over the next seven years such as flame retardants, textile and leather products.
Product Insights
On the basis of product, ammonium sulfate has been segregated into liquid and solid types. Fluid fertilizers include clear liquids or liquids that contain suspended solids. Liquid fertilizers account for over 20% of total U.S. fertilizer revenues.
Common liquid fertilizers include anhydrous ammonia, nitrogen solutions, and ammonium polyphosphate. Solid ammonium sulfate fertilizers are dry particles which are commercially available in the form of finely crushed, crystalline, granular and powder or processed. They are water-soluble by nature. Solid form accounted for over 75% of the overall consumption.
Regional Insights
Asia Pacific ammonium sulfate market led the global industry with demand share exceeding 35% in 2014. South East Asian countries such as Indonesia, Malaysia, Vietnam, and Singapore are expected to witness brisk growth in the region.
Government initiatives to increase crop output and favorable policies encouraging sustainable & efficient agricultural practices are presumed to play a critical role in aiding the regional industry over the next seven years.
In the recent past, the North American region witnessed significant growth in its revenue, among which U.S. consumption was the highest. However, stringent regulations are expected to dampen demand for the product in North America and Europe over the forecast period.
 
Competitive Insights
The global market is fragmented with limited scope for new entrants to enter the industry. The presence of stringent regulatory and legislative intervention holds the entry barrier high for the new entrants. Top three industry participants include Honeywell, BASF, and DSM.
Several strategic initiatives have been witnessed in the industry over the past few years with an aim to increase application insights, enhance product portfolio and increase their production capacity. Leading companies have also taken significant steps to integrate their operations by producing raw materials to reduce the uncertainties related to supply-demand imbalances, increase their profitability and reduce operational costs.
Other industry participants include Novus, Sumitomo Chemicals, Royal, Helm AG, Evonik, ArcelorMittal, Tereos, Agrium, Domo Chemicals, AkzoNobel N.V, SABIC, Arkema, Lanxess, and Rentech.