Industry Insights
The global bleaching clay market size exceeded USD 700 million in 2015. Bleaching clay has been used in the refinement of edible oil since the 19th century. As this product is used widely in the processing & refining of edible oils, the development in oilseed crop production is expected to have a positive impact on this market.
Other bleaching clay applications include refining and decolorization of mineral oils, waxes, and lubricants. The industry is highly fragmented with a large number of small players competing on the basis of price and quality.
U.S. Bleaching Clay Market Revenue By Application, 2014 - 2024 (USD Thousand)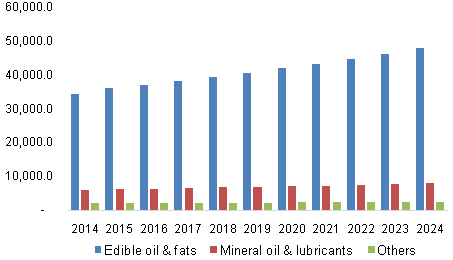 Mineral oils such as hydrocarbons and lubricants are processed by treatment with bleaching clay. The global mineral oil industry is projected to experience increasing demand due to its growing applications in the production of cosmetics & health care products, waxes, biomedicine, thermic fluid, food preparation, and lubricants & grease.
Strategies related to the expansion & investment are undertaken by companies operating in this industry to cater to the massive demand arising from edible oil refining countries. Manufacturers are typically involved in three stages of the value chain, namely, mining, processing, and distribution.
Application Insights
Bleaching clay used in edible oil & fats refining is projected to grow at the highest CAGR and occupy the largest share by 2024. Increasing crop yield coupled with the growing trend of consuming healthy and low-fat products is projected to drive market volume over the coming years. Favorable government initiatives & policies implemented in the agricultural sector is expected to complement growth over the coming years.
Regional Insights
Asia Pacific bleaching clay market is anticipated witness significant growth owing to the increasing production of edible oil in China, India, Malaysia, and Indonesia. The growth of disposable income in developing countries is projected to increase the consumption of refined and low cholesterol products.
Favorable government initiatives and technological developments have led to growth in manufacturing facilities and refineries in this region, which is projected to drive demand over the coming years.
America is also expected to witness moderate growth on account of increasing oilseed production in Argentina, Brazil, the U.S., and Canada. Growing preference for biofuel is also one of the factors influencing demand in this industry, particularly in the developed countries.
The increasing consumption of low cholesterol frying & baking fats, and margarine is projected to have a positive impact on the demand for bleaching clay used in the American and European region. Companies such as Clariant have increased the production capacity of their bleaching earth plant in Mexico to cater to demand arising from the North & South American market.
Competitive Insights
Companies such as Clariant have adopted acquisition strategies to enhance their regional presence and product offerings. Most companies have fully integrated value chains, from exploration to operation of the mines as well as processing bentonite & fullers earth. Companies employ geologists and mineral specialists who estimate and evaluate existing and potential reserves in terms of quality, quantity, and availability.
Key players operating in the global bleaching clay market include BASF SE, Clariant International AG, Oil-Dri Corporation of America, Taiko Group of Companies, Musim Mas Holdings, W Clay Industries, Ashapura Group of Companies, AMC (UK) Ltd., Refoil Earth Pvt. Ltd. and AMCOL Specialty Minerals.