Industry Insights
The global caustic soda market size exceeded 74 million tons in 2015. Caustic soda accounts for over 40% of the total inorganic chemicals and finds application in various applications such as pulp & paper, chemicals, alumina, soaps & detergents, textiles, etc. Caustic soda industry growth is directly linked to the end-use industry extensions. Increasing demand from pulp & paper and textile industries is expected to foster the market growth over the forecast period.
Caustic soda serves as a strong alkali compound and readily reacts with various substances including zinc and aluminum. This is another major factor likely to propel the market demand in metallurgical applications. Moreover, the market is further expected to accelerate with the increase in consumption of caustic soda in alumina extraction.
U.S. caustic soda market revenue by application, 2014 - 2024 (USD Million)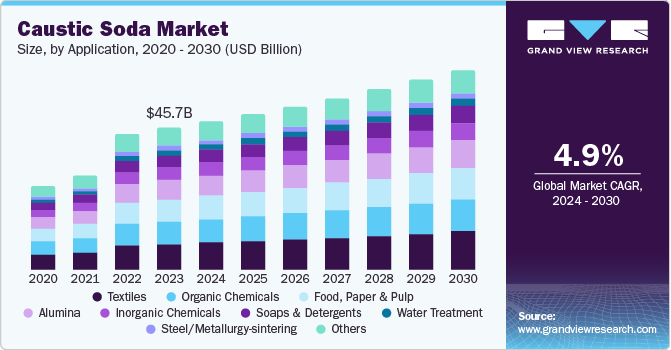 High corrosive and reactive nature of caustic soda which causes harmful environmental impact is expected to pose a challenge towards the market growth. Also, limited consumption of PVC is likely to affect the chlorine demand and thereby its production. Caustic soda being a by-product of chlorine manufacturing process, lower production rates for chlorine will have an adverse impact on the caustic soda market in upcoming years.
Application Insights
The organic segment is estimated to be the largest application segment in 2015. However, the sector is expected to lose some of its market shares mainly to textiles by 2024. Caustic soda is a crucial reactant for the production of various organic chemicals. In Europe, over 25% of caustic soda goes into the production of organic chemicals.
The textile segment is expected to emerge as the fastest growing segment. The segment is projected to generate revenue of over USD 8 billion by 2024. In textile industry; caustic soda is used to remove waxes and oils from the fiber thus making the fiber receptive to bleaching, dying, etc. Treatment of textile with caustic soda enables greater tensile strength and luster to the fabric. Caustic soda is also used in manufacturing manmade fibers.
Other application segments such as water treatment, soap & detergents will witness a steady growth rate. Their growth will be dependent upon the demand for cleaning applications in upcoming years.
Regional Insights
Asia Pacific is anticipated to emerge as the fastest as well as the largest region over the forecast period. High product demand can mainly be attributed to the textile industry growth in the emerging economies such as China, India, Vietnam, Taiwan, etc. The demand in this region is anticipated to escalate further owing to rising consumption in aluminum, soaps & detergents, organic chemicals, etc.
Asia Pacific is expected to account for over 55% market share by 2024. This is likely due to increasing production and demand for caustic soda in the Chinese market. Over 40% of the global production, as well as demand, comes from China on account of the high growth of various industries.
North America is anticipated to witness a steady growth and will grow at CAGR of 3.2% from 2015 to 2024. Higher demand from textile, as well as soap & detergents application, is expected to fuel the regional growth over the forecast period.
Competitive Insights
Caustic soda production is an energy intensive process. This leads to high manufacturing cost which poses a challenge to the market growth. Price fluctuation is another challenge which the market players will face during the forecast period. Caustic soda is likely to be the only commodity chemical which witnesses a price fluctuation in the range of 5 to 15 % in the spot market.
Increasing R&D activities towards development of new products and production processes are expected to provide new opportunities to the market players. The major stakeholders in the market will focus on capacity expansion and joint ventures in emerging markets such as India, China, etc. to fulfill the augmented demand.
Major players in the market include Dow Chemical Company, Formosa Plastics Corporation, PPG Industries, Ineos Group Limited, Tosoh Corporation, Hanwha Chemical Corporation, Solvay SA, FMC Corporation, Occidental Petroleum Corporation.