Industry Insights
Global chelating agents market size was 1,026.0 kilo tons in 2015. The market is likely to observe growth over the forecast period owing to its increasing demand in pulp & paper, agrochemicals, and detergent applications. The growth of these end-use industries is expected to propel demand further over the forecast period.
Rapidly increasing urbanization, accelerated population coupled with steady industrialization are projected to impact the demand positively. Chelating agents act as high-performance chemical solutions and provide stability to complex ions.
These agents are mainly employed in various mainstream industries including textiles, pulp & paper, and cleaning & detergents. Rising health awareness and increasing concerns regarding common diseases among the consumers are expected to augment the demand of these industries, in turn, resulting in the significant growth of the market.
Chelating agents are majorly used in the pulp & paper industry as they help in providing the desired level of brightness to the paper when applied with hydrosulfite and hydrogen peroxide bleaches. Their ability to form more than two separate coordinate bonds in between multiple bonds makes them applicable as nutritional supplements, contrast agents, and in fertilizers.
Rising awareness among consumers regarding homecare products including detergents and floor care products is anticipated to drive the market demand in the long run. Chelating agents find important application in various other industries including agriculture, food & beverages, metalworking, personal care products, pharmaceuticals, pulp & paper, textiles, water treatment, and oil field applications.
North America chelating agents market volume, by application, 2013 - 2024 (Kilo Tons)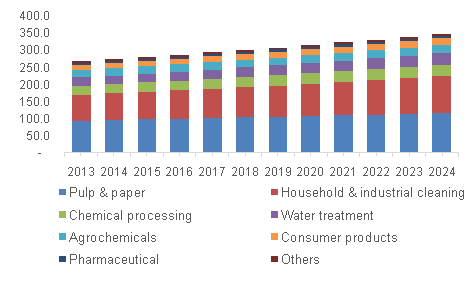 Continuous exposure to non-biodegradable chelating agents including EDTA have hazardous effects on the environment, which, in turn, might hamper the market growth over the forecast period. The adverse effects of non-biodegradable chelating agents called in for promoting the usage of bio-degradable and advanced chemicals, particularly in the Asia Pacific region, which will prove to be an excellent opportunity for the market.
Product Insights
Aminopolycarboxylate (ACPA) and sodium gluconate together dominated the global chelating agents industry, accounting for 75.3% of the volume share in 2015. The increasing availability of biodegradable APCA products is expected to result in driving the growth of the segment over the forecast period.
Increasing usage of APCAs in household and home care applications, particularly for water treatment, and removal of hard water is expected to drive demand. Rising awareness among the consumers regarding drinkable water coupled with other significant health concerns is anticipated to augment the demand of ACPAs in the next few years.
They are even employed in the removing salts, and metal oxides from fabrics and hence are widely used in the textile industry. Chemicals including NTA, PDTA, DTPA, and EDTA are common ACPAs, employed in various applications, thus improving the shelf-life of the end products, thereby reducing the maintenance costs.
Demand for sodium gluconate exceeded 385.0 kilo tons in 2015 and is expected to witness above average growth owing to its extensive use in detergents, personal care products, and industrial applications. The chelate is obtained from natural sources and is considered safe for use in a wide range of cosmetics and bath soaps. Growing demand for these products is expected to bolster growth over the forecast period. Moreover, the substance exhibits excellent chelating properties making it desirable for use in applications which utilize or come in contact with hard water.
Application Insights
Pulp & paper dominated the global chelating agents market accounting for over 35% of the overall share, in terms of volume as well as revenue, in 2015. Increasing demand for graphic and tissue papers is expected to augment pulp & paper growth. Moreover, these chemicalsplay a crucial part are considered as an integral element of the pulp & paper making process. They not only enhance the effectiveness of hydrosulfite and hydrogen peroxide bleaches but also minimize the bleaching costs and downtimes. The addition of chelating agents to the pulp processing and papermaking process removes the scales, thus improves the overall efficiency.
Household &industrial cleaning was the second largest segment valued at USD 976.6 million gaining a competitive share in the global chelating agent market. These chemicals are used for the treatment of hard water, thus making it available for drinking and commercial purposes.
Textiles and Food& beverages are other significant application segments expected to grow over next few years, owing to rising health concerns and improving living standards among the growing population.
Regional Insights
Asia Pacific contributed to 39.5% of the global chelating agents industry volume in 2015, making it the largest market. This trend is expected to continue over the projected period owing to continuous innovations & developments in the textile, and pulp & paper industries of the region.
Emerging economies of the region including India, China, Japan, Indonesia, and South Korea, are expected to show significant improvements in the water treatment, cleaning, and detergents application sectors owing to the rising population coupled with their increasing awareness.
Increased demand from the food & beverages industry of the region is also projected to augment the chelating agents market demand over the forecast period. Rapid urbanization and continuous industrialization, surging demand for clean & treated water, and processed food are few other key factors driving the market in Asia Pacific.
Competitive Insights
Prominent players of the market are AkzoNobel N.V., Cargill Incorporated, BASF SE, The Dow Chemical Company, Sigma-Aldrich Corporation, and Archer Daniels Midland Company, Lanxess AG.