Industry Insights
The global chiral chemicals market size was valued at USD 39.79 billion in 2015 and is likely to witness considerable growth on account of heavy investments by manufacturers in emerging economies and increasing government focus on pharmaceutical manufacturing. In addition, the rising trend of contract manufacturing in the pharma industry is likely to have a positive impact on product demand over the forecast period.
Chiral chemicals are a special class of compounds, which contains an asymmetrical carbon center in the molecule. The chiral molecules are non-superimposable on their mirror image, known as enantiomers or optical isomers. The product is being increasingly used for application in pharmaceutical, agrochemicals, and fine chemicals. Several companies have been trying to develop the technology for increasing the yield of chiral chemicals.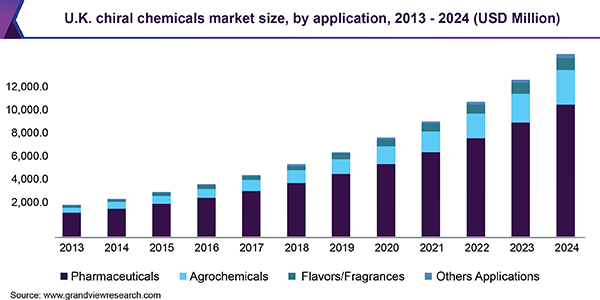 KYROBIO is one such initiative taken by the European Commission Framework 7 to develop biocatalysts for the industrial synthesis of chiral chemicals. BASF SE; The Dow Chemical Company; Rhodia, Inc.; Perkin Elmer; and Codexis, Inc. are some of the key companies, which are involved in the production of numerous pharmaceutical intermediates.
Companies are focusing more on the development of application-specific products to increase product efficacy. The introduction of microreactors has led to an improvement in manufacturing efficiency, thereby allowing local manufacturers to enter the market. The major end-use industries in the value chain are pharmaceuticals, agrochemicals, and fragrance manufacturers. Bulk ordering is a major feature of the value chain as key manufacturers engage in this practice for the supply of raw materials.
Application Insights
Pharmaceuticals led the global market accounting for a share of 72.5% in 2015. The demand for enantiomerically pure products in pharmaceutical formulations is anticipated to drive the demand for chiral chemicals in this application segment. Technological advancement and extensive R&D by companies are expected to propel the demand in North America and Europe over the forecast period. Agrochemicals are anticipated to witness a significant growth of over 14% from 2016 to 2024 on account of increasing demand for eco-friendly pesticides.
Herbicides, pesticides, plant growth regulators, fungicides, and pheromones are some of the agrochemicals manufactured using chiral chemicals. The rising population coupled with a focus on increasing the crop yield is likely to augment the product demand in agriculture chemicals application in the future. Rising demand for eco-friendly agrochemicals that target specific areas of plant health is expected to widen the application scope for chiral chemicals in the agrochemicals segment.
Flavors and fragrances segment is a niche application growing at a considerable CAGR. The demand for naturally-derived fragrances is expected to drive this application segment. Terpenes, which are constituents of essential oils, are natural materials for the chiral synthesis of fragrances and flavors. In the cosmetics industry, single-enantiomer fragrances deliver greater stability, biodegradability, and in some cases, a more intense scent.
Technology Insights
Traditional separation methods accounted for 47.6% of the overall share in 2015 and are anticipated to remain the largest technology segment over the forecast years. Traditional separation includes manual separation of isomers and the resolution of racemates after conversion into diastereomers.
In the manual separation method, enantiomers are crystallized separately to form two macroscopically different kinds of crystals with a mirror-image relationship between them. Chromatographic methods, such as Gas Chromatography (GC), High-Pressure Liquid Chromatography (HPLC), and Thin-Layer Chromatography (TLC), are also being increasingly used for the separation of enantiomers.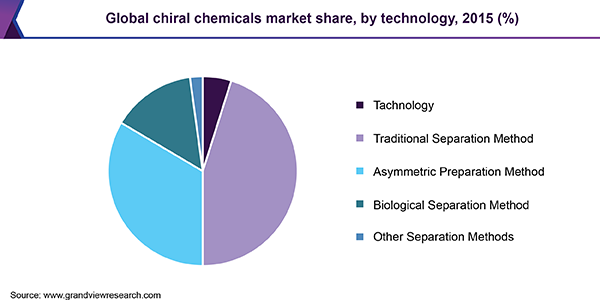 The asymmetric preparation method is expected to witness a CAGR of over 14% from 2016 to 2024. This can be attributed to increasing preference in pharma applications, which require synthesis of enantiomers and diastereomers with different biological activity. The asymmetric catalysis method is the largest as well as the fastest-growing technology for asymmetric preparation on account of high yield and low cost of the process.
Emphasis on developing safer and effective drugs with better therapeutic value is expected to encourage R&D for the development of new technologies. Constant technological innovation, which is required for large-scale manufacturing of chiral chemicals, is expected to drive the market over the forecast period.
Regional Insights
North America accounted for the largest share of the global market on account of technological advancements and the presence of a large number of key companies. In addition, rising demand for naturally-derived fragrances in the region is anticipated to fuel growth over the next few years. Asia Pacific is likely to witness the fastest growth of over 18% from 2016 to 2024 on account of increasing foreign investments in China and India.
Low manufacturing costs due to cheap labor attract pharmaceutical manufacturers in these countries, thereby increasing the product demand. In addition, extensive R&D on the development of new drugs for the treatment of rare diseases is expected to propel market growth. The market in Europe is driven by countries, such as Germany and Switzerland, where the number of pharmaceutical manufacturing companies is high. Product demand is expected to increase in this region owing to the rising number of contract manufacturing facilities in Eastern Europe.
Chiral Chemicals Market Share Insights
Some of the prominent companies in the market include BASF SE; Johnson Matthey PLC; Solvias AG; Strem Chemicals; Bayer AG; Codexis, Inc.; Chiral Technologies; Rhodia; W. R. Grace & Co.; PerkinElmer, Inc.; The Dow Chemical Company; and Chiracon GmbH. Key strategies adopted by these companies to increase their global reach include partnerships and agreements.
For example, in February 2016, Strem Chemicals, Inc. entered into a partnership with Chiral Technologies. to distribute Daicel's chiral reagents in the U.S. and Europe. This helped the company to increase its product offerings. Similarly, in July 2016, Chiral Technologies signed an exclusive distribution agreement with Scanco International S.A. to strengthen its presence in Central & South America.