Industry Insights
The global enteral feeding formulas market size was valued at USD 4.39 billion in 2016 and is expected to grow at a CAGR of 7.3% over the forecast period. Increasing prevalence of chronic diseases especially among geriatric population is one of the crucial factors anticipated to drive the market over the forecast period. According to the United Nations in 2012, global geriatric population was 809.4 million and is expected to grow more than double by 2050 to reach an estimated population of over 2,000 million. Globally, a large subset of the population is above 60 years and easy availability of various homecare, daycare, and geriatric care service establishments especially in the developed economies are expected to propel demand for enteral nutrition.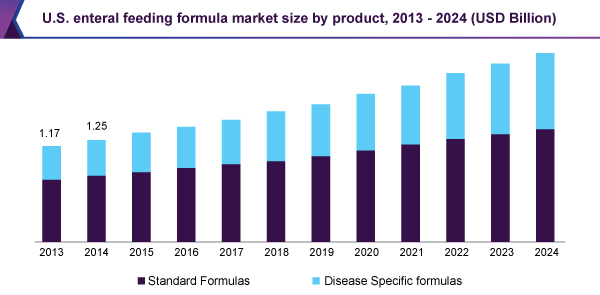 In the U.S., enteral nutrition is covered by the public as well as private payers in various healthcare settings. The Centers for Medicare and Medicaid Services have unveiled series of rules and initiatives that will change the way Medicare pays hospitals, doctors, and other health care providers to ensure high quality care benefits. The favorable reimbursement policies for individuals requiring enteral nutrition is expected to drive the market.
Increasing prevalence of cancer is also one of the key factors leading to the growth of enteral feeding formulas market. Ensuring nutritional support during cancer therapy is of utmost importance. Patient recovery during chemotherapy, pre-surgery, and post-surgery is greatly affected by patient diet and nutrition; therefore, oncology is the largest application area for the enteral feeding formulas market.
According to the data published by the WHO, it has been estimated that in 2012, worldwide cancer incidence (cases per year) was 14.1 million, which included 7.4 million male and 6.7 million female patients. Furthermore, the World Age-Standardized (AS) incidence rate shows that there are nearly 205 new cancer cases for every 100,000 men in the world and 165 for every 100,000 females.
Product Insights
The standard formula was the leading segment in 2015, with a revenue share of 64.3%. The standard formulas include corn syrup solids, glucose, fructose, maltodextrin, lactalbumin, casein, whey protein, soy protein isolate, corn oil, canola oil, safflower oil, fish oil, borage oil, and soy lecithin as ingredients. These ready-to-use formulas are available in the powdered form and may require reconstitution with milk or water. Moreover, increasing demand for low-cost nutrient formulations is one of the crucial factors anticipated to drive the market in the coming years. Elemental formulas are products that are broken-down partly or fully for patients with a compromised digestive system or nutrient absorption problem.
However, disease-specific formula market is expected to be the fastest growing segment with a CAGR of 8.6% during the forecast period. The specialty formulations cater to patients suffering from diabetes, respiratory diseases, and delayed wound healing, among others. Enteral formula can be administered continuously or intermittently, depending on the requirement. Intermittent feeding can be executed using the syringe method or through a feeding pump. Based on varying nutritional needs, the dieticians work on determining an appropriate formula and feeding schedule for patient.
These formulas provide nutritional support to individuals suffering from specific diseases, often characterized by organ dysfunctions. These formulations are also used by patients suffering from hepatic & pulmonary diseases, Chronic Obstructive Pulmonary Disease (COPD), Acute Respiratory Distress Syndrome (ARDS), and diabetes. Formulas specific to renal diseases contain higher quantity of sugar, low protein, and reduced concentration of potassium, magnesium, and phosphorus against standard formulas.
Stage Type Insights
According to American Society for Parental and Enteral Nutrition, nearly 245,000 U.S. patient receives tube feeding during their hospital stay, out of which approximately 15% were for newborns and children. The high adoption of tube feeds among adults is one of the crucial factors that can be accounted for its revenue share. Moreover, high commercial presence of nutritional products catering to the adult population is also responsible for its current market share.
Depending on the condition of patients, nasogastric, gastrostomy, and enterostomy feeding is used. Hyperemesis gravidarum, characterized by severe nausea and vomiting in pregnant women, leads to dehydration, nutritional deficiency, and fetal morbidity and mortality. The NCBI (2011) stated that approximately 70% to 80% of pregnant women are affected due to nausea and vomiting during pregnancy. The growing demand for such nutrition is also driving its demand.
In 2024, the pediatric segment is expected to emerge as the fastest growing with a CAGR of 8.4% over the forecast period. Globally, increasing focus on reducing the pediatric malnutrition is driving the segments growth. Growing demand for enteral feeding formulas amongst patients suffering from neuromuscular disorders, such as cerebral palsy, muscular dystrophy, spinal cord damage, and central nervous system damage, is expected to further boost the usage of these products among the pediatric patient population.
End-Users Insights
Patients when admitted to hospitals for enteral feeding by enteral feeding tubes should be reviewed regularly to ensure proper oral nutrition. Most of the feeding tubes are introduced into the patients at bedside or some of them are placed surgically into the patient's body by the help of radiography. However, the patients should be aware of the potential risks of the enteral feeding. Nowadays, due to increasing awareness about nutritional supplements for balanced nutritional care, there is increase in use of homecare nutritional supplements, which is expected to drive the market further in the coming few years.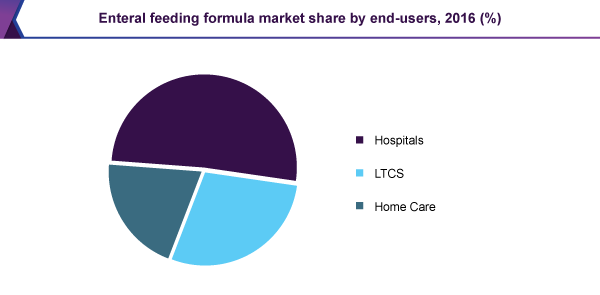 Long-term care services market held the maximum market share in 2015 due to growing geriatric population and increasing life expectancy among the senior population in the U.S. As per U.S. CDC, the U.S. life expectancy was nearly 76 years for men and 79 years for women in 1996. By 2013, the life expectancy rose to of 78.7 years on an average. Increase in life expectancy is one of the key factors indicating the surge in demand for long-term care services is growing in this region.
Enteral nutrition plays a vital role in supporting a patient presurgery and postsurgery. Enteral feeding in ICU's across hospitals and emergency care centers is rapidly increasing in the emerging economies. As per various reports, around 40% of the American will need long-term care services at some point of their lives. However, the cost of these services is much higher as compared to home care services.
Application Insights
The rise in prevalence of various chronic diseases and increase in number of patients declared in "nil-by-mouth condition" are among some factors anticipated to propel the market in the forecast period. Lack of proper nutritional support to malnourished patients may lead to further deterioration of their health. The patients with debilitating diseases are often malnourished during the admission to hospital/healthcare facilities. Moreover, the increase in geriatric population suffering from several chronic disorders and a high prevalence of malnutrition among the cancer patients are also among some factors that can be attributed to the market growth.
It has been identified that in majority of the head and neck cancer patients the oral intake decreases due to the pain on swallowing. According to various publications, it was stated that over 50% of the head and neck cancer patients were suffering from malnutrition at the time of diagnosis. According to the estimates of the American Cancer Society, approximately 35,310 and 12,250 new cases of oral and laryngeal cancers, respectively, are diagnosed each year in the U.S. The patients undergoing chemotherapy may not be able to consume food properly and, as a result, need restoring of healthy blood count between treatments. The aforementioned factors are among few factors that can be accounted for its largest revenue share.
However, the diabetes segment is expected to emerge as the fastest growing with a CAGR of 8.4% over the forecast period. The Duke University Health System has developed a system to regulate the nutrient guidelines for patients who are aware of the need for better blood glucose control. Insulin may be required during tube feeding if a patient is insulin dependent. A fiber feed would be recommended as fiber improves glycemia and insulin sensitivity in diabetic individuals. Blood glucose measurement is performed in the first 48 hours of enteral feeding. Malnutrition related to diabetes mellitus is one of the rarest type of diseases, which is also known as tropical pancreatic diabetes mellitus. The growing prevalence of malnutrition among the elderly patients with diabetes mellitus is one of the crucial factors that drives the demand for enteral feeding formulae in this application.
Regional Insights
North America dominated the overall enteral feeding formula market with a market share of around 38%. The large market share of the region is attributable to the huge prevalence of chronic diseases, high healthcare expenditure, and better reimbursement policies. The region faces a large elderly population burden, which is at a high risk of suffering from chronic diseases. There is an upsurge in the prevalence of chronic diseases and complications amongst the U.S. population. Most of the patients with head and neck cancer have normal gastrointestinal functioning but face severe complications in oral food intake. According to the National Cancer Society in 2016, around 16,910 new esophageal cancer cases were diagnosed in the U.S. and this cancer type accounts for 1% of the overall cancers affecting the U.S. population. The rate of malnutrition and weight loss in the population affected with cancer is very high and thus the rising prevalence of such diseases is expected to further drive the market growth in the U.S.
Enteral Feeding Formulas Market Share Insights
Abbott Corporation; Nestle S.A; Fresenius Kabi AG; Danone S.A; and Meiji Holdings Co are some of the prominent players in the U.S. enteral feeding formula market. This market is highly consolidated with the abovementioned companies accounting for a large share. Growing competition in the market is driving the market leaders to adopt blue ocean strategies and generate high returns for investors. These mature players are constantly investing their resources in the R&D sector to capture the niche therapeutic areas with a high future growth potential.
Segments Covered in the Report
This report forecasts revenue growth at global, regional, and country levels and provides an analysis on latest industry trends in each of the sub-segments from 2014 to 2024. For the purpose of this study, Grand View Research has segmented the global enteral feeding formulas market report on the basis of product, stage, application, end user and region:
Product Outlook (USD Million, 2015 - 2024)

Stage Outlook (USD Million, 2015 - 2024)

Application Outlook (USD Million, 2015 - 2024)

Oncology

Gastroenterology

Neurology

Diabetes

Critical care

End User Outlook (USD Million, 2015 - 2024)

Hospitals

Long-term care

Homecare

Regional Outlook (USD Million, 2012 - 2024)

North America

Europe

Asia Pacific

Latin America

MEA