Industry Insights
Europe carpet market was 665.7 million square meters in 2014. Increasing spending on infrastructure development in Germany on account of rising number of building stocks including apartments is expected to promote demand in housing interiors over the forecast period.
Carpets are used in residential, commercial, and industrial sectors on account of providing properties such as noise-reducing effect and dust-binding characteristics. They are also available in a range of sizes and can be used to cover a section of the floor or from wall-to-wall. They are also used to cover walls particularly in logistic transportation. Moreover, incorporation of decorative features including Turkish and Persian paintings by carpet manufacturers is expected to promote their use in residential buildings.
Carpeting materials are used in flooring and wall coverings of commercial and defense aircrafts on account of providing comfort, durability, and aesthetic features. Growth of the aviation sector of Europe on account of rising expenditure by NATO countries towards developing military aircrafts is expected to play a crucial role in increasing industry size. Rising popularity of wood and laminate flooring materials in commercial as well as residential applications on account of providing high durability is expected to deter demand.
Increasing awareness towards benefits of using eco-friendly materials in floor covering manufacturing is expected to open new opportunities for market growth in the near future. Carpets are marketed through catalogs and online shopping, as well as furniture stores and a few department stores that maintain rug and carpets department. Home centers and big box discount stores are expected to remain significant channels for promotional to mid-priced rugs.
UK carpet demand, by raw material, 2012-2022, (Million Square Meters)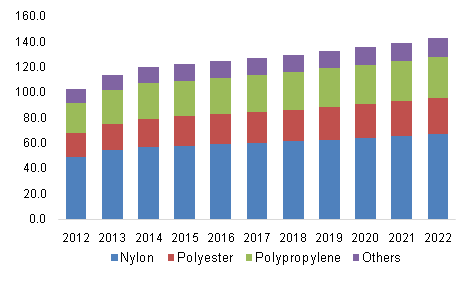 Raw Material Insights
Nylon was the majorly used raw material, accounting for 40% of European volume in 2014. Manufacturers are expected to continue the use of nylon as a raw material on account of its exceptional oil resistance and excellent texture retention.
Polyester is expected to witness growth at a CAGR of 3.6%, in terms of volume, from 2015 to 2022 owing to its low prices as compared to other raw materials. Predominant consumption of PET in bottle packaging is expected to reduce raw material availability for carpet production.
Over the past few years, chemical manufacturers including DuPont have increased expenditure for the development of bio-based 1, 3-propanediol from corn syrup. This product is expected to act as a replacement to conventional PTT on account of being an eco-friendly raw material for manufacturing carpet.
Polypropylene market demand exceeded 160.0 million square meters in 2014. It is incorporated as a raw material for manufacturing flooring materials on account of providing good bleaching properties. Other raw materials including wool, cotton and yarn are expected to generate over 95 million square meters of market volume by 2022.
Product Insights
Tufted carpets dominated the Europeanmarket, accounting for over 40% of regional volume in 2014. Adhesives and other pigment materials are used in them to enhance mechanical strength of the fiber. In addition, they can be molded in to different textures and sizes which paves the way for manufacturers to produce these products.
Knotted carpets are expected to foresee fastest growth at a CAGR of 3.6% from 2015 to 2022, in terms of volume, owing to their high durability as compared to their counterparts. Over the past few years, technological advancement for the development of these products by using mechanical looms with reduced lead time is expected to open new markets.
Application Insights
Residential applications contributed to over 50% of European volume in 2014 and are expected to witness strong growth owing to improvement in the housing sector of Turkey and Russia. High market visibility for soft flooring products on account of providing good insulation properties is expected to favourably impact the market.
High prevalence of strategic business units of chemicals & pharmaceutical industries in Germany, Spain, Russia, UK and France is expected to fuel carpet demand as a flooring material in commercial offices and manufacturing units. Enhanced aesthetics and insulation properties of these products has resulted in their wide-spread use in commercial and industrial spaces over the past few years, and the trend is anticipated to continue in the near future.
Other applications including aerospace and automotive held a market volume of over 30 million square meters in 2014. Growth of the automotive sector in Germany, Spain and UK in light of rising domestic consumption is expected to increase the usage of flooring material in vehicle interiors over the forecast period.
Country Insights
Germany was the largest market accounting for over 25% of the European volume in 2014. Developed infrastructure consisting of residential buildings, commercial offices and manufacturing sites in Germany is expected to result in its dominance over the next seven years. UK consumed over 100 million square meters of the product in 2014 and is expected to face challenges owing to increasing property prices resulting in stagnant growth of the construction sector.
Lucrative opportunities in the construction industry of Eastern European countries including Turkey and Russia is expected to propel growth. Existing manufacturers in Turkey are anticipated to witness boost in their sales on account of infrastructure development in the region over the next few years. In October 2013, Tobolsk-Polymer inaugurated new polypropylene production plant at Siberia, Russia with an investment of USD 2.00 billion. This investment is expected to ensure feedstock access to raw material suppliers in carpet industry.
Competitive Insights
Key manufacturers include Balta Group, Associated Weavers, Egetæpper A/S, Fletco, Tarkett, Radici Pietro Industries, Hammer Tæpper A/S and Agnella. Tarkett SAS acquired 100% assets of the Netherlands-based Desso Group, in October 2014. This acquisition is expected to play a crucial role in increasing market penetration of Tarkett over the next seven years.